High in vitamins (B1, B6 and potassium), minerals (copper, magnesium and manganese) and dietary fibre, the versatile brinjal is a great choice for salads, pies and even desserts. Brinjal (solanum melongena) is of the nightshade plant family and is rich in antioxidants, specifically nasunin, which is found in its skin and gives it its purple colour. Nasunin protects lipids (fats) in the brain cell membranes and lowers cholesterol.
While shopping, carefully select brinjals ensuring the skin colour is shiny and free of discoloration, scars and bruises. Moreover it should be firm to the touch. Press the skin gently with the pad of your thumb. If it springs back, it is ripe; if an indentation remains, it is not. For these recipes, use large sized brinjals (aka aubergines). – Parvathy Menon
Chickpea Brinjal Salad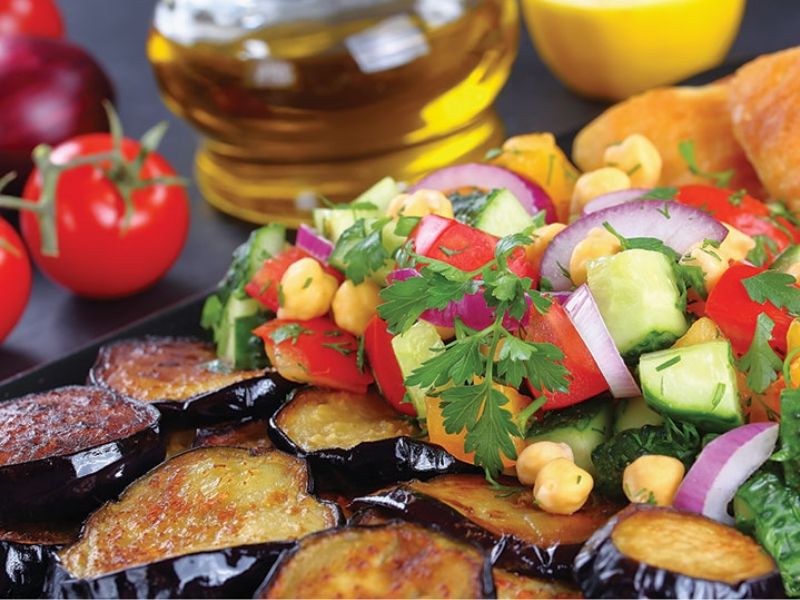 Ingredients
 2 large brinjals or 1 aubergine
 2-3 tbsp olive oil
 200g boiled chickpeas
 1/2 bunch coriander roughly chopped
 1 finely chopped onion
For the dressing
 1/2 tsp paprika
 1/2 tsp ground cumin
 1/2 tsp honey
 1/2 lemon juice
 2 tbsp olive oil
Preparation guide
 Thickly slice the brinjals and arrange over a grill rack.
 Brush lightly with oil, sprinkle with salt and pepper, and grill until brown.
 Turn them over, brush and season again. Cook until tender, about 8-10 minutes.
 Remove from the grill and cut each slice into quarters.
 Place brinjal in a salad bowl, add the chickpeas, coriander and red onion. Mix the dressing ingredients in a bowl and dress the salad.
Also read: BRINJAL DIP