In 20 bachelor's and 150 Masters degree programmes, English is the medium of instruction in this public research institution consistently ranked the Netherlands' #1 varsity, writes Reshma Ravishanker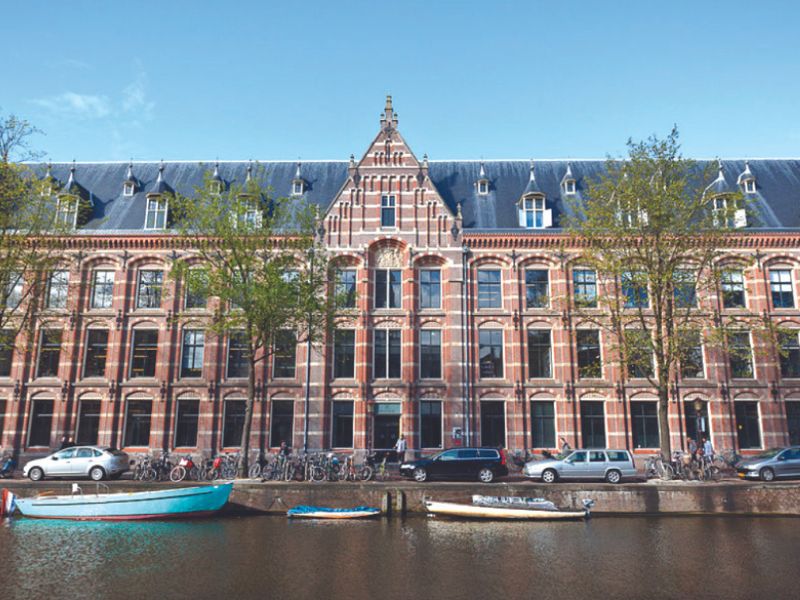 The Netherlands' third oldest varsity, the University of Amsterdam (UvA, estb.1632) is internationally reputed for teaching and research excellence. A publicly-funded research institution, UvA is consistently ranked the Netherlands' #1 university and among the world's Top 60 in the QS and THE global rankings. The US News & World Report ranks it #38 and the London-based QS ranks it #55.
Spread across four campuses in the Dutch capital renowned for its museums and canals, UvA offers a wide range of bachelor's programmes in its seven faculties including the humanities, social and behavioural sciences, economics and business, science, law, medicine, and dentistry to 34,000 students mentored by 6,000 faculty and administrative staff. In 20 bachelor's and 150 Masters degree programmes, English is the medium of instruction (see box). While the official language of the Netherlands is Dutch, English language literacy is almost universal. However, UvA spokespersons recommend that foreign students also learn elementary Dutch (Institute for Dutch Language Education, https://intt.uva.nl/) online before emplaning.
UvA traces its history to 1632 when the city's municipal authorities promoted the Athenaeum Illustre (Illustrious School) of medical education. In 1877, the City of Amsterdam elevated it to the status of University of Amsterdam and conferred the right to award doctoral degrees upon it. A century later (1961), it was declared a National University.
Given its ancient vintage and academic tradition, it's unsurprising UvA boasts an impressive alumni roll call including six Nobel laureates, five Dutch prime ministers, former Belgium prime minister Charles Michel, Dutch politician Thierry Henri Philippe Baudet, author Jkvr. Karin Hildur 'Kajsa' Ollongren, and Sutan Sjahrir (1909-1966), Indonesia's first prime minister.
Amsterdam. The admin capital of the Netherlands, Amsterdam (pop.1.6 million) is globally renowned for its museums and elaborate canals system. Known as the 'Venice of the North', it has over 150 canals which lend the city its unique character and ambience. The Museum Quarter houses Amsterdam's three most visited sites — Rijksmuseum, Van Gogh Museum and Stedelijk Museum of Modern Art — all of whom display the works of Dutch masters, contemporary artists and impressionists. This bicycle-friendly city also hosts several theatres, concert halls and parks and attracts 7-9 million tourists annually.
The weather in Amsterdam is sub-oceanic and rainy which means it has cold (but not freezing) winters and cool summers. The wind blows frequently and furiously especially from November to March. Average summer temperature ranges between 15-18oC, while in winter it could plunge to 0oC.
Campus facilities. UvA has four campuses spread across Amsterdam. They are a mix of heritage buildings overlooking canals and modern academic architecture. The historic University Quarter in city centre houses the humanities faculty, University Library, Royal Netherlands Academy of Arts and Sciences and the Allard Pierson Museum. Roeterseiland is an open city campus, sited adjacent to the Plantage district, and houses students enrolled in economics and business, social and behavioural sciences, law, and CREA, the university's student cultural organisation. The UMC campus in Southeast Amsterdam hosts the faculty of medicine and university hospital.
The newly constructed 70-hectare Science Park campus hosts the faculties of science, mathematics and computer science, several research institutes and over 120 companies. The Sports Center Universum featuring a modern library, study areas and the star and sun dome of the Anton Pannekoek Observatory are also sited on this campus. All campuses are disabled-friendly.
The University Sports Centre offers over 80 sports activities ranging from aikido to weightlifting and aerobics to lacrosse at seven fitness centres. Moreover, CREA offers courses and workshops in music, dance, theatre, new media, and photography, and hosts concerts, exhibitions and debates.
Admission. The minimum eligibility requirement for admission into UvA's bachelor's programmes is completion of class XII with 75 percent average and English language proficiency (IELTS score of 6.5-7.0 or TOEFL 100). Some degree programmes stipulate additional admission criteria. For instance, the bachelor's degree programme in econometrics requires students to have maths certification in Plus Two. The admission deadline for the academic year beginning September is April 1.
For admission into postgrad programmes, the entry requirements include a bachelor's degree, proof of English language proficiency, and good GMAT/GRE scores.
For further information, call T: +31 (0) 20 525 2222, WhatsApp +31 (0) 6 4834 7669 or visit www.uva.nl/en.
Accommodation. Though UvA doesn't offer university-owned accommodation, it has reserved a large number of rooms with reliable housing providers in the city. They include over 20 off-campus residential buildings managed by providers in partnership with the UvA. Options include shared and private bedrooms with shared kitchen and laundry facilities. The Student Hotel — Amsterdam West and Student Experience — Minervahaven provide fully furnished rooms with private en-suite bathroom and shared kitchens.
Degree programmes. The University of Amsterdam offers over 20 English-taught bachelor's and 150 Masters programmes (see box).
Scholastic Options at UvA
The University of Amsterdam offers several English-medium undergrad and postgraduate programmes in several faculties.
Arts and culture. Ancient studies, archaeology, European studies, liberal arts and science
Child development and education. Psychology
Communications and media. Communication science, media and culture, media and information
Economics and business. Actuarial science, business administration, business analytics, econometrics
Environment and biology. Liberal arts and sciences
Exact sciences and computer science. Computational science, computational social science
Health. Psychology, liberal arts and sciences
Interdisciplinary programmes. Computational social science, European studies, liberal arts and science, literary and cultural analysis
Language and area studies. English language and culture, linguistics
Law and Governance. Politics, psychology, law and economics
Social sciences. Cultural anthropology and developmental sociology, communication science
Tuition fees (annual): €9,130- €12,610
Living expenses (per month): €925-€1,500