Registered as Canterbury College in 1863, University of Canterbury, New Zealand admitted women students in its very first batch and produced the first woman graduate of the British empire. In 1961 University of Canterbury, New Zealand was granted autonomous university status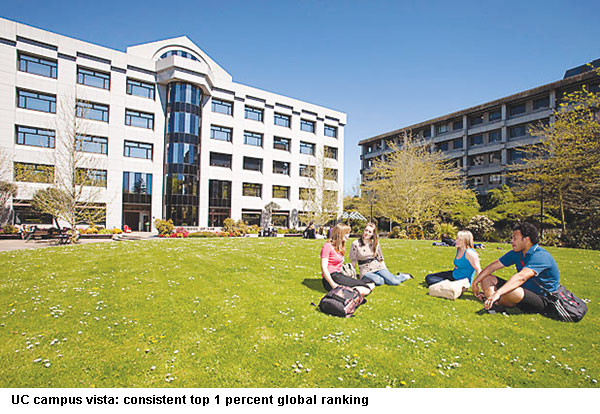 The University of Canterbury (UC, estb.1873), New Zealand's second-oldest institution of higher education, is consistently ranked among the Top 1 percent of universities worldwide with an excellent reputation for faculty research. Sited on an expansive 170-acre campus in Christchurch, UC is ranked #231 in the latest QS World University Rankings 2019 and awarded 5-Star QS certification for research and teaching excellence. The Times Higher Education WUR (World University Rankings) 2019 ranks UC in the #300-350 band.
Currently, University of Canterbury's five colleges — arts, business, education, law, science and engineering — offer 70 study programmes to 14,000 students from over 100 countries mentored by 715 full-time faculty and visiting faculty from top-ranked universities including Oxford and Cambridge. A research-intensive institution, University of Canterbury, boasts the most extensive network of research field stations in New Zealand (pop. 4.7 million) including a premier astronomical research facility on Mount John, Tekapo and research establishments in Antarctica and Nigeria.
Registered as the Canterbury College in 1863 by several Oxford and Cambridge graduates, University of Canterbury, New Zealand admitted women students in its very first batch and produced the first woman honours graduate of the British empire. In 1961, Canterbury College was granted autonomous university status and transformed into the University of Canterbury. Famous University of Canterbury, New Zealand alumni include prominent NZ politician Sir Apirana Ngata; legendary physicist Ernest Rutherford; children's author Margaret Mahy; Creig Nevill Manning, engineering director of Google, and internationally respected economist David Teece.
Christchurch. Christchurch (pop. 350,000) is the second-largest city of this island nation and is currently undergoing a major makeover to transform into the world's most modern and sustainable city. Hosting the country's largest ICT industry cluster, this 'digital city' is a hub of innovation, research and technology, and boasts the lowest unemployment in Australasia. Major industries include engineering, biotechnology, avionics, electronics, software engineering, agriculture, education, forestry, nutraceuticals, Antarctic research and tourism.
This coastal city offers a wide range of recreational options with surfing-friendly beaches 15-minutes drive from the city centre and alpine skifields within two hours drive. Other attractions include the historic French town of Akaroa, thermal hot springs of Hanmer, snowboarding slopes of the Southern Alps and whale watching waters of Kaikoura. Christchurch is also popular among students for its variety of restaurants, cafes, pubs, concerts, sports and cultural events.
The city experiences temperate, dry summers with temperatures averaging 22°C in summer. But in winter, temperature often falls to sub-zero.
Campus facilities. UC's 170-acre main campus, overlooking the River Avon, is currently under renovation expected to be completed by year end. Over the past decade, the university management has invested $163 million (Rs.800 crore) in building new state-of-the-art science and engineering labs with over 1.9 million units of research equipment, teaching spaces, 24/7 computer suites, augmented reality spaces, fluids, and wind tunnel labs, and the only high voltage teaching laboratory in NZ. The university's three libraries house over 2 million books, archives and 30 heritage collections.
UC also offers excellent facilities for badminton, basketball, board riding, canoeing, cricket, cycling, football, netball, rowing, rugby, squash, underwater hockey, volleyball, weight lifting, and yoga. The Canterbury University Snow Sports Club is the sole education institution to own a ski field lodge. The new University of Canterbury Students' Association building, scheduled to be inaugurated this year, will host the 300-seat Ngaio Marsh Theatre and Performance Centre and serve as the activities hub of the university's 130 student clubs and societies.
A self-contained campus, it also boasts 12 cafes, bars, and eateries, a health centre, pharmacy, bookstore and two community gardens.
Admission. The minimum eligibility requirement for admission into University of Canterbury, New Zealand undergraduate programmes is an average of 75 percent with minimum 60 percent in English in the class XII school-leaving exams of the national CBSE/CISCE boards, and an overall average of 80 percent with minimum 65 percent in English from the Tamil Nadu, Karnataka and Maharashtra state boards. For admission into postgraduate programmes, a degree from a recognised university with NAAC accreditation is the minimum eligibility criterion. English language proficiency requirement is a minimum score of 6.0 in IELTS or 80 in TOEFL.
Admission applications need to be submitted online (www.canterbury.ac) together with transcripts of secondary school qualifications and evidence of English language proficiency. For further information, contact Ph: +643 369 4999; fax: +643 364 2174; email: [email protected]; website: www.canterbury.ac
Accommodation. University of Canterbury, New Zealand offers on-campus accommodation options ranging from single fully-furnished rooms in halls of residence to self-contained studio flats, for 2,200 students. All residential students have access to computer rooms with wi-fi, common study areas, well-equipped kitchens, laundry and recreational facilities. International students below 18 years of age are obliged to live in a homestay or fully catered halls of residence. Students aged above 18 have the option to rent private accommodation.
Degree programmes. UC's five colleges offer over 100 qualifications in more than 80 subject disciplines.
Scholastic Options at Canterbury
University of Canterbury's five colleges offer a wide range of study programmes.
College of Arts. Anthropology, fine arts, cinema studies, art history, economics, education, philosophy, sociology, etc
College of Business and Law. Accounting, business and sustainability, human resource management, taxation and accounting, strategy and entrepreneurship, etc
College of Engineering. Applied data science, architectural, bioprocess, chemical, natural and healthcare product formulation, computational and applied mathematics, earthquake, electrical and electronic engineering, etc
College of Science. Astronomy, biochemistry, biosecurity, biotechnology, communication disorders, environmental science, ecology, geology, etc
College of Education, Health and Human Development. Early childhood teacher education, deaf and hard of hearing, child and family psychology, literacy, leadership, palliative care, teacher education, etc
Tuition fees (per year): NZ$25,000-42,000
Living expenses: NZ$15,000-20,000
NB: NZ$=Rs.47