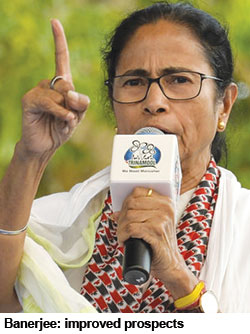 At the time of writing, the electorates of 18 of West Bengal's 42 Lok Sabha constituencies — the largest representation in Parliament at the Centre after Uttar Pradesh's 80 and Maharashtra's 48 seats — have already voted in the ongoing General Election 2019. The principal players in the state's political arena are chief minister Mamata Banerjee's Trinamool Congress (TMC), the Bharatiya Janata Party (BJP) — which has recently emerged as the main challenger to the electoral might of the ruling Trinamool Congress and has set a target of bagging 22 Lok Sabha seats of the state — the Communist Party of India (Marxist), and Congress. West Bengal looms large in General Election 2019 not only because it will send 42 MPs to the Lok Sabha in Delhi, but also because it has the largest number of first-time voters — 2 million — of any state.
Even as the hustings are yet to be completed, publication of the Union HRD ministry's National Institutional Ranking Framework 2019 (NIRF), which ranks India's Top 100 universities, engineering institutes, undergrad colleges, B-schools, law colleges etc, is being interpreted as a boost to TMC. In NIRF 2019, Calcutta University (CU, estb.1857) which was ranked #14 last year has made a great leap forward to #5 while Jadavpur University (estb.1955) has retained its #6 ranking. Both CU and JU are state government-funded and supervised. Against this, the Central government-funded Visva Bharati University, established by Nobel laureate Rabindranath Tagore in 1921, is ranked #37.
Moreover, several other West Bengal state universities are ranked among India's Top 100 in NIRF 2019. In the league tables of Top 100 undergrad arts, science and commerce colleges, two from the state are in the Top 10 — Ramakrishna Mission Vivekananda Centenary College, Rahara (#8, promoted from #29 in 2018) and St. Xavier's College, Kolkata #10 (17). Other West Bengal colleges ranked among the Top 100 countrywide are RKM, Narendrapur at #15, Bethune College #50 and Loreto College #76.
Typically, having endured 34 years of uninterrupted rule (1977-2011) of the CPM (Communist Party-Marxist)-led Left Front government until TMC routed the CPM and allied parties in the assembly elections of 2011 and again in 2016, the state's academy, still infested with CPM sympathisers and leftists, accords great importance to the 'official' NIRF league tables. Much greater than to independent media (including EducationWorld) surveys and rankings, despite the voluntary NIRF institutional assessment and evaluation methodology being deeply flawed (see cover story). "It is a great day for Bengal and for Calcutta and Jadavpur universities which are ranked among India's Top 10. Both are state government funded universities," says Suranjan Das, vice chancellor of JU.
Adds Sonali Chakravarti Banerjee, vice chancellor of Calcutta University: "Our Top 5 NIRF ranking is due to teamwork with faculty, officers and non-teaching staff working closely together. We have improved our scores under all parameters — teaching-and-learning resources, graduation outcome, outreach and inclusivity as well as perception."
While it's inevitable that the managements of West Bengal's higher education institutions will attribute their better NIRF 2019 ranking to investment in faculty training, research, outreach etc, political pundits concede that the TMC government has improved the climate for academic excellence after 34 years of CPM rule during which the academic and administrative autonomy of higher education institutions was severely compromised.
Although in TMC's first term in office (2011-16), there was frequent campus violence and student protests over issues such as mass copying and irregularities in admission processes, in her second innings as chief minister, Mamata Banerjee has paid greater attention to education reform and rejuvenation. During the past 12 months in particular, the TMC government has taken several initiatives including ensuring the regular attendance of teachers and faculty in the state's 92,000 government schools, 372 colleges and 32 universities.
Moreover, she has inaugurated 65 English-medium government primaries in the districts of Kolkata, North 24 Parganas, Nadia and Jalpaiguri. More controversially the state government has repealed s.16 of the Right of Children to Free & Compulsory Education (RTE) Act, 2009, which prohibits schools from detaining non-performing class I-VIII students. In higher education, during the past seven years, the TMC government has sanctioned ten greenfield private and 12 public universities, raising the number of varsities in the state from a mere 12 to 34, and has promoted 50 new colleges. Another ten universities are in the pipeline.
In addition, the TMC government's Kanyashree programme to educate underprivileged girl children, Krishak Bandhu programme which grants Rs.5,000 per acre to farmers and the Sabuj Sathi scheme to distribute bicycles to girl children enrolled in higher secondary education have reportedly won Banerjee mass support in rural Bengal.
Undoubtedly, Banerjee's belated attempts to reform the state's moribund education system have vastly improved TMC's prospects in General Election 2019. Banerjee has set party cadres the target of bagging all of West Bengal's 42 Lok Sabha seats. That may be too ambitious. But with the state's bhadralok (refined middle class) reportedly impressed by the TMC government's education initiatives, 35 can't be ruled out.
Baishali Mukherjee (Kolkata)