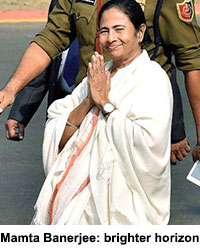 Although neither chief minister Mamata Banerjee nor any leader of the Trinamool Congress (TMC) has publicly articulated it, the top brass of West Bengal's ruling party — a breakaway of the now disintegrated Congress party which led India to independence from British rule 72 years ago — is viewing the Coronavirus aka Covid-19 threat sweeping the country, as an opportunity. West Bengal's legislative assembly election is scheduled for next summer 2021, and TMC's chances of winning a third consecutive term in Kolkata's Nabanna — Bengal's new administrative headquarters seemed an uphill task, given unprecedented surge in popular support for the BJP.
In General Election 2019, the BJP won a never before 18 of West Bengal's 42 seats in Lok Sabha, Delhi, reducing TMC's tally from 39 won in General Election 2014 to 22. But now following the TMC government's swift and decisive action to halt the spread of Covid-19 across West Bengal (pop. 91 million), the BJP and its loquacious leaders have disappeared from Kolkata's media.
Responding swiftly to the Covid-19 pandemic, the TMC government has ordered 300 ventilator machines, 2 lakh masks, 3,000 gloves and 2 lakh test kits for citizens. In addition, chief minister Mamata Banerjee issued orders to three government hospitals and five private hospitals to conduct Covid-19 tests and reserve 2,500 beds for hospitalisation cases. As a result, medics and hospitals have tested 88 samples and placed 18,700 people under home surveillance while recalling 2,500 retired medical specialists, doctors, nurses and paramedics to treat Corona suspected and affected persons.
Although modest, given the state's massive 91 million population, these timely measures have shown good
results. According to ICMR (Indian Council for Medical Research, Delhi) the number of Covid-19 positive
cases in West Bengal is 69 with seven deaths against the national toll of 3,374 and 75 (April 4).
Even West Bengal's academics —most of them still sympathetic to the CPM (Communist Party-Marxist) which ruled Bengal uninterruptedly for 34 years (1977-2011) and wrecked the state's economy by provoking a massive flight of capital and human resources from the state, and whom Banerjee routed in the 2011 assembly elections and again in 2016 — concede that the TMC government has moved with commendable speed to contain the spread of Covid-19 in the state. The national lockdown and social distancing prescribed by the Central government is strictly enforced, schools and all education institutions have been shut down even as the flow of essential supplies has been maintained.
"During the past few years, Banerjee had acquired a reputation as a mercurial and often short-tempered leader. However, her response to the Covid-19 crisis has been calm and calibrated. From a firebrand politician, she has metamorphosed into an able administrator with a human face," says Aniruddha Lahiri, a former teacher at the CBSE-affiliated South Point School, Kolkata and respected academic.
The Coronavirus pandemic has caused unparalleled damage and disrupted the lives and livelihoods of millions of citizens across the country. But it has considerably improved the prospects of the TMC and Banerjee in the assembly election scheduled for next summer.
Baishali Mukherjee (Kolkata)