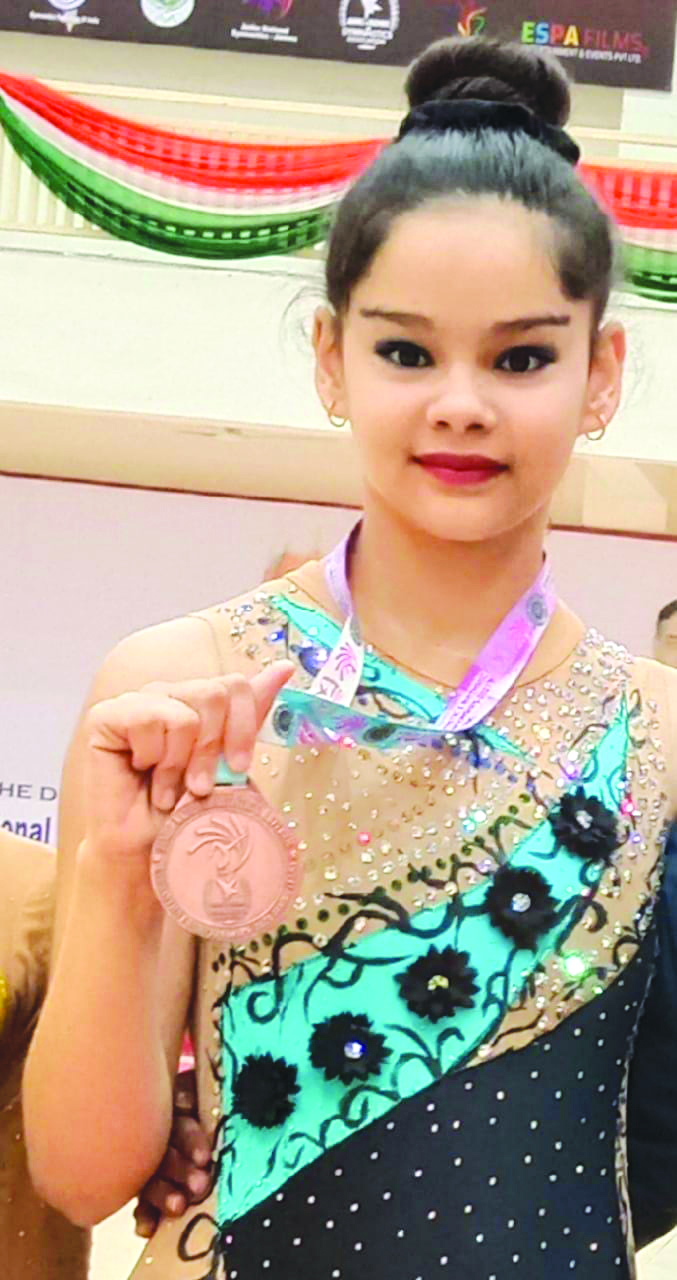 Gurugram (Haryana)-based Dhruvi Choudhary (15) is an emerging star in national gymnastics. Last December (2022), she won an individual bronze medal in rhythmic gymnastics in the senior category at the National Games staged in Bengaluru. Earlier in May, this Haryana champion was selected to compete in the School World Games of the International School Sports Federation (ISF) staged in Paris. Although Dhruvi did not make the podium, she believes that the experience of competing with global gymnasts will improve her routines.
Recognised by Asian, Common­wealth and Olympics games au­thorities as a medals sport, rhythmic gymnastics is a discipline combining grace, coordination, agility and art­istry. To the sound of inspirational music, rhythmic gymnasts use the hoola hoop, ball, clubs and/or rib­bons to perform ballet-like routines.
Born into a sports-loving family father Sikander Choudhary is a barefoot marathon runner, mother Savita a former volleyball player and younger sisters Kanika and Hard­haya are both promising gymnasts — Dhruvi, a class X student of Ajanta Public School, Gurugram, believes that competition provides stimulus. "Although my Paris experience was a disappointment, I am confident with adequate training, I can raise the bar of my routines to the level of my global counterparts," she says.
A vegetarian who recently in­corporated eggs in her diet, Dhruvi trains for seven hours daily at Gurugram's Nehru Stadium starting at 5 a.m before school and until 9 p.m after school hours, under the tu­telage of coach and former national champion Kavita Saini.
Like most athletes in the sporting state of Haryana — one-third of In­dia's medals in the Beijing Olympics 2022 were won by athletes from the state — Dhruvi has her sights trained on the Paris Olympics 2024. "My ultimate dream is to win an Olympic medal. Right now I am training in­tensively to qualify for the Hangzhou Asian Games 2023. I am aware that Indian gymnasts have a poor global record but I believe given adequate financial support and professional training, our athletes — especially girls — can become as good as any worldwide," says this
Also Read: Young Achievers: Abhinav Menon