Only 4 percent of India's 400 million workforce is formally trained as against 20 percent in China and 60-80 percent in Europe and USA. AISECT University, which integrates skills development into conventional study programmes, offers a model worthy of emulation -Indranil Banerjie
They call him Santosh-NET, the local bazaar go-to guy for all types of Internet-based services. His tiny shop in Neelbad village in Bhopal district, Madhya Pradesh, is set in a typical market made up of squat brick-and-cement buildings. A large badly painted sign advertises E-Registration services in Hindi and English.
Locals, old and young, women, labourers and tradesmen trickle in, thrusting their faces at the half glass partition of his shop front. Some come to collect a government pension, or deposit part of their days earnings while others want to apply for government services such as PAN card, land registration, online railway tickets and so on.
Santosh is also the authorised partner of a few well-known banks, including the State Bank of India, and the link between poor — and mainly illiterate — clients and the banks. He is authorised to open bank accounts, deposit and withdraw money on their behalf as well as send remittances to distant villages. Every transaction is cleared by biometric checks to prevent fraud.
Santosh Kumar Maran, aka Santosh-NET, is one of the 15,000 rural youth who have benefited from a skilling programme run by a private organisation called the All India Society for Electronics and Computer Technology (AISECT, estb.1985) — which in 2010 established its second university in Bhopal (the first was the Dr. C.V. Raman University, Bilaspur, Chattisgarh in 2006) sanctioned by the Madhya Pradesh state government through special legislation, and has since emerged as AISECTs largest flagship university. In 2010 Maran, a class XII dropout, enrolled for a six-month course with AISECT. He was trained to use computers, the Internet and its various applications, in one of AISECTs 15,000 multi-purpose skill and services centres countrywide established under the franchise model, after which AISECT handheld him through the process of setting up a kiosk-based business with a computer, printer and biometric devices.
That enrolment decision changed his life. "I have been running this kiosk for seven years and today my income averages Rs.40,000 per month", he says, with a hint of justifiable pride in his voice. "My customers trust me and I am at their service every day from 8 a.m in the morning to 8 p.m at night." In exchange, he pays a small commission to AISECT for their continuing backend online support and periodic skills upgradation.
AISECT is the brainchild of Santosh Kumar Choubey, an engineer and science evangelist, who believes millions of his countrymen require training in basic skills, including computer operations, to make a sustainable living and enable India's economic take off. An electronics alumnus of NIT, Bhopal (formerly known as MACT), Choubey studied communications technology and believes that bringing technology skills to the masses is becoming increasingly crucial. Having grown up in the small Madhya Pradesh town of Khandwa on the banks of the Narmada, Choubey empathises with small-town and rural India where the need to acquire technology education and its associated skills is most acute.
Choubey's focus is not so much on advanced expertise such as computer programming as on developing ground-level skills that would allow millions of Indians with low literacy levels and technology challenged backgrounds to operate computers and their practical applications. Though technology and science education was Choubey's original focus, he realised very early on that there was a huge need for an array of practical skills education in other industries such as metal fabrication, construction, retail, and healthcare among others. The issue, he says, is to address the problem of the yawning demand-supply gap for skilled labour, which has grown to epic proportions in recent times.
"Skills development has always been our (AISECT's) focus. We have a clear understanding of grassroots realities and are also well aware that 90 percent of jobs in this country are in the unorganised sector of industry and agriculture. We are also aware that large corporates, including Microsoft and Google, are looking for skilled workers. So, when the demand for skilled — and not merely white collar — graduates warmed up after liberalisation of the economy in 1991, we were ready. By 2001-02 we had opened up 1,000 skill education centres. We found that skills training centres in rural and semi-urban areas could also provide an array of services including financial services. Today, we partner with 15,000 skills development and other multi-purpose skilling centres across 27 states and also have 23 Pradhan Mantri Kaushal Kendra centres funded by the Central government", says Choubey (see interview p.82).
The tragedy of post-independence India's failed socio-economic development effort is that education of the largely illiterate nation, which should have been its top priority — and skills education even more so — has been grossly neglected. Annual expenditure (Centre plus states) has averaged 3.5 percent of GDP against the 7-10 percent routinely budgeted by developed OECD countries and the newly emergent powerhouse economies of South-east Asia. Consequently the enormous hype generated around the country's large population pool, which many claim is a demographic dividend, may turn into a nightmare with the vast majority remaining semi-literate with poor to non-existent marketable skills.
Although in the past decade government and Indian industry seem to have initiated a frenzy of activity relating to skills training for manufacturing, agriculture and services sectors, the number of skilled youth has not risen significantly. Only an estimated 4 percent of labour in India's manufacturing industry is formally certified compared to 20 percent in China and 60-80 percent in Europe and USA. Unsurprisingly, India Inc's productivity is rock-bottom. Output and sales per employee is way below world standards and Indian industry has perhaps the highest in-company training costs in the world.
"The skills development programmes of the Union and state governments are moving very slowly. We have 40,000 colleges but only 14,000 Industrial Training Institutes plus Industrial Training Centres as compared to 5,000 in 2006. On the other hand, China has 500,000 skills training and development centres, Japan has 150,000 and Germany about 100,000", says Krishan Khanna, founder of iWatch (estb. 1992), a Mumbai-based think tank which has been vainly propagating vocational and skills education for several decades, and author of the best-selling Transforming India (2007). "The Central and state governments, civil society, parents, youth, the media and academia have still not grasped the proposition that vocational and skills education is as — if not more — important than higher education. A massive mind-set change is required", adds Khanna.
Prudently following up the Congress-led UPA-IIs initiative of establishing a National Skill Development Corporation (NSDC) in 2007 to fund private sector vocational and skills training firms, soon after it was swept to office at the Centre in General Election 2014, the BJP-led NDA government established a Union ministry of skill (sic) development and entrepreneurship (MSDE). Its mission statement is to "rapidly scale up skill development efforts in India, by creating an end-to-end, outcome-focused implementation framework, which aligns demands of the employers for a well-trained skilled workforce with aspirations of Indian citizens for sustainable livelihoods."
However, since then the Centre's much-hyped skill development programme has been floundering in shallows and misery. Widespread reports of fraud, poor supervision of NSDC-funded programmes and squandering of resources have slowed the programme with official statistics indicating that even as 12 million youth are entering the jobs market annually, only 11.7 million people have been trained in the first three years since establishment of the new ministry.
Unsurprisingly, Rajiv Pratap Rudy, a high-profile spokesperson of the BJP who was awarded the MSDE portfolio in 2014, was dropped in the latest (September) cabinet reshuffle of prime minister Narendra Modi. But, its a moot point whether his successor, former ABVP activist and Union minister of petroleum and natural gas, Dharmendra Pradhan who has been given additional charge of MSDE, will prove to be an improvement.
To his credit, Santosh Choubey, now chancellor of AISECT University, saw the writing on the wall several decades ago. After graduating from NIT Bhopal in 1976 he worked as an independent project consultant when he interacted with government officials and higher education institutions at one level and grassroots workers at the other. This experience taught him that the top down white collar approach to education often doesn't work, particularly in small-town and rural India where English language skills are virtually non-existent, and the connect with technology minimal. And although at the time engineering education was the flavour, Choubey perceived a market demand not just for computer science graduates but also for millions of skilled construction workers, welders, technicians, retail staff, para-medics and nurses. And from this was born the idea of a skills network and later a skills university.
Therefore in the early 1980s he gave up the glamour and glitz of the national capital and relocated to Bhopal, determined to bring science and technology to the masses of the Hindi belt states of North India where they were most required. Moreover his years of field experience had convinced him that the country's huge education gap could not be filled by the government without supplementary efforts of private enterprise.
Yet his decision to relocate to Madhya Pradesh — one of the poorest states of India (per capita income Rs.59,770 cf. the India average of Rs.74,380) — also made him aware that tuition fees of AISECT which he promoted in 1985, would necessarily have to be affordable. Overhead costs would have to be controlled and tuition fees pegged low (currently Rs.70,000 per year for the engineering degree programme, Rs.15,000 for the BBA programme and Rs.4,000-10,000 for diploma and certificate courses).
This compelled him to develop a business model for his teaching and skilling activities which required overhead costs and admin headcount to be controlled through computerisation and bundling of services. Thus, all skills training centres would not only conduct classes but also double as e-services centres, banking intermediaries etc. Moreover, income was generated and the society's reach extended by establishing partner training and skill development centres under the franchise model. Currently AISECT, which established its second and largest university in Bhopal through special legislation enacted by the Madhya Pradesh state assembly in 2010, has 15,000 franchised centres in 27 states across the country.
The main campus of AISECT University is located in Chiklod Road, 20 km from Bhopal city amidst low wooded hills and sprawling farmland. The 50-acre campus is green and airy with a number of buildings which house modern
workshops, labs, auditorium, library and hostels. Although prima facie it seems like a conventional university inasmuch as it offers three-year arts, commerce, science, law etc study programmes, and four-year engineering degree programmes, its history as a society which offered short-duration skills diploma and certificate courses, has invested all its degree programmes with vocational skills learning components. Thus the engineering degree offers students the choice of acquiring hands-on learning opportunities in automobile engineering, computer maintenance, electrical wiring; the commerce degree programme offers a certificate course in banking and accountancy and so on. Moreover for school-leavers it provides a wide range of technical diploma programmes.
"Vocational education is a vital component of our curriculum", says Dr. Sanjeev Kumar Gupta, an alumnus of Barkatullah University, Bhopal and dean of academics who signed up with AISECT in 1998. "For example, the three-year bachelor of business administration (BBA) programme is spread across six semesters during which it is compulsory for students to complete three skill courses. Similarly, an engineering student has to complete at least four skill courses. Thus engineering students have to acquire machine and electrical equipment operating skills while law students have to attend court hearings to acquaint themselves with courtroom procedures and interact with lawyers and judges, and computer science students have to demonstrate apps design capability while para medic students have to visit out-patient departments and hospital wards", adds Gupta.
In this way after the AISECT Society was accorded university status in 2010, the management has built upon its institutional tradition of investing skills education into every degree programme to make the university's graduates employment ready. Currently the university offers 32 skill development certificate/diploma programmes across its various faculties.
Unsurprisingly, given its technical skills training tradition, AISECT has readily volunteered to sign up with the Union ministry of skill development and entrepreneurship (MSDE) to establish Pradhan Mantri Kaushal Kendra (PMKK) centres to provide skills training to local youth — who have passed at least class VIII — from the Raisen district which hosts the university, and 22 other districts of MP and Chhatisgarh. Each PMKK centre is established with a long-term loan of Rs.50-70 lakh from the Central government and works in partnership with MSDE which prescribes the courses to be taught in each centre (welding, solar engineering, data entry, yoga, retail management, GST assistance etc). AISECT University charges students a modest fee of Rs.2,000-3,000 for these certificate/diploma programmes of three months duration and also receives a per student Rs.10,000-20,000 subsidy from MSDE. In addition the ministry reimburses students daily commute to the PMKK centre, their uniform, books etc
"We have to ensure that each student completing a PMKK course is placed in industry or becomes self-employed", says academics dean Dr. Sanjeev Kumar Gupta. "There is very strict monitoring of the PMKK project and we have to submit monthly reports to the local Member of Parliament, district collector and the MSDE ministry."
Jitendra Ahir, one of the university's electrical and hardware skills trainers, is an electrical engineering graduate of Bhopal's Rajiv Gandhi Technical University. His more than 100 students are class X school leavers from local villages being trained to become certified electricians. He teaches PMKK students four hours of theory and four hours of practical training every day with students learning to work with electrical circuits, lights, motors and so on. The classrooms-cum-labs are clean, well-lit and air-conditioned, a far cry from the government schools from which most of them graduated.
The environment is clearly inspiring. "I had no idea about electricity", admits Shyam Singh Manjh from village Shahawat Tilendi of Raisen district. "Today, I am confident I can install specialised lighting for godowns and big buildings. There are numerous job opportunities in Bhopal. If I don't get a job, I will become a self-employed electrician", he says.
In the welding class, Uma Shankar Choubey, wearing a welding visor, adds: "Here I can actually learn to use welding equipment of different types. With this training, I would first like to get a job as I do not have money to start a workshop. But my eventual goal is to set up a workshop of my own", he says confidently.
His instructor, Jaiprakash Dhangar, an ITI diploma holder with eight years experience in welding technologies, adds: "There are plenty of job opportunities for trained welders in the two industrial areas around Bhopal — Mandideep and Govindpura. We interact with local engineering companies to find out what kind of welding and technologies they require and modify our course content to suit their requirements so that our students are job ready and immediately absorbed by local industry."
To impart industry-linked skills training, the university has the formidable task of recruiting academics with a completely different profile from conventional academics. While the conventional degree programmes require academics with formal certification, a substantial proportion of the faculty has been selected for expertise and work experience in specific industries such as renewable energy, metal fabrication, CNC machining, water resources management, physiotherapy, nursing, and law among other disciplines.
"Recruiting suitable faculty was difficult in the first few years", confesses AU's registrar Vijay Singh. "Now that we are sure of the type of faculty we need to recruit, we have managed to attract the right talent". Currently the university has a faculty strength of 240, of whom 80 are Ph Ds. Indeed AU's unique mix of theory and practice is increasingly attracting renowned specialists such as Dr. A. Kurchania, renewable energy lab director, who joined AISECT after retiring as head of the department of renewable energy of Udaipur's College of Technology & Engineering.
Nevertheless despite being a large, thriving institution with 5,500 students, dozens of courses and well-equipped labs, AISECT University, Bhopal has maintained a low public profile. "Our focus is on building skills for small industries and businesses", says chancellor, Choubey. "Construction workers, carpenters, plumbers and even agriculturists need skilling. Delivering livelihood education is our top priority. Its not organised industry but the unorganised sector which provides 90 percent of employment."
According to registrar Vijay Singh the university and AISECT Society have empowered 20,000 youth with skills for industry, agriculture and the service sectors over the past three decades. "Most of these youth are from small villages which are not serviced by any other institution of tertiary education. While Bhopal has some 100 engineering colleges, eight-ten medical colleges and 200 B.Ed colleges, there is not a single college within 150 km from our location. Thus over 50 percent of our students are from rural areas", he says.
The university's countrywide advertising, road shows and Internet presence draws students from other parts of India as well. Since tuition fees tend to be substantially lower than in comparable institutions, AU's excellent infrastructure and facilities are a big draw. University spokespersons say AU attracts students from 23 states who mostly sign up for regular study programmes such as engineering, computer science and law.
Students interviewed by this writer seem satisfied with the facilities and academic environment and most exude confidence about their future (see box p. 81). The existing 350-bed hostel is proving to be inadequate and a new 2,000-bed hostel is on the drawing board.
"AISECT University's first batch graduated two years ago and we found placements for 75 percent of them", says Vijay Singh. Besides a placements cell, the university has also established an incubation centre for aspiring entrepreneurs. Students are helped to narrow down on a business of their choice, prepare project reports as well as get finance from banks. A number of IT graduates have started their own ventures, while some students have started organisations providing legal aid for women and so on. Thus far the university has incubated 10-15 start-ups.
The university also takes part in rozgar melas (recruitment festivals) organised by the AISECT Society and reaches out to companies all over the country for placement of graduates. "I have received good reports about the skills training and job readiness of AISECT University graduates", says Dinkar Mahajan, the Chandigarh-based manager of Tech Mahindra, who plans to recruit some of them for the company's BPO and KPO operations. On the other hand small and medium scale enterprises such as the Vadodara-based BBB Manpower, and the Delhi-based Handygo Technologies are regular recruiters of the university's graduates.
Seven years after the AISECT Society established its flagship university in Bhopal which has integrated its skills development tradition into all its degree programmes while continuing to provide short-term diplomas and certificate skilling programmes to a growing number of appreciative youth across the country, promoter-chancellor Santosh Choubey has drawn up ambitious plans for the growth and development of this skills-oriented varsity.
"Right now we are focused on expanding our network base in uncharted areas such as the North-east. Good progress has been made in Assam, Manipur, Tripura, Arunachal Pradesh and Nagaland. AISECT is present in Jammu and Kashmir and as far afield as the Andaman Islands. We are skilling youth for 17 industries other than the IT industry. There is also an effort to integrate IT into our existing 15,000 training centres. There are plans to establish more universities in Vaishali, Bihar and Khandwa, Madhya Pradesh. In short we are pushing our expansion plan both vertically and horizontally", says Choubey.
AISECT is not one of the glitzy, glamorous new genre private universities which are attracting parents and students disillusioned with public universities ruined by continuous government interference, but a pathbreaker in many ways. With several authoritative studies (McKinsey World Report (2005), Aspiring Minds (2016)) indicating that 75 -85 percent of graduates of India's 38,000 colleges and 800 universities are not ready for employment in multinational companies, the AISECT model, which integrates hands-on skills training into all study programmes, deserves countrywide emulation if 21st century India is to encash its demographic dividend.
AISECT student voices
For a majority of students who come from the rural backwaters and small district towns, enrolling in a university is a huge step. Their primary objective is to acquire skills that will either land them jobs or enable them to start their own business. They might be wanting in English language skills but that is usually more than made up by their sheer determination to do good and assimilate practical knowledge. Conversations with some AISECT students across the board threw up interesting perspectives and revealed varied aspirations.
Yashwant Singh of Thanagaon village near Bhopal is enrolled in a three-month course in welding and metal working at AISECT. "A certified welder or fabricator can earn anything between Rs.500-5,000 per day nowadays," he says. But unlike most other students in his batch, he prefers self-employment. "I have some savings with which I will promote my own welding and fabrication business," he says confidently.
Karima Pimplay, daughter of a Central Reserve Police Force (CRPF) jawan, is more than satisfied with "her friendly teachers and university facilities". "Although most young people prefer to become doctors, I always believed that nursing is as important and as noble a profession," she says in confident English.
Megha Gosaui, a final year para-medical student is from Nagpur, where her father is a hospital worker. The university's open spaces, facilities and polite staff impressed her as did the affordable fees. She is training to be a physiotherapist and is satisfied with the curriculum. "We get to visit out-patient departments in hospitals and once even visited the All India Institute of Medical Sciences in Delhi," she says, adding that finding employment is unlikely to be a problem.
Parsingh Meda is from Jhabua, a tribal district in Madhya Pradesh where his father is a farmer. He is enrolled in a four-year agriculture diploma programme. "There is much to learn about farming technology which can only be learned in a skills-oriented higher education institution like AISECT," he says.
Vishal Yadav from the Union territory of Daman & Diu discovered AISECT University while surfing the Internet. Currently enrolled in a three-year diploma course in mechanical engineering, he believes he is receiving the benefit of a sound education, focused on hands-on skills development. "Employment is unlikely to be a problem after I complete my course," he says.
Dolly Singh is the daughter of a non-commissioned officer (NCO) of the Indian Army, Uttar Pradesh. She qualified for the IIT main exam by clearing the IIT-JEE, but opted for AISECT and signed up for its four-year naval engineering programme. "Here we learn practical skills and among other things have done actual projects in water management," she says.
"Skill learning should be integrated into conventional education"
Indranil Banerjie interviewed Santosh Kumar Choubey, promoter-chancellor of AISECT University, in Bhopal. Excerpts:
What was the motivation for you to promote the All India Society for Electronics & Computer Technology — which is now AISECT University — way back in 1985?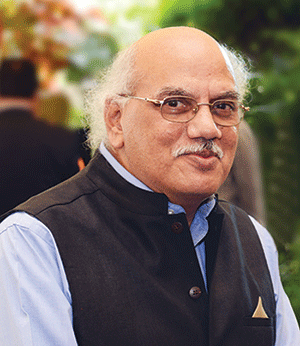 In 1982, I passed the UPSC (Union Public Services Commission) civil services examinations but didn't join government service. I was inspired by the science movement started by P.N. Haksar and other science communicators and started an NGO called the All India Peoples Science Network in Delhi. In 1985, I decided to move to a smaller place where I felt there was greater need for science and technology education, especially in local languages.
At that time the late prime minister Rajiv Gandhi was promoting computers, which for most Indians were mystifying. Under the banner of SECT, I began providing computer education in local languages. I also wrote my first book Computer ek Parichay (Introduction to Computers) in Hindi which sold lakhs of copies in the Hindi states. I convinced the state government to permit me to provide elementary computer education in government schools, requesting only for space to establish self-funded learning centres. I equipped the centres with hardware, trained teachers and prepared the course material.
In this way I established centres in 120 schools between 1987-1992 and we trained over 100,000 students in computer usage. That was the beginning and thereafter things accelerated step by step.
There is some confusion in the public mind. To what extent is AISECT a vocational skills development university as opposed to a conventional university?
In our definition of education, skills education is not delinked from conventional higher education. We integrate automobile repair and maintenance and other skill programmes such as Tally-based accounting into our
engineering and commerce degree programmes. In AISECT we offer one certified skill programme of the student's choice in each year of his degree programme. For example one skill training programme is mandatory in each year of the three-year B.Com degree course. Therefore when a student completes the B.Com degree, he has three skill certifications and is more job ready than others. Secondly, we are tying up directly with top-ranked companies for our students to acquire hands-on industry and shop-floor experience.
For example, electrical engineering students acquire skills learning with Schneider Electronics, engineering students who choose automobile engineering as their skill programme with Tata Motors, and those who choose cloud computing with Microsoft. Thus, AISECT is unique in making students job ready before they graduate.
How satisfied are you with the progress and development of AU?
Skills development has always been our core focus. We have a clear understanding of grassroots realities and are well aware that 90 percent of jobs in this country are in the unorganised sector. We are also aware that large corporates including Microsoft and Google are looking for skilled workers. So, when the demand for skilled — and not merely white collar — graduates warmed up after liberalisation of the economy in 1991, we were ready. By 2001-02 we had opened up 1,000 skill centres. We found that skill training centres in rural and semi-urban areas could also provide an array of services including financial services. Today, we partner with 15,000 skill development centres across 27 states and also have 23 PMKK centres established in partnership with the Central government.
By 2003, we found there was strong demand from our grassroots level centres for university endorsement of certificate and diploma programmes. At that time, there were legal issues involved and private universities required Central government approval. But since education is a concurrent subject under the Constitution, Chhattisgarh was the first state to legislate the Private Universities Establishment Act and the Chhattisgarh government sanctioned our first university — Dr. CV Raman University in Bilaspur in 2006. After that a large number of state governments including Madhya Pradesh began passing legislation for establishing universities. The AISECT University was legislated in Bhopal by a special Act of the MP legislative assembly in 2010. This was our second university and our third university was set up in Hazaribagh (Jharkhand) in 2015.
India's track record in terms of vocational skills development is dismal with only 4 percent of the 400 million workforce having received formal vocational skills training. As against this over 60 percent of workers in the OECD countries have formal certification in vocational skills. Even in China which industrialised after India, over 20 percent of the workforce is formally trained. What's your comment?
The low level of certification in India could be attributed to our guru-shishya tradition under which skills and knowledge are passed down from father to son. Actual skills, and not certification is what matters. For instance skilled carpenters never had any formal training or certification until recently. It was only after completing a government certified course that they were officially considered skilled workers. In this context, Recognition of Prior Learning (RPL) is crucial as it can help professionals taught under the guru-shishya tradition to be assessed and certified on their current competencies according to the criteria defined by the National Skill Qualification Framework (NSQF).
There is also a great need for upgradation of skills. Welding skills, for instance, have undergone dramatic changes and so has a simple vocation like house painting. Traditional skills need upgrading which is what AISECT's certificate and diploma programmes provide. We offer walk-in programmes on the community college model.
In 2007 the Congress-led UPA-II government promoted the National Skill Development Corporation (NSDC) to finance private sector skills development training schools and organisations. How satisfied are you with NSDC's track record?
The NSDC is a good idea especially because it disburses cheap loans to skills development training schools and organisations. On one hand, NSDC has been successful in bringing the entire skilling ecosystem to the forefront and nurturing it. On the other, problems have arisen because the scale of the skilling challenge which India faces is just too huge for a single agency to handle. There are bandwidth issues in managing a project of this scale, especially when recently the skilling ecosystem is witnessing thousands of new organisations and centres coming up across the country. The right way ahead would be to deliver skills training through state level missions and only keep broad direction-setting and policy level work with NSDC.
While developing a skilled workforce we should not think solely about the organised sector of industry and the international market. There is a great need for local skills building for the construction industry, and training and creating skilled plumbers, masons, electricians, carpenters and so on. Agriculture too needs skilling. NSDC should also think about grassroots requirements. And it shouldn't forget that small, medium and unorganised businesses are creating 90 percent of jobs in this country.
What are your plans for the growth and development of AISECT?
Right now we are focused on expanding our network base in uncharted areas such as the North-east. Good progress has been made in Assam, Manipur, Tripura, Arunachal Pradesh and Nagaland. AISECT is present in Jammu and Kashmir and as far afield as the Andaman Islands. It's important to note that we are also creating expertise in 17 industry sectors. There is also an effort to integrate IT into our existing 23,000 training centres and plans to promote more universities in Vaishali, Bihar and Khandwa, Madhya Pradesh. In short we are pushing our expansion plan both vertically and horizontally.