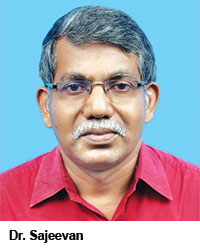 I have heard that it's unhealthy to pack hot food in plastic containers as the heat and plastic combine to release toxic compounds. My daughter is in upper kindergarten. Can I pack a dry/cold lunch for her in a high-quality plastic tiffin box? She finds it difficult to open steel tiffin boxes and cannot manage glass containers.
— Archana Shastri, Mumbai
It is best to avoid plastic containers for food and also carrying water. Bisphenol A or BPA is an industrial chemical commonly used to manufacture plastic. Research indicates that BPA permeates into food and beverages and could cause damage to the brain and the prostate gland of foetuses, infants and children. It is also linked with behavioural changes and increased blood pressure. My advice is to use good quality stainless steel lunch boxes.
I use a branded baby oil to massage my eight-month-old son every day before giving him a bath. But of late, I have heard that massage oils are unhealthy for infants. Should I stop using them?
— Asha Kutty, Trivandrum
Infants and children love being massaged. You can use good quality gingelly, coconut, olive or mustard oil to massage infants. Baby skin produces less moisturising oils than of adults and therefore absorbs more oil when massaged. My advice is to avoid perfumed and mineral oils, unless specifically advised by your doctor.
My 12-year-old daughter loves to play sports and games at school, and returns home every day with her hair full of dirt and sand. A water-only hair wash doesn't cleanse the dirt and I have to shampoo her hair every day. Will this adversely affect my daughter's scalp?
— Ramani Krishna, Chennai
Soiled hair needs gentle cleansing. Application of coconut, olive, or gingelly oil followed by rinsing with a gentle soap is sufficient. Daily use of shampoo can cause dryness of the scalp which can lead to dandruff. Recommended use of hair conditioner/shampoo is once a week. Moreover please take care to thoroughly dry her hair before bed time. Wet hair tied with ribbons and hair clips can lead to piedra, a fungal infection of hair shaft.
My 13-year-old son loves to paint, but often sprinkles paint all over himself in the process. Of late, I have noticed him scratching his skin. Has he become allergic to paint?
— Srinidhi Raman, Chennai
Children using paint for class projects, art classes etc may develop allergies because of certain components present in the paints. Tempera paints are egg-based and can cause health problems for children with egg allergy. Similarly, finger paints are made of wheat, oats etc. Oil-based and acrylic paints block skin pores resulting in itching and eruptions. It is best for children to use non-toxic, lead-free, washable paints.
Stop using the current paint brand and ask him to bathe with neutral pH soap substitutes (such as Syndet). If itching or rashes persist even after stopping exposure to paint, consult a dermatologist.
(Dr. Sajeevan E.S. is a consultant paediatrician at Pathoor Nursing Home, Malappuram, Kerala)