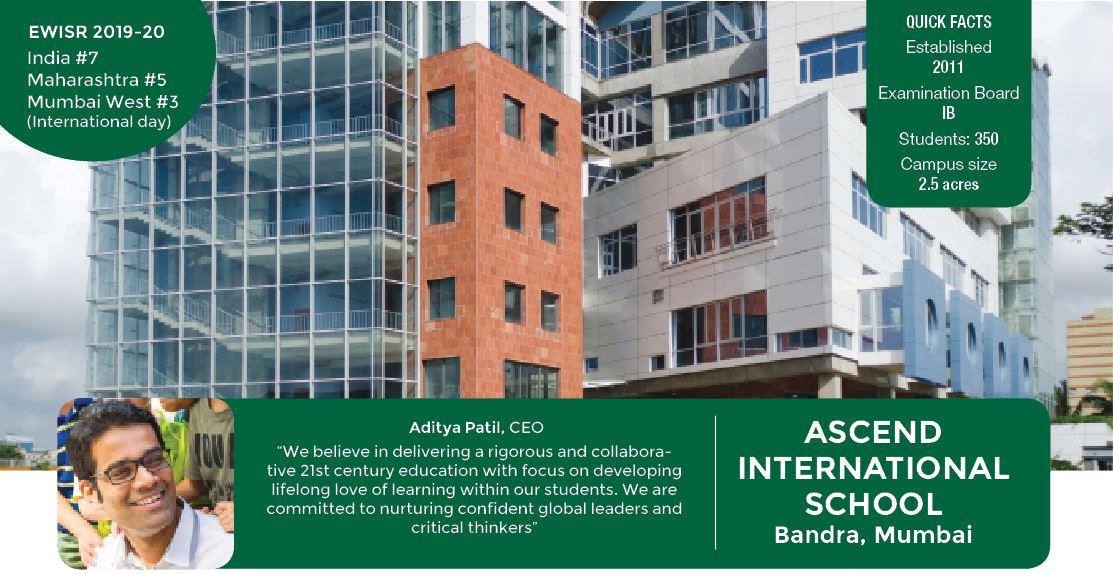 In the short span of eight years, the coeducational K-10 (classes XI-XII to begin in 2020) Ascend International School has quickly won the patronage of Mumbai's cognoscenti for its high quality internationally benchmarked education. Established in 2011 under the Kasegaon Education Society (KES, estb.1945 by Rajarambapu Patil), which runs 46 educational institutes in Maharashtra with an aggregate enrolment of 26,000 students, Ascend was conceptualised and developed by Bhagat Patil and Aditya Patil, the school's chairman and founding CEO respectively.
Affiliated with the International Baccalaureate (IB), Geneva, Ascend derives considerable inspiration from its partner school the University Child Development School (UCDS), a widely admired, research-driven elementary school based in Seattle, USA. Ascend's distinguishing features are its highly qualified faculty, well-designed curriculum tailor made for all learning styles, and contemporary academic and co-curricular facilities.
Unsurprisingly, in the latest EducationWorld India School Rankings 2019-20, Ascend is ranked among the country's Top 10 (#7) international day schools, #5 in Maharashtra and #3 in Mumbai West. The school is also ranked #1 in Mumbai West for individual attention to students and infrastructure provision, #2 for teacher welfare & development and #3 in competence of faculty and co-curricular education.
Sited in Mumbai's newly developed Bandra-Kurla business district, which hosts the head offices of Citibank, SEBI, BNP Paribas and the National Stock Exchange among other well-known corporates, Ascend's 2.5-acre green campus designed by celebrated US-based education architect Don Carlson with inputs from UCDS, offers smart and safe learning spaces for its 350 students, including 180 girl students, mentored by 70 carefully selected international and Indian faculty on its muster rolls.
The seven-storeyed academic building comprises primary and secondary sections with 35 ICT-enabled classrooms equipped with mobile smart boards, central administrative block and residential apartments for teachers and visiting faculty. The 5,000 sq. ft central library houses over 9,000 print volumes, journal subscriptions and electronic resources. It is housed on the school's 'specialist floor' which also hosts two art studios, two music rooms, two science laboratories and a yoga/dance studio, as well as a 250-seat multipurpose auditorium.
Fully committed to the holistic development of students, Ascend offers excellent sports facilities including a football field, a basketball court and a field for track & field sports along with a 25-metre rooftop swimming pool and specialised coaching for football and swimming.
Ascend's goal is to cultivate a life-long learning habit and develop critical 21st century skills within its students' community by engaging with innovative pedagogies strongly rooted in Indian traditions and values.