Rapid technological change and new global challenges are pushing the boundaries of the traditional domains of social science analysis. In the new BA Honours program in Political Science at the Jindal School of International Affairs (JSIA), O. P. Jindal Global University (JGU), we take a holistic, interdisciplinary, and skills-focused approach to the study of politics to equip our students to deal with these challenges as analysts, practitioners, and leaders.
We believe that interdisciplinarity should incorporate not just multiple academic fields, but also regional and global perspectives, real world experience, and a deep grounding in the dynamics of practice. Our courses, taught by a diverse international faculty that includes political scientists, sociologists, economists, historians and diplomats, give students a foundation in the discipline but with a critical perspective to understand how the fields and arenas of politics are changing. Students develop an understanding of states and institutions, political behaviour and communication, public opinion and voting, and regional issues and perspectives in national politics, as well as a global perspective on politics including peace and conflict studies, international cooperation, globalisation, and different forms of government.
Learning at JSIA extends well beyond the classroom. We work closely with students to chart their path through the major and pursue internships and opportunities for semester exchange and study abroad programs through our partnerships with leading global universities including Oxford, the Geneva School of Diplomacy, The Fletcher School of Law and Diplomacy, Tufts University, and more. Our students and alumni have interned and found long term positions at prominent organisations including UNDP, Carnegie, Brookings, Chase India, Human Rights Watch, Amnesty, CII, Oxfam, Observer Research Foundation, the Federation of Indian Chambers of Commerce and Industry (FICCI), embassies including China and Lebanon, and media houses including The Indian Express, Wion, and the BBC.
Experiential and immersive learning also takes place in class and on campus. Our innovative pedagogy includes simulations, site visits and guest speakers, advanced training in research methods used by practitioners, and collaborations with partner organisations. We offer on-campus opportunities for learning and research collaboration, including through faculty mentored independent research and collaborations in JGU's research centers focusing on topics that are missing or underrepresented in Indian academia. Our advanced research electives offer methodological training in research skills used by practitioners as well as academics. Students are encouraged and guided to develop an area of specialisation through their choice of internships and placements as well as their third year electives. Unlike most other political science programs, we offer the option of language learning to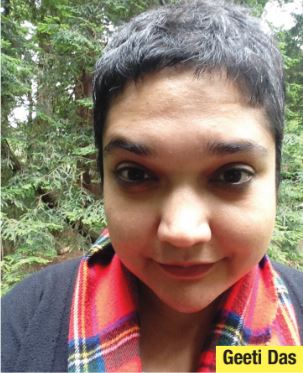 complement regional specialisations through our electives. Students can focus on Europe, China, Latin America, as well as regions closer to home like Southeast Asia and Afghanistan.
At JSIA, we give our students the intellectual, practical, and language skills and experiences to prepare them for a wide range of meaningful careers, including joining and leading political parties, to keep up with a rapidly changing world, and ultimately, to change it.
Geeti Das Assistant Professor of Political Science Jindal School of International Affairs