Stair climbing is a great cardio exercise that burns calories, develops muscle strength and stamina. If you transform this routine activity into a workout — at least 15 minutes every day — you will develop strong glutes, thighs, hips and abdominals and also lose weight
– Monojit Ghosh is a former gymnast and fitness trainer and gymnastics coach at Art Corner Gymnastics, Bangalore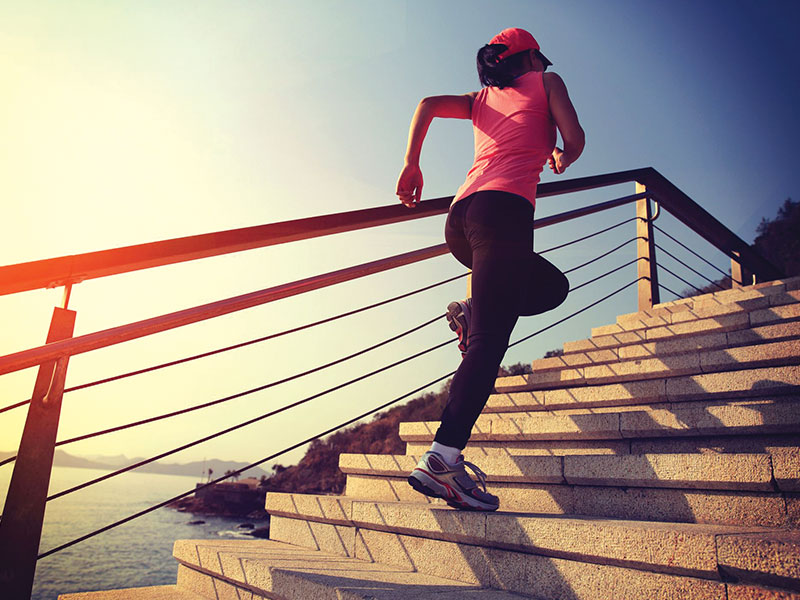 Do it right
 Warm up by slowly walking up and down a flight of steps. Follow up with 20 jumping jacks and spot jogging slowly, then fast for one minute.
 Now, start climbing 15-20 stairs up and down for 10-15 minutes. First briskly, then slow down.
 Keep your breathing steady throughout the exercise. It will spread oxygen to your muscles.
 Maintain an upright posture to avoid strain on the lower back.
 If you experience any type of sharp pain while climbing stairs, stop immediately.
 If you need support, hold onto the railing when walking up and down the stairs.
 During the workout, focus on proper knee alignment, to avoid knee or ankle sprain.
 Sip water before, during and after the activity, even if not feeling thirsty.
 Don't be in a hurry. Take your time with this workout.
 Use shoes with good grip.
 Take short breaks.
 If you feel dizzy, stop and take a break.
Warning
 If you are suffering pain in your feet, ankles, knees, or hips or ligament tears, stair-climbing workouts are not for you.
Advantages of climbing stairs
 Burns calories much faster than walking or running
 Improves stamina, muscle tone and increases energy
 Strengthens glutes and quadriceps
 Doesn't require training equipment
Temple stair climbing holidays
Many temples in India are sited on mountain tops. Family visits to such mountain temples can transform into a stairs-climbing holiday. Some suggestions:
 The Talakaveri temple in Madikeri, Karnataka has 370 steps to climb.
 The picturesque Kolli Hills Temple, Namakkal, Tamil Nadu, has 1,000 steps to ascend.
 Tirupati temple in Chittoor, Andhra Pradesh, has 3,500 steps.
Also read: A stretch in time saves nine: Stretching exercises