The four-decade-old Blue Bells Group of schools has made its place at the forefront of K-12 education on the foundation of contemporary, child-centred education. It is launching two new schools in Gurugram with world-class pedagogy that combines the best of Western science with Indian philosophy.
When Dr Saroj Suman Gulati, a teacher and school administrator, started a small school out of her four-room house, little did she know that she had planted the seeds of an educational enterprise that would be, in just four decades, at the forefront of K-12 education in Gurugram. Dr Gulati is the founder-director of the Gurugram-based Blue Bells Group (BBG) of schools.
In 1978 when she moved to Gurugram from Chandigarh, Dr Gulati felt an acute shortage of quality senior secondary schools in the city. "Gurugram's new residents were severely inconvenienced — they had to send their children all the way to Delhi for quality education. So I took the plunge and invested my modest savings to start Blue Bells Sector 4," reminisces Dr Gulati.
It was an investment that has delivered a bountiful harvest for many generations of children of Gurugram. The BBG today has three coveted schools under its umbrella — the Blue Bells Model School, Sector 4 (BBMS-4, established 1980); the Blue Bells Preparatory School, Sector 4 (established 1980), and the Blue Bells Public School, Sector 10 (BBPS10, established 2003).
For the last two decades, the vice-chairman of the group, Mr Ashish Gulati, who has a first class degree in engineering and is a postgraduate in management from the prestigious Management Development Institute (MDI, Gurugram), has been shaping the group through strong organisational enablers, investments in IT and sports infrastructure, and a robust curriculum. These initiatives have kept the group's schools contemporary and its children prepared for the digital economy.
STRATEGIC GROWTH PATH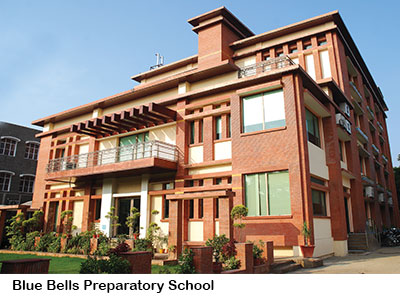 Persistent efforts and a keen focus on children led to BBMS-4 quickly earning a strong reputation among service-class parents for high-quality, globally benchmarked education. By March 1981, the number of students rose to 250; it more than doubled to 570 by 1983; and in 1985, the school moved to its current 2.5-acre campus. The CBSE-affiliated school now has over 2,000 children mentored by 175 teachers. In 2019, 54 percent of its students appearing for the Class X board exam averaged 90 percent and above.
The turn of the millennium saw Gurugram fast becoming a top ICT (information and communications technologies) hub. By then, BBMS-4 had reached its capacity. But Mr Ashish Gulati had started planning for additional schools to increase the group's presence and to cater to the growing demand for the Blue Bells education system.
In 2003, the excellence paradigm of BBMS-4 was expanded by starting the Blue Bells Public School, Sector 10, Gurugram. The CBSE-affiliated, co-ed, nursery to Class XII school quickly won state-wide recognition for providing ITenabled pedagogies and well-rounded education. In 2019, BBPS-10 students averaged 83.6 percent in the Class
XII board exam and 84.5 percent in the Class X boards.
WORLD-CLASS EDUCATION, WORLD'S BEST PRACTICES
The spectacular success of BBG schools can be attributed to its constant focus on world-class education that is driven by global best practices. Starting from pedagogy to curriculum to physical infrastructure to social consciousness, BBG schools have adopted, adapted, and practised the best ideas in child education from the world over.
"The BBG has developed a unique child-centred approach that combines cultural inspirations from India with academic and technological innovations from around the world to ensure that the child is developed holistically — in mind, body, and spirit," says Mr Ashish Gulati. In the latest Education World India School Rankings 2019-20, BBMS-4 is ranked #8 and BBPS-10 is ranked #15 among reputed schools of Gurugram.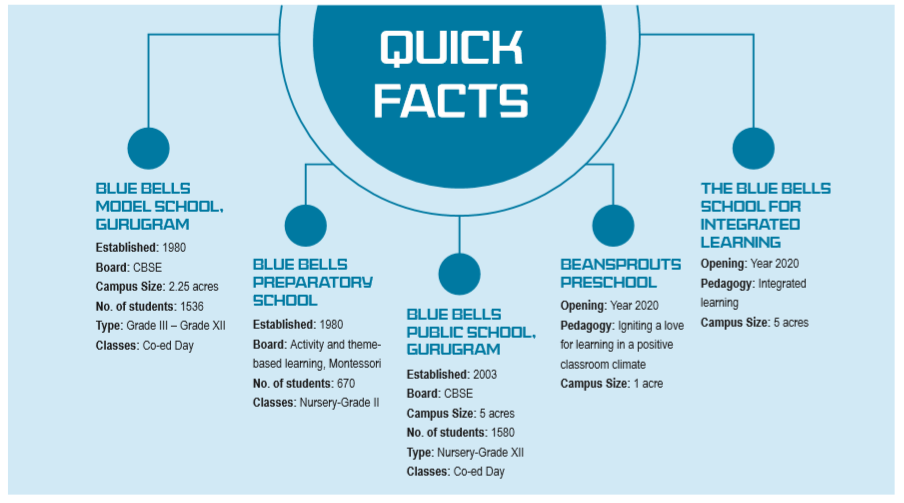 CHILD-FOCUSED EDUCATION PHILOSOPHY
At the core of BBG's philosophy is the child. The BBG's teaching methodology shifts the focus of instruction from the teacher to the student so that students develop autonomy and independence. Student-centred instruction develops skills that enable lifelong learning and independent problem-solving.
Not just educational outcomes, BBG schools also strive for the psycho-social development of the child through right education, social work, literary and cultural activities, and sports. Students are guided to integrate with their future professional and social environments as balanced individuals and to excel in an area of their interest and have a fulfilling life. Surrounding it is BBG's nonnegotiable stand to make their schools a safe place for students, with a 'Zero Tolerance Policy' towards child abuse.
A PEDAGOGY FOR HOLISTIC DEVELOPMENT
The Group's schools follow SocialConstructivist pedagogy of teachinglearning, appropriately adapted to the Indian context. The primary focus of their educational effort is on the assimilation of conceptual knowledge and its application. A theme-based interdisciplinary approach helps in achieving excellence in scholastic, co-scholastic, and life-skills education of students. The unique pedagogical practices and teaching methodologies ensure that students develop the ability to think independently and reflect critically on societal, national, and global issues.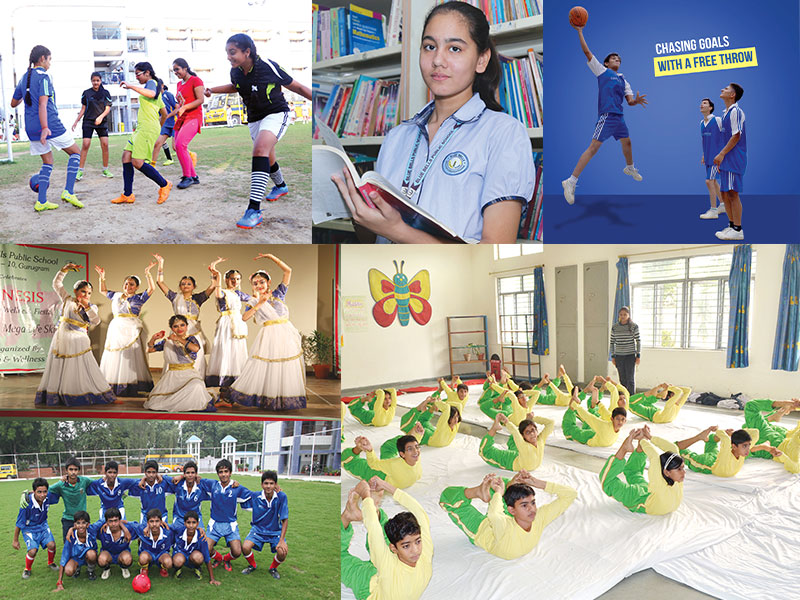 A CURRICULUM IN TUNE WITH THE INDIAN ETHOS
"Blue Bells is among the first K-12 groups to have invested in an in-house curriculum development and teacher training centre that is research-based. Our specially designed child-centric curriculum incorporates the best global education advancements while keeping in mind a child's holistic development," says Mr Ashish Gulati.
The Blue Bells curriculum framework is designed to bring learning to life by ensuring students develop deeper cognitive skills in priority areas such as creativity and problem solving, language and communication, physicalmotor domain, and social-motor adaptive learning to support their academic growth.
GREAT TEACHERS EQUAL GREAT STUDENTS
Human resource development being a top priority, BBG's teachers attend frequent workshops to upgrade their knowledge of the latest innovations in academic curricula, teaching methodologies, pedagogies, and technological aids for teaching-learning. Teachers are empowered to be effective leaders in their classrooms so that they can, in turn, create future global leaders. The Blue Bells Group of Schools Gurugram has empowered groups headed by faculty for health and wellness, academics, innovation, and development.
Teachers are encouraged to undertake activities and research for the development of innovative methods, processes, and practices for improving the teaching-learning environment. These measures have resulted in commendable low attrition in teaching staff, with some teachers being associated with the group for over two decades.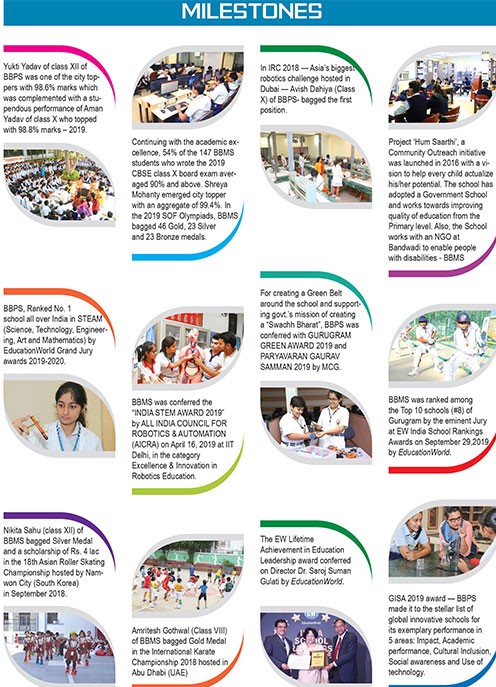 SERVICE BEFORE SELF
To become better citizens of the world, the students of Blue Bells Group of Schools Gurugram are encouraged to experience and inculcate the Indian value of 'sewa' or service. Children, through social outreach clubs, visit old age homes, schools for hearing and speech impaired, and slums, where they interact with people and understand their stories and their struggles.
Children have also participated in walkathons to raise awareness about organ donation and have visited underprivileged schools and localities to distribute utilities to needy students. This helps students develop greater empathy and respect for others and their condition, and a desire to achieve goals that are beyond their individual selves.
A SPORTING WAY OF LIFE
Play has a biological role in the development of an individual and gives an evolutionary advantage to a person. Play not only develops the essential physical skills to cope with life, but in the human context, it also develops team spirit, strategic thinking, creativity, resilience, decision-making, and a positive outlook towards life.
Keeping this in mind, the BBG schools have integrated sports and games as an essential part of their curriculum. Children are given a choice from more than a dozen different sports and games ranging from cricket to chess to carrom. They are proactively supported by teachers, coaches, and external experts who help them improve their skills as well as develop a sporting mindset.
CULTURAL EXPLORATIONS
Understanding culture is equal to traveling the world and peeping into the lives and minds of others. Cultural sensitivity and experience are essential for developing a holistic personality and humane values. The group's schools are equipped with well-stocked libraries, fine-arts labs, classical and western dance halls, and music and instrument rooms. Students indulge in quizzing, literature, robotics, sculpting, heritage appreciation, international relations, economics, and many other domains through more than a dozen different clubs that are well supported by teachers and administration.
THE INNER EDISON
Keenly aware of the role a curious and innovative mind plays in the future of children and nations, the BBG has established an Atal Tinkering Lab where children learn by experimenting. Young minds learn to tap into their innate curiosity, enhance their creativity, and stretch their imagination. They work hands-on with tools and equipment such as electronics, robotics, opensource microcontroller boards, sensors, 3D printers, and so on to understand the what,
how, and why aspects of STEM (Science, Technology, Engineering, and Math). Children develop twenty-first-century skills such as design mindset, computational thinking, adaptive learning, and physical computing.
ALUMNI
The alumni of Blue Bells schools have been able to carve a niche for themselves in some of the best universities. They have made their way to institutions like National Defence Academy, Indian Air Force, Indian Institutes of Technology, University of Petroleum and Energy Studies Dehradun, and so on. Given the group's rich legacy of 40 years, it's not surprising that Blue Bells has an impressive alumni roll call. Prominent alumni include Raj Kumar Rao, popular Bollywood actor; Shubham Yadav, IRS, assistant commissioner of income tax; Prateek Yadav, flight commander in Air India; Dr (Major) Atul Gupta of the Indian Army; Ayush Sapra, editor, Mukta Arts; and Flight Lieutenant Bulbul Vishwakarma of the Indian Air Force.
TOMORROWLAND
What plans does BBG have for the future? Not one to rest on their laurels, the Blue Bells Group of Schools Gurugram plans to combine its legacy experience with cutting-edge education innovations to launch two new initiatives. "Next year we will admit the first batch of students into our new Beansprouts Preschool and The Blue Bells School for Integrated Learning. The
preschool is pioneering a unique L2L — learn to love and love to learn — teaching-learning method, while the K-12 school will build upon the group's tried and tested practices and integrate new innovations. We are committed to continuous improvement and innovation and these two new schools will integrate the legacy of the group with new education practices," reveals Mr Ashish Gulati.
"BE HONEST. BE BRAVE"
The motto of the four-decade-old Blue Bells Group of Schools (BBG) is not just to inspire its students; it is also the guiding principle for the group's leaders and staff. An honest approach towards students, parents, and the educational needs of India has helped the Blue Bells Group create a strong legacy of quality education and deliver exceptional educational outcomes. And it is the courage to venture into the new and challenging that has underscored the continuing competitive advantage of its schools.
"Extremely satisfied, but miles to go…"
Ashish Gulati, vice-chairman, Blue Bells Group of Schools Gurugram, has a first class degree in engineering and is a postgraduate in management from the prestigious Management Development Institute, Gurugram.
With a keen interest in behavioural sciences and change management, he has initiated and implemented several organisational development measures across the group's schools.
What have been some of the organisational initiatives implemented by you to keep the Blue Bells schools contemporary?
With a continuous focus on learning and development, the Blue Bells Group of Schools Gurugram has made a conscious effort to invest heavily in research that covers curriculum development, health and wellness, and information technology. The centres of excellence covering these core areas support all three schools through customised age-appropriate programmes and processes.
We deeply believe in the role of sports and co-curricular activities in developing multiple talents in a child. For this, we have invested in specialised coaches and state-of-the-art sports infrastructure, which encourages children to understand their interests and pursue them.
What is your message for staying relevant in today's education scene?
I think the first thing is that educational institutions need to be flexible, dynamic, and contemporary to keep pace with changing educational and skill requirements. In order to do that, I strongly believe in understanding the changing trends through formal research and adopting frameworks to analyse current and future scenarios. Secondly, we cannot sit on the laurels of a traditional institution and expect to cater to today's parent and education requirements. A school has to be continuously learning as well as developing if it wants to be relevant for our children — now and in the future.
Do share the thought behind the new school The Blue Bells School for Integrated Learning.
Aligned with the changing paradigms in the education space, we are bringing forth our learnings through The Blue Bells School for integrated learning —our new campus in Sector 50, Gurugram, which is open for admissions for 2020.
Advances and insights into behavioural sciences have revealed that learning happens not through instructional teaching only; it happens with other means as well. Our curriculum development experts have leveraged on multiple approaches to create a singular learning approach that combines Western science with insights from Indian philosophy.
Students learn and develop complex thinking skills by cutting across subjects and emulating real-life situations in a collaborative environment. Emotional safety, empathy, and compassion are essential not only for socio-emotional growth but also to facilitate creativity and deeper understanding to help create an integrated learning environment.