Reshma Ravishanker
Bengaluru lost two teens to suicide on April 1 as they jumped to death in their apartment complexes. One of them reportedly took the extreme step because he failed to meet his expectations in the Joint Entrance Exam (JEE Main) held last month.
With board examinations for class X and XII students around the corner, several students are reeling under Covid-induced exam stress, say professionals. The onset of a second wave of the pandemic has given exam stress a new dimension, they add.
In 2019, atleast one student committed suicide every hour according to the National Crime Records Bureau. In 2019, of all the suicide victims in the country, 7.4 percent were students. Of the 22,390 that took their lives, as many as 1,577 were aged below 18, official figures indicate.
Dr Satish Ramaiah, psychiatrist at People Tree Hospitals and Lead consultant for Neuropsychiatry services for the Cambian Group — largest private mental health services provider in the UK — rues that insufficient teacher-student interaction, lack of holidays or involvement in an outdoor sport, loss of a family member to Covid-19 has had an impact on students besides the pandemic induced distress itself.
"We are seeing fewer cases of academic stress. We are seeing fewer cases of performance-related issues among students. It is mostly Covid related. Stress in the family due to job loss, reduced personal space due to work from home are to be factored in when children attend boards," he says urging parents, teachers and the government to be lenient with students writing exams this year with challenges being aplenty.
Dr Kannan Gireesh, child and adolescent psychiatrist, founder-CEO of Live Life Education believes that in testing times like these, the role of a parent or teacher is critical. "Talk to the child. Do not be in denial if they are in need of help," he urges.
With classes going online for over a year now, there has been no physical peer-to-peer interaction, giving little room for exchange of ideas, he explains, suggesting that parents can take the initiative in facilitating group calls with peers.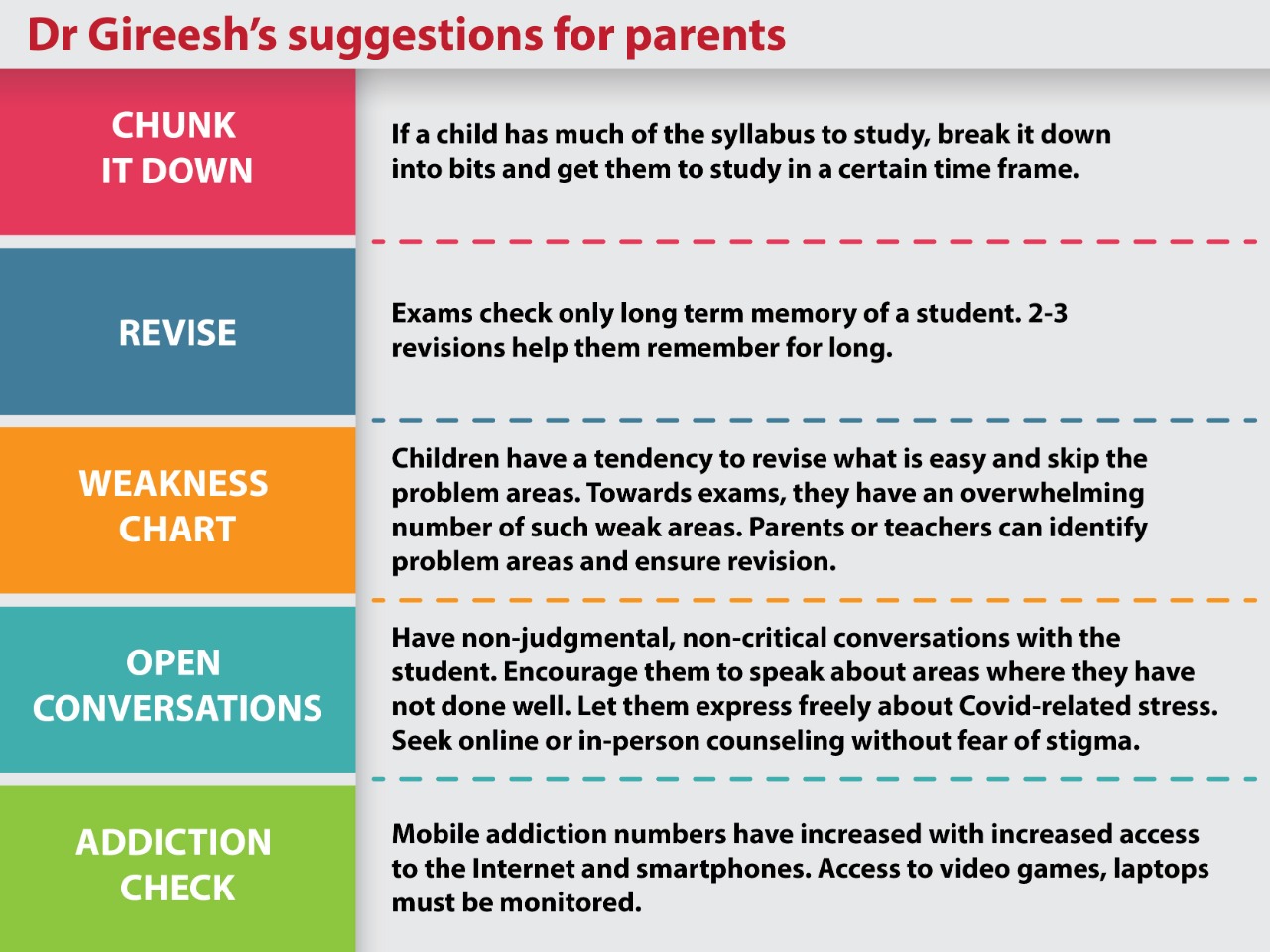 Also read:
Covid 19 surge: School principals divided over postponing board exams
Less examiners for 10, 12 board exams, CBSE asks schools to update teacher data
State-wise update: School promotions/examinations
National
,
News