Promoted a mere six years ago with a first batch of 96 students, the IB (Geneva) and CAIE (UK)-affiliated BIS has quickly established an enviable reputation as the most admired international day school of Rajasthan – Paromita Sengupta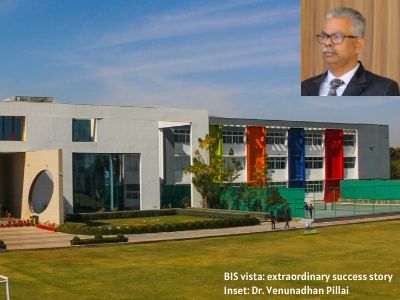 An extraordinary latter day success story in K-12 education is Bodhi International School, Jodhpur (BIS, estb.2014). Promoted a mere six years ago by the city-based business tycoon Naresh Bothra, his wife Nitu, brother Manoj and Shailee Bothra and Namit Bhandari, this co-ed K-12 school affiliated with the offshore Geneva-based International Baccalaureate (IB) and Cambridge Assessment International Education (CAIE, UK) exam boards, has quickly established an enviable reputation as the most admired in- ternational day school of the western state of Rajasthan (pop. 68 million).
Despite its recent vintage, BIS has been ranked Rajasthan and Jodhpur's #1 international day school for three years consecutively in the annual EducationWorld India School Rankings. Moreover in 2019-20, the school was also conferred Educa- tionWorld's Grand Jury Award in the category of career counselling leadership. Currently, this day school sprawled over a six-acre campus with 175,000 sq. ft of built-up area in uptown Jodhpur (pop. 1.1 million), has 693 students (including 259 girls) mentored by 79 well-qualified teachers on its musters.
"I am delighted that within three years of admitting our first batch of 96 children, BIS has sufficiently im- pacted Jodhpur's educators, parents and teachers to establish itself as the city's #1 international day school. Launching BIS as an international school affiliated with Cambridge International and IB right from the start in a non-metro city, posed for- midable staff recruitment problems. But by casting our net wide to recruit a highly capable principal with international experi- ence, and also investing heavily in teacher training and professional develop- ment, we have been able to maintain high teaching- learning standards," says Naresh Bothra, promoter- chairman of BIS.
A business management alum of Jai Narain Vyas University, Jodhpur with cost and works ac- countancy and company secretary qualifications, Bothra is also the pro- moter-chairman of Bothra Interna- tional, a partnership firm (estb.1994) that exports high-quality customised household and office furniture to 35 countries worldwide.
The school's state-of-the-art carefully landscaped campus (monitored by 24X7 CCTV BIS vista: extraordinary success story. Inset: Dr. Venunadhan Pillai coverage) offers 40 air-conditioned ICT- enabled classrooms, separate labs for computer science (60 terminals), physics, chemistry, biology, STEM, media, language and mathematics. It also Naresh Bothra hosts a knowledge and resource hub housing 9,000 volumes with 18 journal subscriptions, built according to Cambridge International and IB specifications.
"Teacher training and professional development to ensure that our faculty delivers best quality internationally benchmarked educa- tion to our children is given high priority in BIS, with workshops conducted through the year to keep our teachers abreast with emerging ICT enabled pedagogies and international practices. Their brief is to nurture our students' learning Bodhi International School is a K-12 strategies, multiple intelligences and co-educational day school affiliated metacognition. As a result although our first batch of 24 A-level (Plus Two) students is yet to graduate this month, they have already received scholarship-cum-admission offers from several high-ranked universities including New York, Istituto Marangoni, Milan (Italy), Northeastern and Boston universities and the Hult International Business School, London," says Dr. Venunadhan Pillai, an English language and literature postgrad of Kerala University with 34 years of teaching and leadership experience in international schools in Bhutan, Kenya and Malawi who was appointed principal of BIS after a global search in 2016.
In consonance with the norms of top-ranked schools in India and abroad, BIS offers a wide choice in sports and co-curricular activities. Sports options feature a mini olympic size swimming pool and splash pool for younger children, two synthetic lawn tennis, one basketball and two squash courts, a soccer field, a roller skating rink, cricket net practice facilities, and table-tennis room. For high-promise sportspersons, 11 professional coaches mentor and counsel them individually. The co-curricular education menu is also extensive and includes acoustic rooms for music learning and practice, dance studio, art and design rooms and audio-visual production rooms. Moreover, students are encouraged to conceptualise, organise and manage inter-school programmes such as Bodhi LEAD,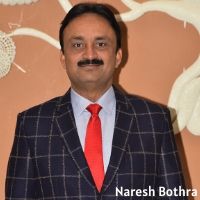 Central India Cambridge Community Schools' Confluence and STEAM exhibitions. Other signature events include the student-managed Bodhi Marathon, Model United Nations and TEDx events.
"With BIS having established a solid reputation as Rajasthan and Western India's #1 international day school, the foundation has been laid to grow BIS on our four pillars of strong academics, sports and co-curricular education and internationalism. I believe we are now ready to transform into an internationally benchmarked day-cum-boarding school which will attract students from across Rajasthan and our neighbouring states," says chairman Naresh Bothra.
Admission & fees
Bodhi International School is a K-12 co-educational day school affiliated with the International Baccalaureate Primary Years Programme (for early and primary years) and the UK-based Cambridge Assessment International Education (for middle school and senior students).
Registration forms are available in the school office in the month of April.
Tuition fees (annual): Rs.99,000-199,000
For further details, contact:
Ph: (0291)-2970100; website: wwwbodhijodhpur.com; email:[email protected]