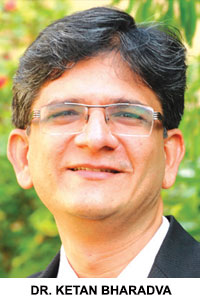 (Dr. Ketan Bharadva is a Surat (Gujarat)-based consultant pediatrician and President, Infant & Young Child Feeding Chapter of Indian Academy of Pediatrics, and President, Human Milk Banking Association)
There is much debate within the medical fraternity about the impact of the Covid-19 virus on the health and well-being of infected new mothers and possibilities of transmission to their new-born infants through breastfeeding and in rare cases, reverse infection to the mother
The rampaging Covid-19 pandemic has created an unprecedented health emergency worldwide and there are numerous questions and anxieties about its spread and impact on children, adults, the elderly and new mothers and infants. Recently there has been much debate within the medical fraternity about the impact of the Covid-19 virus on the health and well-being of infected mothers and possibilities of transmission to their new-born infants through breastfeeding and in rare cases, reverse infection to the mother.
Strong maternal instincts naturally modify the behaviour of new/lactating mothers prompting them to be selective in diet, socialisation, careful about health and hygiene, etc. This already primed mental-emotional state of vulnerable lactating mothers in the post-delivery period has been exacerbated by panic induced by social media about the Covid-19 pandemic. Moreover, lockdown and social distancing rules have added to anxieties about the virus at a time when many lactating mothers are low on self-confidence.
The first collateral damage of such disturbed mental state is breastfeeding. Therefore lactating mothers need counselling during this unprecedented pandemic to build confidence and enable them to make informed decisions.
In this connection it's pertinent to note that breast milk and human milk (expressed breast milk and donor human milk) are critical for improved neonatal outcomes at all times, including emergencies and natural calamities. Irrational promotion and use of formula milk, bottles and teats should be discouraged.
Does Covid-19 get transmitted by breast milk from infected mother to child?
The Covid-19 virus has not yet been found to transmit from mother to infant via breast milk. Covid RNA is found in a very low proportion in breast milk of Covid-19 positive mothers. Moreover breast milk is hostile to viral survival within it. Therefore whatever viral particles are found in breast milk are to a great extent inactive and cannot overcome the defence mechanisms of infants and damage organs. Many components of breast milk inactivate other viruses; they may also be effective against the Coronavirus. The main route of this virus transmission is the respiratory tract. Transmission via oral route is negligible.
How safe is breastfeeding during Covid-19?
The advice of apex health bodies worldwide is that mothers with suspected or confirmed infection should be encouraged to initiate and continue to breastfeed. This advice is based on weighing risks versus benefits from current scientific evidence relating to the Coronavirus, observations from past epidemics of other viruses, established advantages of standard breastfeeding practices, observations that Covid-19 infection in infants is rarely serious, and the established disadvantages of formula or animal milk. The World Health Organization recommends infected mothers to continue standard breastfeeding practices with some precautions. However the final decision to breastfeed should be taken by the mother after proper counseling.
Some standard breastfeeding practices that should be practiced: initiation within first hour of birth, bedding-in, skin-to-skin contact (kangaroo care), frequent and exclusive breastfeeding on demand for the first six months, followed by complementary feeding with continued breastfeeding until the infant attains the age of two years.
What precautions should be taken while breastfeeding?
Covid-19 infected mothers and caregivers should observe:
Respiratory hygiene by sneezing or coughing into tissue papers and their immediate proper disposal. Do not sneeze or cough into the shoulder or elbow because the infant most often comes into contact with these body parts.
Wear a triple layer mask (at least simple cloth mask).
Practise frequent hand sanitization/ washing before and after touching the infant; and after touching own secretions.
Disinfect surfaces exposed to respiratory secretions and/ or frequently touched (such as utensils, cot and door handles, table top, etc). If breasts are exposed to respiratory secretions, wash with soap and water, otherwise routine washing before each feeding is not recommended.
Maintain physical distancing of at least 6 ft or more from others.
Bathe and braid hair daily.
Trim nails regularly.
Sleep well.
Consume healthy nutritious food.
Alleviate stress through meditation, yoga and exercise.
Can breastmilk be expressed and fed?
In situations where mother and child are separated for any reason, breast milk can be expressed and transported. It can be fed to the infant with a spoon. All support to maintain breast milk flow should be given to lactating mothers during and after Covid-19 infection.
Disclaimer: This column is based on current scientific evidence and consensus recommendations. Covid-19 is a new virus, therefore evidence is scanty and evolving, hence current opinion is subject to evolution. Individual decisions should be taken in consultation with medical practitioners and experts.