Reshma Ravishanker
If the idea of attending a tournament sparks an adrenaline rush, Sports is all you can think of as a career option. For those who, scoreboards matter more than report cards and jerseys and tracksuits are uniforms— think no further.
India's emerging education sector has a plethora of options where academics is seamlessly blended with sports as a primary subject. Here are some of the sports schools in the country that could be the Launchpad for the champion's dreams.
NATIONAL SPORTS SCHOOL
Offering CBSE, NIOS and matriculation options academically this sports school is equipped with infrastructure to coach students in Tennis, Football, Cricket, Basketball, Volleyball, Skating, Silambam, Karate, Kabaddi and Cycling. Currently, it has an enrollment of over 400 students and is approaching a 500 mark. The school believes in offering well-rounded education to students where multi-sports training is blended with classroom learning. NSS boasts of 10 acres of campus in Coimbatore, Tamil Nadu, replete with a Synthetic basketball court, 400 mt walking track, artificial and natural cricket turf among other facilities. NSS also offers facilities for lodging and boarding, transport, health care and fitness of the students. The minimum admission age into the school is 8 years.
Website: https://nationalsportsschool.com/
ASHWINI'S SPORTS FOUNDATION
Founded by Olympic sprinter and silver medalist Ashwini Nachappa, the Ashwini's Sports Foundation is a K-12 school located in a 27 acre campus in Karnataka's scenic southern Coorg area. The school was promoted after Ashwini recognized a dire need to create a system to nurture potential athletes consistently while also ensuring academic support. This school is a one where sports is blended with academics. Students train with professional sports trainers and have a wide range of options to select from. The school has a 'Nature' programme which is a grassroot level one, a 'Catalyst programme' to provide professional inputs to other schools who are interested in athletics and hockey and 'Catalyst', specifically designed for athletes who have already won at the National level.
Website: https://asfedge.org/
THE SPORTS SCHOOL
An integrated school for sports and academics providing budding champs the country's best-known trainers across fields, Sports School offers a flexible educational curriculum with a tailor-made academic schedule to cater to the sporting commitments of athletes while also ensuring their academic growth is to the mark. The best of coaches, for instance Bengaluru FC for Football, Key5 Coaching for Basketball, Pullela Gopichand for Badminton, Rahul Ganapathy for Golf, Robin Uthappa for Cricket and Rohan Bopanna for Tennis train aspiring sportspersons here. The 30-acre Residential Campus has 12 International Standard Wooden Indoor Synthetic Badminton Courts, 7 Floodlight Assisted International Standard Acrylic Cushioned Tennis Courts with Center Court, a FIFA Quality Pro Certified Artificial Turf Football Field, International Standard Cricket Ground with Indoor and Outdoor Nets besides two floodlight assisted International Standard Basketball Courts with a Half-Court. The Sports School is affiliated with Central Board of Secondary Education (CBSE), for grades 5 -10, Karnataka State Board for 11-12 and the Jain Group of Institutions for graduate and post graduate courses.
Website: https://thesportsschool.com/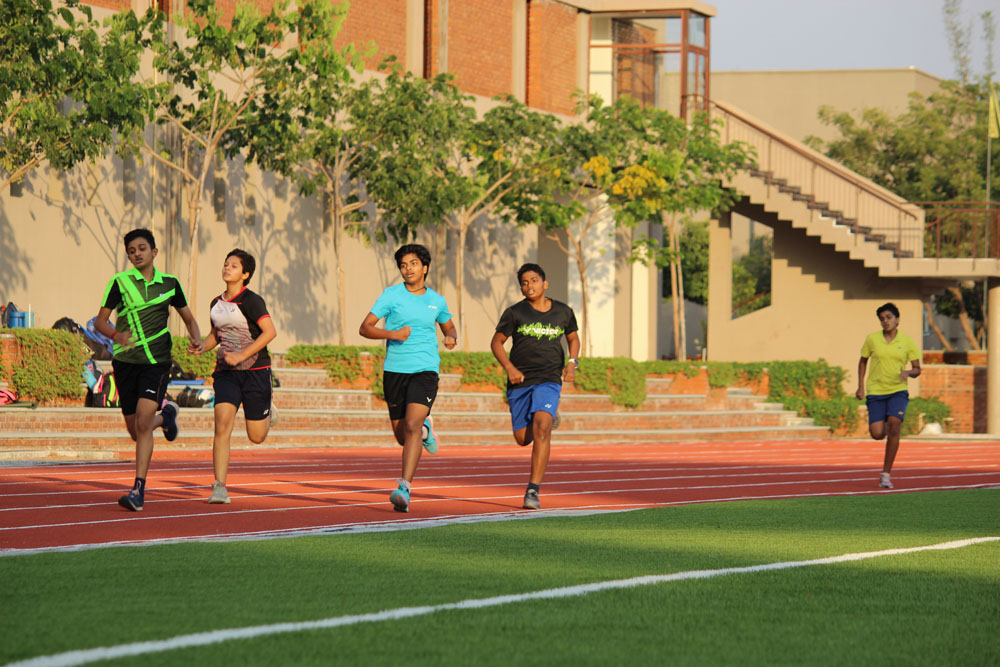 GAUDIUM SPORTOPIA
An integrated residential sports institution, students are handpicked by trainers here and groomed by Olympians and national level coaches. "Gaudium Sportopia is not about a school that 'also has' sports infrastructure. It is being built with the specific objective of producing champions who will bring laurels to the nation and grow up to be the best versions of themselves"- a description on their website reads. Focused on delivering excellent sports training, Gaudium Sportopia has three programmes for students based on the time they dedicate to learning a sport. Under the introductory 'Sportopia Rookie programme', fundamentals of a chosen sport will be introduced during the physical education sessions in school hours. In the more stringent 'Sportopia Stellar Programme', training is imparted before and after school. Students from other schools can opt for this programme as well. However, in the advanced full-time 'Sportopia prodigy programme', students who are strictly focused on making a career in sports are promised personalized academic support to help efficiently manage time to practice sports.
Website: https://www.gaudiumsportopia.com/