Founded 120 years ago by American steel tycoon Andrew Carnegie, who donated 90 percent of his vast fortune to charities and foundations, CMU is one of the world's most admired institutions of higher ed and research.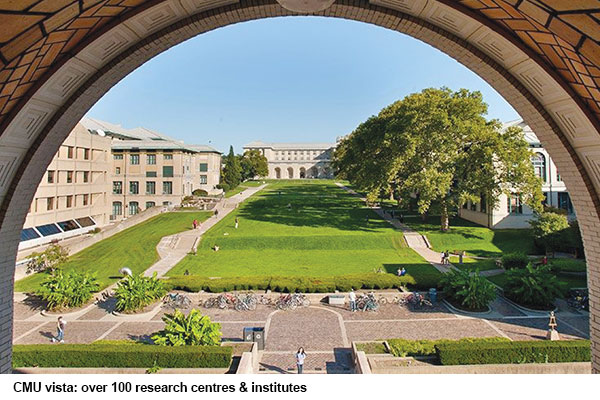 Founded in 1900 as Carnegie Technical Schools by steel tycoon and philanthropist Andrew Carnegie (1835-1919), who during the last 18 years of his life donated 90 percent of his fortune ($350 million or $65 billion (Rs.461,500 crore) at current value) to charities and foundations, Carnegie Mellon University (CMU) has developed into one of the world's most admired institutions of higher education and research. In the Times Higher Education World University Rankings 2020, CMU is ranked #27 and among the global Top 50 in the QS World University Rankings 2020. The US News & World Report in its America's Best Colleges 2020 league table ranks this 120-year-old varsity among America's Top 20 with its computer science faculty ranked #1 and undergraduate business and engineering schools ranked #5 and #6 respectively.
Located on a 140-acre campus in the steel town of Pittsburgh, CMU's seven schools and colleges ­­— engineering, arts, computer science, humanities and social sciences, science, business, and information systems and public policy — provide undergraduate, postgrad and doctoral programmes to 14,500 students from 100 countries, mentored by 1,300 faculty. Moreover, the university hosts more than 100 research centres and institutes including the Pittsburgh Supercomputing Center, Robotics Institute, Human-Computer Interaction Institute and Language Technologies Institute. The CMU alumni roll call features the late John Nash (1994 Nobel prize winner for economics); James Gosling, inventor of programming language Java; Andreas Bechtolsheim, co-founder of Sun Microsystems and Charles Geschke, co-founder of Adobe Systems.
Pittsburgh. Sited at the confluence of the Allegheny, Monongahela and Ohio rivers in Pennsylvania state, Pittsburgh (pop.306,000) is famously known as America's steel city for its 300-plus steel-related businesses. Aka the city of bridges — more than 440 — it's a major hub of the manufacturing, IT and healthcare industries and hosts eight Fortune 500 companies and six of the Top 300 law firms in the US. Pittsburgh also hosts over 25 colleges and universities including University of Pittsburgh and Indiana University of Pennsylvania, and is ranked among the country's Top 25 college cities by finance website WalletHub. The second largest city of Pennsylvania (after Philadelphia), Pittsburgh is student-friendly with a good public transportation system, numerous restaurants, shops, parks, malls, coffee shops, pubs and cinemas.
The city experiences four distinct seasons: winters are cold, cloudy with moderate snowfall; spring and fall (autumn) are generally mild with moderate sunshine and summers are warm to hot and humid. Winter temperatures average -3oC and summer 28oC.
Campus facilities. Sited 5 km from downtown Pittsburgh in the Oakland and Squirrel Hill neighbourhoods, the 140-acre CMU campus is a combination of beaux-arts i.e, neoclassical, and international styles of architecture. Prominent among the campus' 80 buildings are the Cohon University Centre, Purnell Centre for theatre and drama and Posner Hall for business studies. Distinctive campus landmarks include The Cut, a large grassy area and a 24-metres-tall sculpture — Walking to the Sky — designed by American sculptor Jonathan Borofsky. Moreover, the university houses eight libraries including the 24/7 Hunt Library.
Academic facilities apart, CMU has invested heavily in providing its students globally comparable facilities in several sports and games including soccer, swimming, golf, American football, and basketball among others. The campus hosts an eight-lanes swimming pool; the Gesling Stadium with an eight-lane athletics track and Field Turf playing surface with a 3,500-seat amphitheatre. The Skibo Gymnasium houses indoor volleyball, basketball and badminton facilities and six outdoor wind-protected, tennis courts. Moreover, the university's Activities Board organises a variety of events such as concerts, lectures, films, etc to entertain, educate and enrich the lives of the campus community.
Admission. The minimum eligibility requirements for admission into CMU's undergraduate programmes are successful completion of Plus Two, SAT/ACT and TOEFL or IELTS (7.5) scores. The completed online application form, together with Plus Two academic transcripts, teacher recommendation, an application essay and Carnegie Mellon Common Application Writing Supplement should be submitted before November 1 for early action and January 1 for regular decision with a non-refundable application fee of $75.
For graduate admissions, candidates need to submit the application form online together with GRE, TOEFL/IELTS scores, statement of purpose and three letters of recommendation from college faculty or recent employer. For further details, contact the Office of Admission, Warner Hall, 5000 Forbes Avenue, Pittsburgh; e-mail: [email protected]; website: www.cmu.edu.
Accommodation. First-year students are required to live in campus housing. On-campus student accommodation is provided in 13 fully-furnished residential blocks with single, double, triple and quad rooms. The university also offers off-campus accommodation in 13 apartment buildings with one, two and three-room options, all in the campus vicinity.
Degree programmes. CMU offers 80 study programmes through its seven schools and colleges.
Bill of costs (per year)
Tuition fee $57,560
Rooms & fees 9,210
Dining 6,340
Books/supplies & miscellaneous 2,400
Other fees 1,364
Total $76,874
$=Rs.71
Scholastic Options at CMU
Carnegie Mellon University's seven schools and colleges offer a wide range of undergraduate and postgrad programmes. They include:
College of Engineering. Biomedical, chemical, electrical & computer, mechanical engineering, engineering & public policy
College of Fine Arts. Architecture, art, design, drama, music and CFA interdisciplinary programs
Dietrich College of Humanities & Social Sciences. English, history, modern languages, philosophy, psychology, social and decision sciences, statistics & data science
Heinz College of Information Systems and Public Policy. Arts management, business intelligence & data analytics, entertainment industry management, healthcare analytics
Mellon College of Science. Biological sciences, chemistry, mathematical sciences and physics
School of Computer Science. Computer science, entertainment technology center, human-computer interaction institute, institute for software research, computational biology department
Tepper School of Business. Master of business administration, Master of science in business analytics, Master of science in product management, MBA and Juris doctorate law
Shraddha Goled