As schools and colleges shut down during the Covid-19 pandemic cautiously reopen, educators are confronted with challenges of repairing the academic, emotional and nutrition damage suffered by tens of millions of children countrywide – Summiya Yasmeen
One year after governments around the world first discerned the pandemic potential of the Coronavirus (which originated in Wuhan, China in November 2019) and ordered the shutdown of industry, business, trade and education institutions for varying lengths of time, the world is still counting the cost of the most virulent global pandemic since the Spanish flu of 1914-19 which caused 50 million fatalities worldwide including 12 million in India. Preliminary estimates indicate that the cost of the Covid-19 pandemic 2020-21 will be massive. Already 102 million people worldwide have been infected and 2.2 million have succumbed to the deadly virus; the global economy has shrunk by 4.4 percent; 400 million full-time jobs have been lost; and incomes have fallen by 10 percent in the first nine months of 2020, equivalent to a loss of over US$3.5 trillion (Rs.255 lakh crore), a sum greater than the annual GDP of India.
Yet apart from overt damage caused to industry, business and livelihoods, the rampaging pandemic has inflicted heavy damage to education institutions worldwide. Prolonged school closures in over 180 countries have shut 1.6 billion children out of classrooms, in some countries (including India) for more than seven months. World Bank forecasts indicate these children could lose $10 trillion (Rs.729 lakh crore) by way of income over their working lives.
In India as well, the pandemic has inflicted heavy damage on the education system across the spectrum. The country's 1.4 million anganwadis (government-run child nutrition and early childhood education centres), estimated 55,000 private pre-primaries, 1.5 million K-12 schools, 41,901 colleges and 1,028 universities have been shuttered for 11 months following a Central government order issued last March.
While 2,500-3,000 top-ranked schools included in the annual EducationWorld India School Rankings have responded to the pandemic challenge by switching to online learning-from-home classes, with a mere 8 percent of Indian households having access to Internet connectivity and digital devices, learning has almost stopped for the majority of India's 260 million children and youth in primary-secondary education, especially in rural India with an estimated 30 million children having dropped out of school. Moreover with 200 million children enrolled in anganwadis and government primary schools deprived of nutrition and mid-day meals, pervasive child malnutrition poses danger of brain damage and stunting to millions of children. Now as schools and colleges are cautiously reopening for senior school students, educators are confronted with challenges of repairing the academic, emotional and nutrition damage suffered by tens of millions of children across the country.
In the pages following, we assess the cost of the pandemic to Indian education under the heads of learning, health and nutrition, economic and mental-emotional damage.
Academic learning loss
Though past precedents have established beyond doubt that prolonged school closures result in critical learning loss, especially among poor and disadvantaged children, almost a year after all education institutions were ordered to shut down in mid-March 2020 to curb the spread of the pandemic, credible data is emerging of the extent of damage.
The World Bank's Beaten or Broken? Informality and COVID-19 in South Asia report of October last year estimates "the learning loss for the region is 0.5 years of learning-adjusted years of schooling (LAYS), falling from 6.5 LAYS to 6.0". (LAYS calculus combines quantity (years of schooling) and quality (how much children have learned in several grades) into a single summary measure of human capital development). "Being out of school for long means that children not only stop learning new things, they also forget some of what they have learned," says the report (see p.56).
In India, apart from the 2,500-3,000 primary-secondary schools ranked in the EducationWorld India School Rankings 2020-21 (see www.educationworld.in), most of whom have switched to online teaching-learning during the past six-nine months, the overwhelming majority of 1.2 million government and 400,000 private budget schools lack the financial and digital resources to provide e-learning to children.
The Annual Status of Education Report (ASER) 2020 of the highly-respected education NGO Pratham Education Foundation (estb.1994) published last October, says a mere 11 percent of students enrolled in private and government schools countrywide are logging into online classes and 21.5 percent are accessing one-way video recorded classes. The report adds that although considerable digital content is being generated and transmitted to help children to continue learning, "there is limited evidence on the extent to which this content is reaching children; whether they are engaging with it; and the impact it is having on their participation and learning".
In this context, it's pertinent to note that Pratham's annual ASER surveys have been warning about declining learning outcomes in rural primary education for almost two decades. For instance, ASER 2018 indicates that then class V who cannot read and comprehend class II textbooks has risen — rather than reduced — to 56 percent, and the percentage of class VIII children who can solve a simple three-by-one digit division sum is a mere 40 percent. The prolonged shutdown of schools because of the pandemic is likely to exacerbate and widen existing learning gaps.
Dr. Rukmini Banerji, CEO of Pratham Education Foundation, acknowledges that "even before Covid hit us, this wide diversity of learning levels has been a chronic problem of our classrooms for years" and that when schools reopen "it is likely this variation of learning levels in each grade will have widened further; the lower end of the distribution will have become thicker". Banerji recommends several "simple steps" to begin the process of bringing children back on the learning track.
First of all, children and teachers need to reconnect with each other. After such a long period of school closure, students need to get back into the routine of teaching-learning processes. Once attendance has stabilised and children have settled back into school, teachers need to do one-on-one simple assessments of reading and arithmetic levels. To help children catch up and make up for their learning loss, it is essential that instead of being guided by the grade level of each child, teaching at the right level approach needs to be adopted to enable children to move up from their current levels, strengthen their foundational skills and go ahead towards their grade level," says Banerji, an alumna of the Delhi School of Economics, Oxford and Chicago universities.
Moreover, Banerji recommends that state governments adopt focused foundational learning improvement programmes to make good children's learning loss. "In Uttar Pradesh, a Graded Learning Program 2018-19 implemented by the state government in partnership with Pratham has resulted in 14-17 percentage point learning gains for children in a period of 60 days. This experience implies that if focused efforts are made, in a few months children can gain more than what they gain in a year. Based on this, we strongly recommend a 100-day focused campaign to rebuild basic reading and arithmetic skills of children," she advises.
Learning loss apart, the unprecedented shutdown of primary schools nationwide for over nine months is certain to deepen extant urban-rural and rich-poor divides in Indian education. "Almost 24 million children from marginalised households have already dropped out of the public education system. They will enter the child labour force and/or become vulnerable to trafficking and/or pushed into early marriage. It will be a huge challenge to get them back to school and learning," says Ambarish Rai, national convenor of the RTE Forum, a coalition of over 10,000 NGOs, educationists and social activists gathered under the forum's banner to enforce the Right of Children to Free & Compulsory Education (RTE) Act, 2009.
In states where schools have tentatively reopened for senior students (classes X and XII) this month, teachers in government and private schools have begun bridge courses in right earnest to provide remedial education. "Most children have lost one full year of learning. As schools reopen, teachers will have to pull out all the stops to make up for lost time. Simultaneously, they need to provide emotional support to children to enable them to reconnect with teachers and learning. It will take decades to make up for the learning loss of the pandemic era," says Dr. Arunabh Singh, director of the CBSE-affiliated Nehru World School, Ghaziabad.
Moreover it is — or should be — a sobering consideration that the learning loss of youngest children at the start of the education continuum is likely to be worse (see cover story).
Health & nutrition
India runs the world's largest free mid-day meals programme for 120 million children enrolled in 1.2 million government schools. In addition under the Central government's Integrated Child Development Services (ICDS) programme, 80 million children from low-income households enrolled in the country's 1.37 million anganwadi centres (AWCs) are provided free-of-charge cooked mid-day meals daily. With these mid-day meal programmes suspended for more than ten months during the pandemic, child malnutrition has scaled new heights. The India Child Well-being Report 2020, published on November 24 by World Vision India, a Chennai-based NGO, says the pandemic has put 115 million children at risk of severe malnutrition.
This report is alarming because child malnutrition was already pervasive in pre-pandemic India. According to Child Rights & You (CRY) — the well-reputed Delhi-based voluntary organisation — contemporary India hosts the largest number of malnourished children of any country worldwide — 97 million with 38.7 percent of children under five years of age stunted, 19.8 percent wasted (underweight and short) and 42.4 percent underweight.
The pandemic lockdown and closure of schools is expected to worsen child malnutrition countrywide. A recent research paper Living on the Edge? Sensitivity of Child Under-nutrition Prevalence to Bodyweight Shocks in the Context of the 2020 National Lockdown Strategy in India, published by Journal of Global Health Science (July 2020), predicts that in a scenario of 5 percent weight loss, India will experience an alarming addition of 4.4 million underweight and 3.2 million severely underweight children (a "conservative estimate"). "A high concentration of children in the country is already around the under-nutrition threshold, and any minor shock to nutritional health of the children can have major implications," says the report.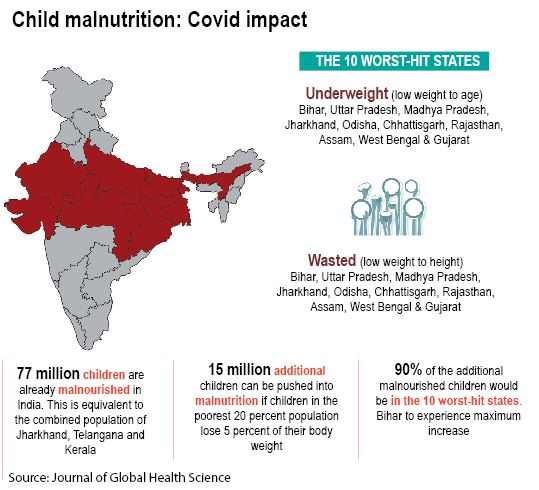 Despite these warnings, the Central and state governments have failed to devise effective take-home dry rations and mid-day meal delivery programmes to ensure continuation of nutrition services to underprivileged children during the pandemic.
Moreover, they are dilly-dallying on the issue of reopening of AWCs, private pre-primaries and primary schools. The auguries are that the impact of large-scale malnutrition on children's mental well-being, cognitive development and future earnings will be very heavy for the Indian economy.
Economic loss
The World Bank estimates that the prolonged closure of schools due to the Covid-19 pandemic in India may cause a loss of over $400 billion (Rs.29 lakh crore) to the economy by way of future earnings. Even as the pandemic is expected to substantially reduce the future incomes of an entire generation of students, its impact on the finances of the country's 450,000 private schools is also significant and immediate. The country's affordable private schools — especially budget private schools (BPS) which are the sole alternative of low-income households fleeing dysfunctional government schools — are in deep trouble with thousands confronted with the prospect of bankruptcy.
Unpaid tuition dues have accumulated during the past three quarters of closure following confusing and contradictory fee deferment directives passed by several state governments. Illogically, these directives mandate schools to continue paying teachers' salaries and provide online education.
A nationwide survey conducted by the Delhi-based National Independent Schools Alliance (NISA), which has a membership of 60,000 BPS countrywide, indicates that the tuition fees of a mere 38 percent of their students have been paid during the past year. In this connection, it's important to note that 70 percent of the country's 450,000 private schools levy tuition fees less than Rs.1,000 per month according to the Sector State of India Report 2020: Private Schools in India of the Delhi-based Central Square Foundation (see EW cover story, September 15).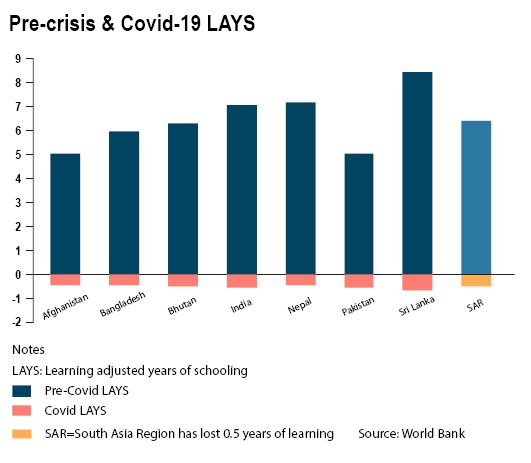 While non-payment of fees by parents following reckless and confusing government circulars has severely disrupted cash flows and financial viability of private schools, the livelihood of an estimated 5 million private school teachers has also been jeopardised. Over 80 percent of private school teachers have not been paid their salaries for five months and/or have suffered pay cuts. On the other hand, even though government schools have been shuttered for nine months, their teachers continue to be paid from the public payroll.
"India's 400,000 budget private schools which educate over 60 million children have been hardest hit by the pandemic and schools closure. Most of them are facing a grim financial future with parents, even those who can afford to pay, not having paid fees for the past few months. With revenue streams drying up, the majority of BPS have not been able to pay teachers and staff. It is a dire situation from which budget private schools will take many years to recover," says Kulbhushan Sharma, president of NISA.
It's a sobering thought that if 20 percent of India's 450,000 private schools close down because of the pandemic lockdown, 1 million teachers will join India's growing army of unemployed.
Mental & emotional damage
Since the national lockdown was imposed to contain the Covid-19 pandemic, education debates have centred around issues such as regulation of fees payable to private schools, the urban-rural and rich-poor digital divides, and learning loss suffered by out-of-school children. The equally important issue of mental and emotional damage suffered by children locked in their homes for over nine months and learning remotely in isolation from their peers, has received scant attention.
However, latterly there's an emerging consensus within child psychologists that the mental and emotional stability of tens of millions of children and youth has been adversely affected. Some research studies estimate that two out of five children are exhibiting symptoms of hyperactivity and sensory malfunction as a consequence of forced online learning. Cases of anxiety and depression within children are also on the rise. In the US, the Clark County district of Las Vegas city has been forced to reopen schools because of a surge in student suicides.
"For almost a year, children haven't met with friends and teachers. While some learning is happening online, children have suffered deep socialisation and emotional bonding deprivation resulting in isolationism and anger management problems with teachers reporting anxiety and depression symptoms. This is adversely affecting online learning outcomes. As schools reopen cautiously, managements and teachers need to take care to address and repair the mental, psychological and emotional damage children have suffered by creating welcoming, non-threatening teaching-learning environments. Over the next few months, the mental and emotional well-being of children must take precedence as it's the prerequisite of academic learning and success," advises Dr. Kannan Gireesh, a Chennai-based psychiatrist and founder of Live Life Education Pvt. Ltd, which has conducted "hundreds of online workshops" for teachers, students and parents on pandemic emotional damage issues.
With Avtar Nehru (Delhi)