Rohit Bhat, CEO, Children's Academy Group of Schools
With three campuses in Mumbai's northern suburbs of Kandivali and Malad, the Children's Academy Group of Schools (CAGS, estb.1970) is in the vanguard of the digital technologies-driven education revolution. The group led by CEO Rohit Bhat is providing engaging and personalised online learning to 8,500 nursery to class-X students.
Teacher training. To ensure continuity of the teaching-learning process, Bhat has initiated training sessions for the group's 450 teachers through the Zoom video conferencing app. Teachers are acquiring proficiency in using digital tools such as Screencastify, Screencast-o-Matic, Screen Recorder and Mobizen.
Community engagement. The CAGS official website and Facebook page is regularly updated with useful information on Covid-19 and school counsellors are available for consultation, not only for the group's teachers and students, but also the general public.
Online assessment. The group is preparing to roll out online assessments in June. "CAGS has partnered with MICM Net Solutions to prepare robust real-time assessment software for objective and subjective questions assessment," says Bhat.
"This has been a great learning experience for our entire school fraternity. It has driven us to ideate innovative solutions to ensure continuity of learning for students. The rich repository of video lessons created during the lockdown period will be useful and beneficial for students who miss classes because of sports and cocurricular pursuits," adds Bhat.
Shishir Jaipuria, Chairman, Seth Anandram Jaipuria Group
With a network of 12 K-12 schools, five preschools and two business schools in north India, the Seth Anandram Jaipuria Group of Education Institutions (SAJGEI) is in the forefront of the switch to online education precipitated by the Covid-19 pandemic crisis and national lockdown. Under the inspiring leadership of Shishir Jaipuria, chairman of SAJGEI, group teachers and staff have designed engaging online curriculums to ensure smooth transition of the teaching-learning process to digital online platforms. "At SAJGEI we believe in transforming the Covid-19 adversity into an opportunity to prepare our teachers and students for the online world. Over the past two months our teachers and students have embraced new pedagogies such as flipped classrooms and blended learning," says Jaipuria.
Among the several initiatives launched by SAJGEI:
Virtual classes. The online curriculums of the Seth Anandram Jaipuria Schools (SAJS) offer a blend of scholastic and co-scholastic learning including arts, dance, yoga, meditation and sports. Conducted through the Zoom video conferencing app and Microsoft Teams virtual collaboration platform, online classes have been enthusiastically welcomed by students and parents.
Teacher training. SAJS teachers are provided regular training in using digital platforms and learning the nuances of online teaching-learning. "Within a short time period our teachers have quickly mastered digital technologies and new pedagogical techniques to ensure continuity of the knowledge delivery process," says Jaipuria.
Blended learning. The schools follow an optimal blend of synchronous and asynchronous learning wherein students benefit from real-time online interaction and have the flexibility to access off-line recorded presentations, videos, group projects and collaborative assignments.
Social Emotional Learning. Social and Emotional Learning (SEL) is a special focus area of SAJS during the ongoing Covid-19 crisis. Teachers mentor students to manage emotions and stress.
Parent-teacher interaction. Teachers conduct virtual interactive sessions with parents and encourage feedback from them to improve the online learning processes.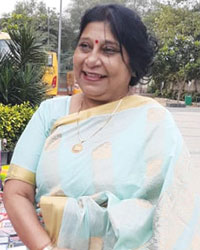 Ratna Chakravarty, Principal, Maxfort School, Rohini
Dr. Ratna Chakravarty, principal, was one of the first eduleaders to swiftly transition the CBSE-affiliated Maxfort School, Rohini, in the national capital, to online learning in the wake of the Covid-19 pandemic outbreak.
"We leveraged the school ERP system Entab Campus Care to curate personalised and engaging virtual learning experiences for students through a blend of worksheets, assignments and enriching videos," says Dr. Chakravarty, an alumna of the Universita Popolare Degli Studi Di Milano (Italy) with over 36-years of teaching and admin experience.
Online learning classes. Maxfort's online curriculum includes academics and co-curricular activities such as art & crafts, music, dance among other programmes.
Counselling sessions. The school's counselors regularly organise virtual counseling sessions for primary, middle and senior students. The school also hosts webinars by prominent career counselors for senior students. Dr. Chakravarty also holds regular interaction sessions with the school's teachers to keep them motivated.
"Digital technologies have saved the situation in these troubled times. Academic learning apart, online classes are teaching our students important life skills such as self-discipline and time management. Parents are highly appreciative of our school's smooth transition to online learning," adds Chakravarty.
Also read: Covid-19: Challenge & response