Though Bangalore has morphed into Bengaluru, it still retains some of its old-world charm and is an established base for excursions into neighbouring hill stations and seaside resorts
Once known as the pensioner's paradise and India's garden city, over the past two decades, in particular, the southern city of Bangalore aka Bengaluru (pop. 12.3 million) has metamorphosed into Asia's fastest-growing metropolis, India's Silicon Valley and the undisputed hub of the nation's information technology (IT) and IT-related businesses. Almost overnight this sleepy, laid-back city has impacted itself not only upon the consciousness of Indian but also foreign investors and industry as a metro city of fast-track businesses including research and development, real estate development, retailing and education hub.
And it's a measure of Bangalore's swift growth and development as a business hub that 658 flights from across the country touch down and take off every day at its expansive 4,000-acre Kempe Gowda International Airport (estb. 2008) named after the founder of Bangalore. Moreover, several foreign airlines including Air Nepal, Sri Lanka Airlines, Singapore Airlines, Etihad and Emirates have introduced direct flights from Bangalore to their headquarters and further afield.
But though latter-day Bengaluru has morphed into a business and industrial metro, it still retains some of its old-world charm — particularly in its two great public parks (Lalbagh and Cubbon Park) which are the lungs of the garden city — and offers numerous other rest and recreation options.
Among them: the largest number of pubs and bars in the country, innumerable restaurants offering virtually all the major cuisines of the world and a variety of spas, resorts and hotels in scenic spots on the peripheries of the city. In addition, Bangalore is now a well-established base for excursions to neighbouring hill stations and seaside resorts which are within comfortable driving distance and well-connected by air, road and rail links.
The history of Bangalore dates back to the 11th century when King Veera Ballala II reportedly lost his way while on a hunting expedition. After a long march through a forest, the famished royal chanced upon a peasant's hut. Its sole woman resident had nothing to offer except boiled beans. As a token of gratitude, the king built a town in the region and named it Benda Kalooru which translates into 'town of boiled beans'. Over time, this name evolved into Bangalore after which it was renamed Bengaluru in 2014.
In 1761, Hyder Ali usurped the Mysore throne from the Wodeyar dynasty and ruled over Bangalore until his death in 1779. His son Tipu Sultan aka the Tiger of Mysore, took over and ruled till 1791 when Lord Cornwallis, the British governor general of India besieged the city and defeated Tipu's army. When the treaty of Srirangapatnam was signed, Bangalore was handed back to Tipu. The fourth Mysore war (1799) resulted in the fall of Srirangapatnam and death of Tipu following which Bangalore was absorbed in the kingdom of Mysore ruled by Krishna Raja Wodeyar III. In 1831, the British assumed control and for the first time Bangalore acquired its status as the administrative centre of Mysore state.
Charmed by its pleasant and equable climate, a succession of British administrators transformed it into the garden city for which attributes it is famous to this day. This enduring rus in urbe characteristic of Bengaluru has since been supplemented by ubiquitous cafés, lively nightlife (pubs, discotheques, restaurants), striking heritage buildings, and glitzy shopping malls.
Among the garden city's many attractions: Vidhana Soudha, a magnificent neo-Dravidian building housing the state legislature and secretariat, designed and built in 1956; Attara Kacheri, an elegant red sandstone building which houses the state's high court; Cubbon park, a natural park spread over 300 acres and designed by Lt. Gen. Sir Mark Cubbon in 1864; the Government Museum, Visveswaraya Industrial and Technological Museum and the Venkatappa Art Gallery are located on the periphery of Cubbon park; Lalbagh Botanical Gardens, engineered by Hyder Ali in 1760 and completed by Tipu Sultan, is a 240-acre landscaped park which houses numerous species of rare plants. The Glass House here, built on the lines of Crystal Palace, London is the venue of a magnificent annual flower show; Bangalore Palace which was built by the Wodeyar kings in 1887, adapting the Tudor style is a strikingly beautiful replica of Windsor Castle; St. Marks Cathedral constructed in 1808 is an Indo-Victorian church also worth a visit.
Excursions. Bangalore offers several day-trip excursion options. The most popular among them are: Bannerghatta National Park, only 32 km from the heart of the city and well-known for its tiger and lion safaris; Ramohalli (28 km) is a popular picnic spot, famous for its 400-year-old banyan tree which spreads across an area of three acres; Ramanagaram (49 km) is a beautiful landscaped spot, popular among rock-climbers as also an important silk cocoon rearing centre.
Yoga and massage centres
Bangalore is fast emerging as the mecca of high-end yoga and holistic health clinics. Numerous five-star health resorts offering ayurveda massages and curative panaceas have mushroomed on the outskirts of the city. Among them:
Angsana Oasis Spa & Resort. Managed by the internationally acclaimed Banyan Tree Spa chain Singapore, Angsana offers a wide range of rejuvenating massage treatments from Thai ayuthaya, and Balinese remaja to maui. Other facilities offered are exotic body wraps, textured body scrubs and refreshing facials. The resort has 79 rooms (Rs.5,600-8,500 per night); massage and other treatments are priced at Rs.3,000 onwards.
Soukya International Holistic Health Centre. Sited in the suburb of Whitefield, Soukya sprawls across 12 acres of landscaped herbal gardens. Founded and managed by holistic healing guru Dr. Isaac Mathai, it boasts celebrity clients such as Tina Turner, Sarah Ferguson and Sting among others. Soukya offers stress-management, anti-obesity and old age revitalization programmes as also cures for osteoarthritis, neurological and skin problems. Twenty-two wooden cottages once owned by the Travancore royal family have been transported and reassembled here to provide visitors a royal experience (Rs.19,240 -28,860 per night).
Hesserghatta (30 km from the city centre) is famous for its large artificial lake, and dairy and horticulture research farms. Boating, sailing and other water sports are the main attractions here as also the Nrityagram Dance Village, established in the early 1990s by the late danseuse Protima Gauri Bedi. Nrityagram offers long and short-term study courses in classical dance and allied subjects such as choreography, philosophy, music, mythology and painting. A self-guided tour costs Rs.100 and guided tour Rs.200 per person and includes dance demonstrations and a short lecture on the institute and its activities.
Nandi Hills
Situated 68 km north of Bangalore at an altitude of 4,845 ft, Nandi Hills is Bengaluru's very own hill station. It was a favoured summer retreat of Tipu Sultan who fortified the hill and converted it into a holiday resort. A 2,000 ft-high cliff face — Tipu's Drop — provides a breathtaking view of the countryside. Other attractions in this charming hill station are two Chola temples with intricately carved pillars. The Amrita Sarovar is a large tank fed by perennial springs.
Accommodation. There are only two guesthouses here viz, Nehru Nilaya Guest House (Rs.2,250 per night) and KSTDC's Hotel Mayura Pine Top (Rs.2,999-4,199). Bookings have to be made in Bengaluru (director, horticulture department for the former and the state tourism department for the latter).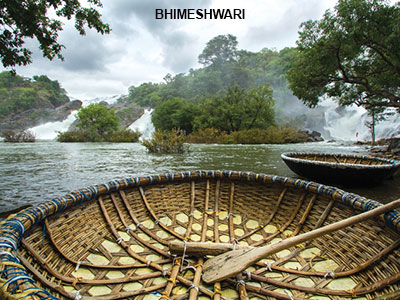 Bhimeshwari
Nestling amid sylvan surroundings in a valley surrounded by wooded hills, 100 km from Bengaluru, is this near-ideal weekend getaway. Developed and maintained by the state-owned Jungle Lodges and Resorts (JLR), the Bhimeshwari Fishing Camp offers boating, nature treks, coracle rides, kayaking, outdoor camping, amateur fishing and professional angling facilities. The fishing camp here is an angler's paradise; mahseer — the world's largest game fish — is found in abundance here. Anglers from across the globe arrive here in peak season (October-April) to hunt the massive mahseer (15 to 65 kg) which after capture and photography has to be returned alive to the water. Other fishing camps nearby include Doddamakkali and Galibore.
Other attractive picnic spots easily accessible via Bhimeshwari are Sangam, the confluence point of rivers Cauvery and Arkavathy, set in the middle of a lush green jungle; Mekadatu or Goats Leap known for its interesting rock formations created by centuries of water erosion; Kokrebellur Pelicanry located 60 km from Bhimeshwari attracts birds ranging from painted storks to cranes.
Accommodation. Tented but well-appointed fishing camps are run by JLR. Advance booking is necessary. Price: Cauvery fishing camp (Rs.5,009 onwards per night); Galibore fishing camp (Rs.4,608 onwards).
Shivanasamudram
Set amidst gentle rolling hills and green forests, Shivanasamudram (109 km) is nature at its best. Contiguous forests abound in wild boar, peacocks, deer, elephants and other wildlife. There can be no better place around Bangalore to have a relaxing weekend by the riverside amidst pristine jungle. The river Cauvery splits here to form the Gaganachukki and Barachukki falls. The Shri Vishveshwaraya Hydroelectric Plant aka Bluff, built in 1902 here was the first of its genre in Asia.
Accommodation.The only place to spend the night is the Georgia Sunshine Village homestay (Rs.8,200-9,500 per night).
Mysore
This city of palaces was the erstwhile capital of Mysore state (before the formation of Karnataka in 1956), and is named after the mythical demon Mahishasura, who was slain by goddess Chamundi. Until India attained its independence in 1947, Mysore (pop. 1.1 million) renamed Mysuru in 2014, was ruled by the Wodeyar dynasty.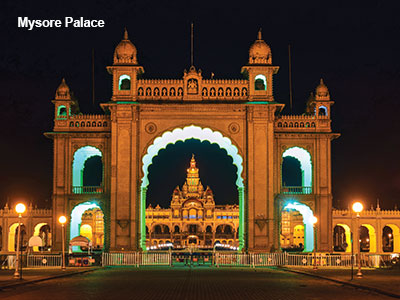 The Maharaja's Palace is the pride of this charming city. Built in the Indo-Saracenic style, the palace was designed by English architect Henry Irwin and completed in 1912 at a cost of Rs.42 lakh, and to this day descendants of the former royal family continue to reside in a wing of the palace. Inside is a kaleidoscope of stained glass, mirrors and historical paintings depicting life in Mysore during the Edwardian era. There is an impressive array of Hindu temples within the palace, the most notable being the Shweta Varahaswamy Temple with its majestic gopuram (Dravidian style entrance arch). The palace is open to the public from 10 a.m to 5.30 p.m at an entry fee of Rs.70 for adults and Rs.30 for children. For school and college children who visit in groups, the entry fee is Rs.10 each. On Sunday evenings and during the Dasara festival (October), the palace wears a festive look when it's lit up by 100,000 light bulbs and is open to the public from 7 pm -10 pm.
Overlooking Mysore is the majestic Chamundi Hill standing tall at a height of 3,452 ft. The Sri Chamundeswari temple with its towering seven-storey, 40 m high gopuram is sited atop this hill, accessible via a flight of 1,000 steps or a multi-bend 9 km road. Another notable landmark on the hill is the imposing five-metre high black Nandi Bull statue carved out of a single rock.
Other sights to take in are St. Philomena's Cathedral, one of the grandest and tallest churches in India modelled on the Gothic Cathedral in Cologne with its 175 ft. high twin spires located in the heart of Mysore; Jaganmohan Palace and Art Gallery with a fine collection of rare musical instruments and paintings by Raja Ravi Varma, the famous portrait artist; the folklore museum which boasts a superb collection of carved wooden figures, decorative masks, ceremonial turbans and leather shadow puppets.
Also recommended is the Jayachamarajendra Zoological Gardens a.k.a. Mysore Zoo, one of the best maintained in the country with some rare species including tapir, chimpanzee, giraffe, zebra and the white tiger.
Accommodation.Top-end: The Village Resort (Rs.7,400-13,400 per night); Lalitha Mahal Palace Hotel (Rs.3,012-16,961); Mid-range: Country Inn & Suites by Radisson (Rs. 2,614-6,934); Kings Court Hotel (Rs.2,000-5,500); Budget: Hotel Abhishek (Rs.500 onwards).Parklane Hotel (Rs.1,500-1,800).
Restaurants. There are numerous quaint eating places as also elegant upmarket restaurants in Mysore. The Ritz Hotel serves Indian, Chinese, continental as well as Coorgi cuisine. Parklane Hotel has a convivial courtyard restaurant which is popular among tourists. The Lalitha Mahal Palace Hotel offers the city's grandest dining experience, with elegant Wedgewood-style décor in its majestic dining hall. At Rs.1,000 onwards for a dinner for two, the experience is good value for money.
Excursions. Mysore offers many interesting getaways accessible within a few hours drive. Among them: Somanathpur (33 km) known for its exquisite Keshava temple built by the Hoysalas (1268 AD). The walls of the star-shaped temple are covered with intricately carved sculptures depicting scenes from the Ramayana, Mahabharata and Bhagavad Gita. Talakad (50 km) on the banks of the Cauvery houses the remains of the capital of the Ganga dynasty buried in sand. A 12th century Hoysala temple just about pokes through the surface. Once every 12 years, this surreal temple is dug up for the performance of Panchalinga Darshanpooja.
Ranganathittu Bird Sanctuary. A preserved area on one of the three islands in the river Cauvery and only 23 km from Mysore, this sanctuary is an ornithologist's delight. The songs and cries of egrets, storks, ibis, spoonbills and cormorants among other species of migratory birds resonate through leafy glades. The best time to visit the sanctuary is from June to November. Rowing and boating is also a popular pastime here.
Brindavan Gardens laid out in the shadow of the massive Krishnarajasagar dam is a popular picnic spot and a wondrous sight to behold at night when its fountains are illuminated. A unique feature of Brindavan Gardens is the musical dancing fountain which changes hues and colours as if in response to accompanying music.
Srirangapatnam

Barely 16 km from Mysore lie the ruins of Hyder Ali's and Tipu Sultan's capital, Srirangapatnam built on an island off the Cauvery river. The fort is in ruins but its ramparts, battlements and some gates have withstood the British invasion and state neglect. The dungeon where Tipu incarcerated several British officers has been restored and is well preserved. Inside the fortress walls is a sprawling multi-pillared temple dedicated to Sri Ranganathaswamy cheek-by-jowl with an ancient mosque, the Obelix war memorial and ancient granaries and ammunition storehouses.
Daria Daulat Bagh, Tipu's summer palace, is sited amid ornamental gardens to the east of the fort. It houses a museum with a motley collection of family memorabilia and paintings depicting Tipu's campaigns against the British. Further down is the impressive onion-domed gumbaz or mausoleum of Tipu and his father.
Accommodation.There are few upmarket and mid-range hotels in Srirangapatnam. The best are Amblee Royal Retreat resorts (Rs.5,040 per night) and KSTDC's Hotel Mayura River View (Rs.2,074).
Belur and Halebid
Though a bumpy five hour (226 km) drive from Bangalore, Belur and Halebid are renowned globally for their artistically sculpted Hoysala temples. Halebid was the erstwhile capital of the Hoysala empire during the 12th and 13th centuries. The Chennakeshava temple at Belur is the only one of the three major sites still in use. The temple was built to commemorate the Hoysala victory over the Cholas at Talakad. The carvings on the upper walls are unsurpassed in detail and artistry which explains why they took over a century to complete. Particularly interesting are the angled bracket figures of female dancers.
The construction of the Hoysaleswara temple at Halebid commenced in 1121 AD and is still incomplete. Nevertheless, it is easily the most outstanding example of Hoysala art and architecture. Every inch of the exterior and interior walls are covered with endless rows of intricate figurines of the deities of the Hindu pantheon. There is a small museum adjacent to the temple with impressive sculptures and statuary.
Accommodation. Being a popular day-trip destination from Bangalore, these twin-towns do not offer many residential accommodation options.
Hotels in Belur: KSTDC Hotel Mayura Velapuri (Rs.1,377-1,679 per night), Sri Vishnu Krupa (Rs.500-900).
In Halebid: KSTDC Mayura Shantala (Rs.1,999-2,099).
Sravanabelagola
One of the oldest and most revered Jain pilgrimage centres in India is this sleepy town 140 km from Bangalore. Looming above the town is the huge 17 m high image of Lord Bahubali or Gomateshwara. Believed to be the world's tallest monolithic statue, it overlooks the sedate country town from the top of the Vindhyagiri Hill. Sculpted during the reign of Rachamalla, a Ganga dynasty ruler in 981 AD Bahubali is anointed every 12 years with milk, yoghurt, ghee, bananas and other fruits in the grand Mahamasthakabhisheka festival. The next ceremony is scheduled for 2024.
Accommodation. Nearly all the accommodation — 21 guesthouses (Rs.135-500 per night) — are maintained by a local Jain organization.
Hotels in Hassan (an hour's drive from Sravanabelagola): Hassan Ashok (Rs.4,350-7,500 per night); Hotel Southern Star (Rs.2,400-4,400); Hotel Mayura (Rs.1,500 onwards).
Also read: French Riviera of the east