At the 10th consecutive EW ECE National Conference, over 400 ECCE professionals, academics, principals and teachers from 70 cities across the country congregrated in Mumbai last month. They discussed best practices in ECCE and ways and means to universalise early childhood care and education in India – Summiya Yasmeen
A decade ago in 2010, EducationWorld hosted the country's first-ever Early Childhood Education National Conference in Mumbai to highlight the vital importance of early childhood care and education (ECCE) in the education continuum, and felicitate the country's top-ranked preschools following India's first ratings and ranking survey of preschools commissioned by this publication. Since then, the EW Early Childhood Education National Conference, alternatively staged in Mumbai and Bangalore, has evolved into a much-anticipated annual event that attracts ECCE professionals from across the country.
To turn the wheel full circle, the landmark 10th EW ECE National Conference 2020 was deliberately convened in Mumbai on January 23. At the day-long conference, over 400 ECCE professionals, academics, principals and teachers from 70 cities across the country congregated in the packed ballroom of the upscale Sahara Star Hotel to discuss and debate best practices, new trends in early childhood care and deliberate upon ways and means to enable provision of professionally administered ECCE to all of India's 164 million children in the 0-5 age group.
Welcoming the delegates, Dilip Thakore, publisher-editor of EducationWorld, expressed satisfaction that the true value of ECCE has dawned upon government and academia. "Since 2010, when EducationWorld staged its first ECE National Conference, we have been in the vanguard of a growing national movement to pressure government to accord high priority to ECCE. It's a matter of satisfaction that there is some traction on this important issue with the draft National Education Policy 2019 of the K. Kasturirangan Committee according high importance to early childhood education and proposing "seamless" extension of ECCE to class III with the recommendation this "pedagogical unit" be described as "foundational stage" education. The draft NEP has also endorsed the long-pending demand of EW and the Early Childhood Association to bring ECCE, currently under the jurisdiction of the Union ministry of women and child development, under the purview of the HRD ministry," said Thakore, speaking on the occasion.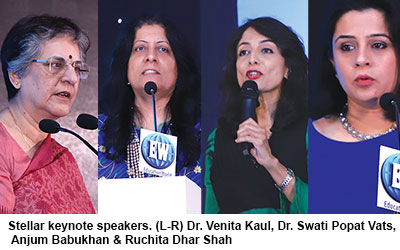 The welcome address was followed by four keynote addresses delivered by nationally reputed ECCE experts. Dr. Venita Kaul, professor emerita and former founder-director of the Centre for Early Childhood Education and Development, Ambedkar University, Delhi commented on 'The Draft National Education Policy's belated discovery of early childhood care & education'. Dr. Swati Popat Vats, president of the Podar Jumbo Kids preschools chain and founder-president of the Early Childhood Association of India, which has a membership of 10,678 preschools across the country, delivered an engrossing lecture on 'Incorporating the work of India's pioneer early childhood educators into contemporary preschools'. Ruchita Dhar Shah, founder of the Facebook group First Moms Club which has a membership of 200,000 in 100 countries, explained 'Why preschools should resist parental pressure for academic learning in pre-primary education' and Anjum Babukhan, director-education and co-founder of the Hyderabad-based Glendale Group comprising the Glendale Academy and chain of Glendale Edufun preschools, spoke about 'Introducing age-appropriate brain compatible learning in early childhood education'.
Subsequently, a panel moderated by Dilip Thakore, deliberated upon the 'Pros and cons of regulation and accreditation of ECCE institutions'. The panelists were Dr. Venita Kaul, Kusum Kanwar, managing director of the top-ranked Kangaroo Kids, Kandivali and Kangaroo Kids, Lokhandwala preschools; Anubha Sahai, senior lawyer and child rights activist, and Damodar Goyal, president of the Society for Unaided Private Schools of Rajasthan.
Yet the highlight of the EW ECE National Conference 2020, sponsored by BenQ India Pvt. Ltd, Gurgaon, Arihant Industrial Corporation Ltd, Mumbai and School Shack, Ahmedabad, was a spectacular 45-minute mind-reading and maths exposition by Suhani Shah, mentalist, illusionist and motivational speaker, who has staged over 5,000 shows globally attracting an aggregate audience of 4.5 million.
Moreover, interspersed between the keynote addresses and other events on the day's packed agenda, the EW India Preschool Rankings Awards 2019-20 were presented to the country's best pre-primaries which topped the EW India Preschool Rankings 2019-20 (see EW December 2019).
This was followed by the third EducationWorld India Preschool Grand Jury Awards 2020 (p.108). A pictorial essay of the 10th EW National Early Childhood Education Conference 2020 is presented on the pages following.
To view the keynote addresses and panel discussion, visit www.educationworld.in