The annual EducationWorld Grand Jury India School Rankings (estb. 2016) acknowledge and felicitate schools — especially newly-promoted, low-profile primary-secondaries — that excel under parameters other than the 14 under which schools are rated and ranked in the annual EducationWorld India School Rankings which are based on field-based countrywide interviews.
In July-August advertisements on our website (www. educationworld.in) and social media invited nominations — including self-nomination — under separate and distinct parameters including excellence in learning assessment, de­sign thinking, campus architecture and design, best technol­ogy integration, extraordinary leadership, social impact, etc, with documentary proof of best practices and achievement. By the closing date (August 30, 2022), 1,500 nominations were received.
On the basis of the information provided by applicant schools and their own domain knowledge, a specially con­stituted Grand Jury comprising eminent educationists Fatema Agarkar, founder of Agarkar Centre for Excel­lence, Mumbai; Rohit Mohindra, director of the Mum­bai-based Raj Mohindra Consultants Pvt. Ltd; Damodar Goyal, president of the Society for Unaided Private Schools of Rajasthan, Jaipur and G.S. Madhav Rao, Hyderabad-based education consultant and CEO, Synergy School Sys­tems, ranked the Top 10 in each parameter as under.
The complete Top 10 EW Grand Jury India School Rank­ings 2022-23 are published in the following pages.
High Happiness Quotient Schools
Schools providing joyous, enabling and stress-free learn­ing environments including curriculums, pedagogies, and student welfare programmes which motivate and inspire children to realise their full potential.
By the closing date (August 30, 2022), 1,500 nominations were received.
On the basis of the information provided by applicant schools and their own domain knowledge, a specially con­stituted Grand Jury comprising eminent educationists Fatema Agarkar, founder of Agarkar Centre for Excel­lence, Mumbai; Rohit Mohindra, director of the Mum­bai-based Raj Mohindra Consultants Pvt. Ltd; Damodar Goyal, president of the Society for Unaided Private Schools of Rajasthan, Jaipur and G.S. Madhav Rao, Hyderabad-based education consultant and CEO, Synergy School Sys­tems, ranked the Top 10 in each parameter as under.
The complete Top 10 EW Grand Jury India School Rank­ings 2022-23 are published in the following pages.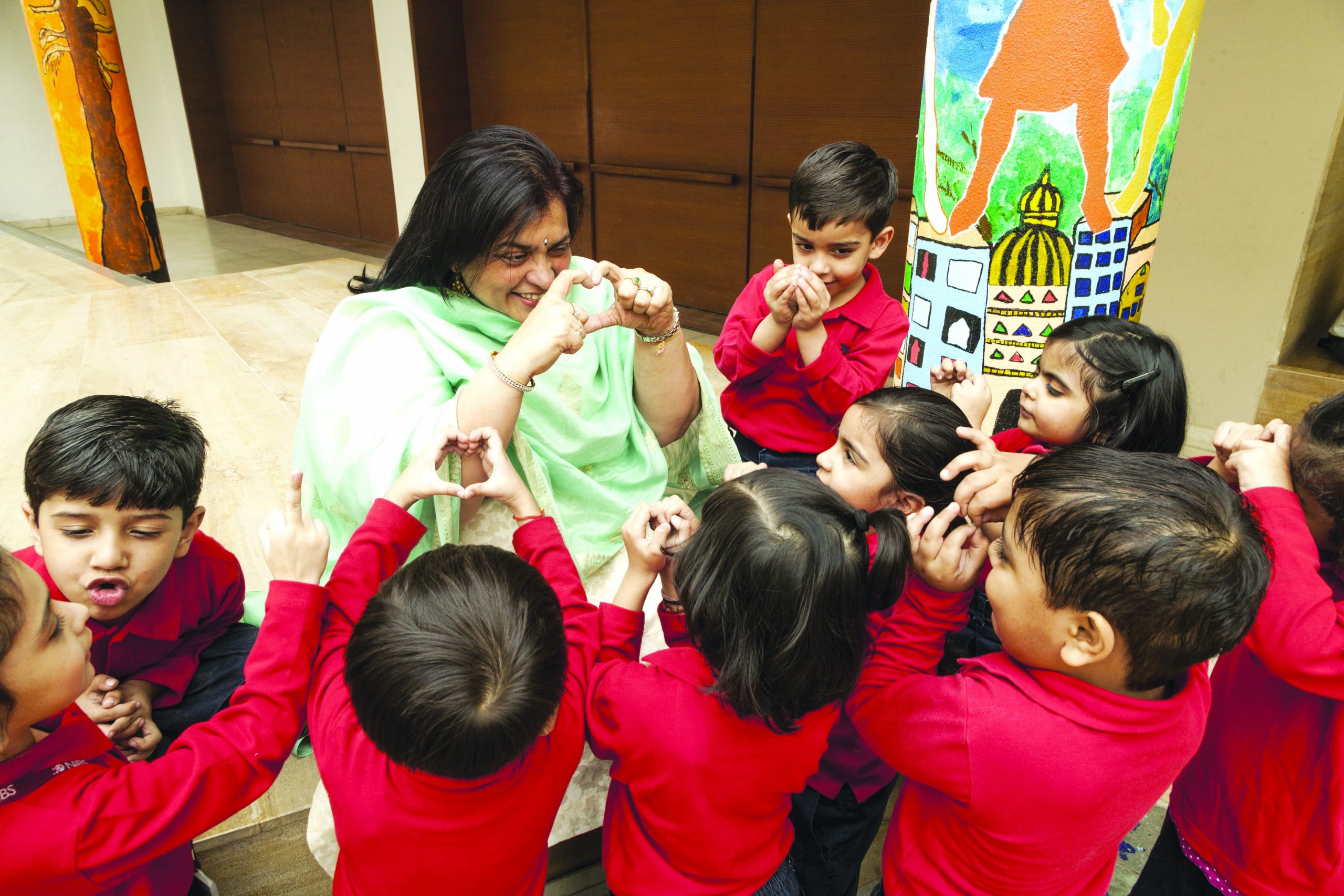 We are 'happy' to be publicly acknowledged as In­dia's #1 high happiness quotient school. Our prime objective is to create a happy, joyous, caring, sup­portive and encouraging environment to the entire NiBS community — children, parents and staff. Our mission statement — to nurture a holistic, diverse and inspir­ing educational process — is the key contributing factor to our 'happy' environment. Teacher-student, student-student, teacher-teacher and parent-teacher relation­ships are built to support and enable children and staff to realise their full potential and be the best they can be.
– Charu Wahi, principal, Nirmal Bhartia School, Delhi (1,104 students and 100 teachers)
India's Most Respected Education Brands
Education institutions which have made exceptional con­tributions to upgradation of K-12 education.
We are very grateful to the EW Grand Jury of emi­nent educationists for voting Podar Education In­dia's Most Respected Education Brand. Podar is one of India's oldest education groups working tirelessly to provide quality education to all sections of society since 1927. As we have grown and established education insti­tutions across the country, we have ensured they adopt contemporary pedagogies, curriculums and latest digital technologies. I want to specially thank our teachers who are our most valuable assets and continuously strive to upgrade their knowledge to ensure excellent student learning outcomes.
— Harsh Podar, direc­tor, Podar Education Network which comprises 139 schools with an aggregate 200,000 students countrywide.
Excellence in Learning Assessment
Schools that have devised and implemented holistic, 360 degree learning assessment systems and practices to en­able students to continuously improve learning outcomes and enable high achievement.
Many thanks to the EW Grand Jury for ranking us India #1 for Excellence in Learning Assessment. This is validation that we are on the right path and a big morale booster for teachers and students. In Children's Academy, we go beyond mere testing of knowledge. The purpose of assessment is to provide timely feedback for improvement and remedial education to fill knowledge gaps. To this end, we have partnered with innovative education providers to test core competencies of stu­dents and provide instant results and analysis to enable students to improve learning outcomes. Moreover we have gone way beyond formative and summative assess­ment to include self-assessment and peer assessments moderated by class teachers
— Rohan Bhat, chairman, Children's Academy Group of Schools, Mumbai (2,134 students and 105 teachers)
Best Technology Integration

Schools which have successfully integrated new-age technologies usage and blended learning pedagogies with
students and teachers encouraged to apply digital technology skills to enrich teaching-learning.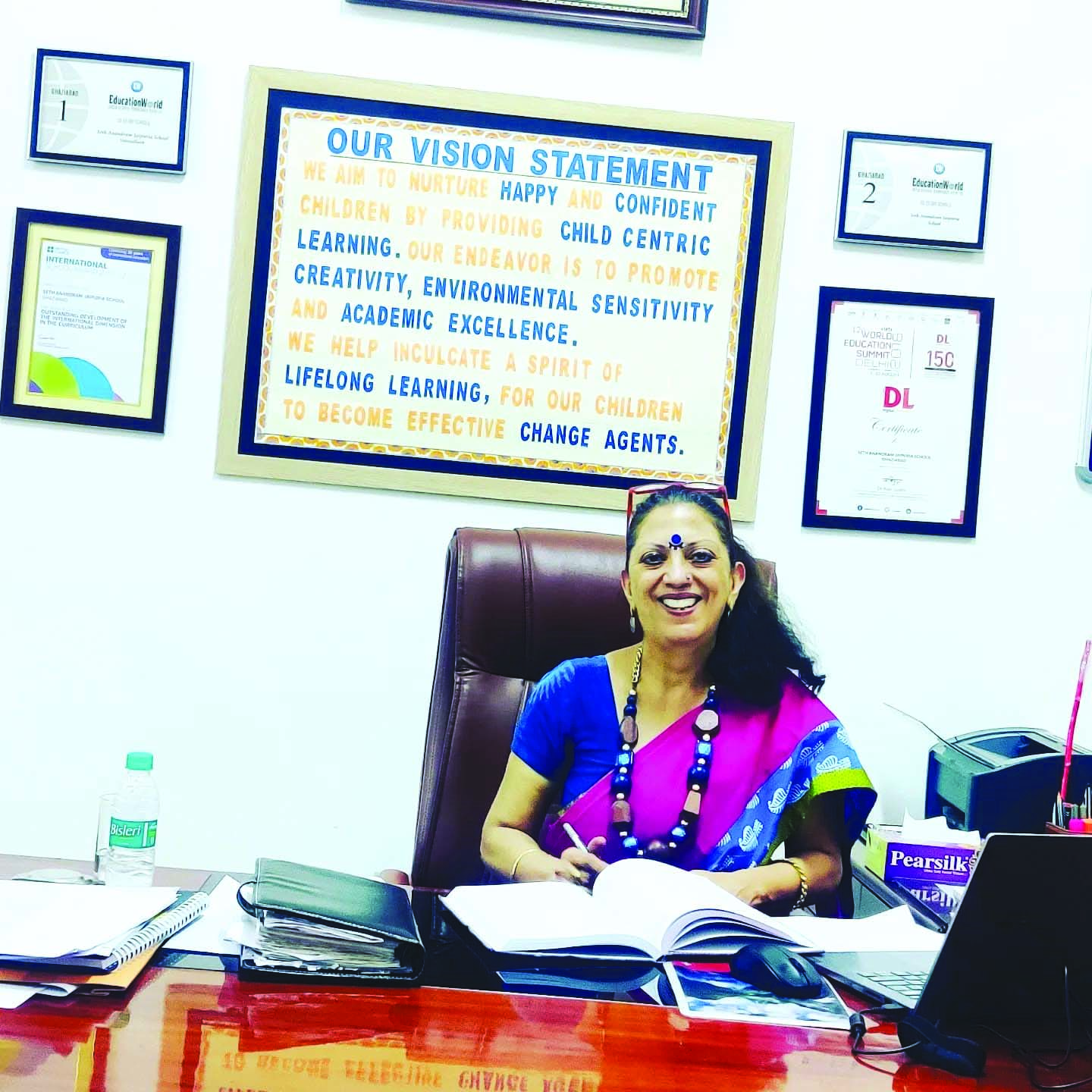 We are delighted to learn that the EW Grand Jury of eminent educationists has ranked Seth Anandram Jaipuria School, Ghaziabad (SAJS-G) India #1 for best technology integration in 2022-23. Our education philosophy is based on the premise that all learners are different with their unique learning style and capability, and everything we do is geared towards helping children realise their full potential. Therefore, we carefully use digital technologies to enrich student learning experienc­es and develop their multiple intelligences. At SAJS-G, we have integrated technology across all domains — cur­riculum and pedagogy and extracurricular activities
— Shalini Nambiar, director-principal, Seth Anandram Jaipuria School, Vasundhara, Ghaziabad which has 5,500 students and 350 staff on its muster rolls.
Design Thinking Leaders
Schools demonstrating extraordinary capability to break away from rote learning, and adopt pedagogies which encourage development of students' creative thinking, collaborative and problem-solving skills.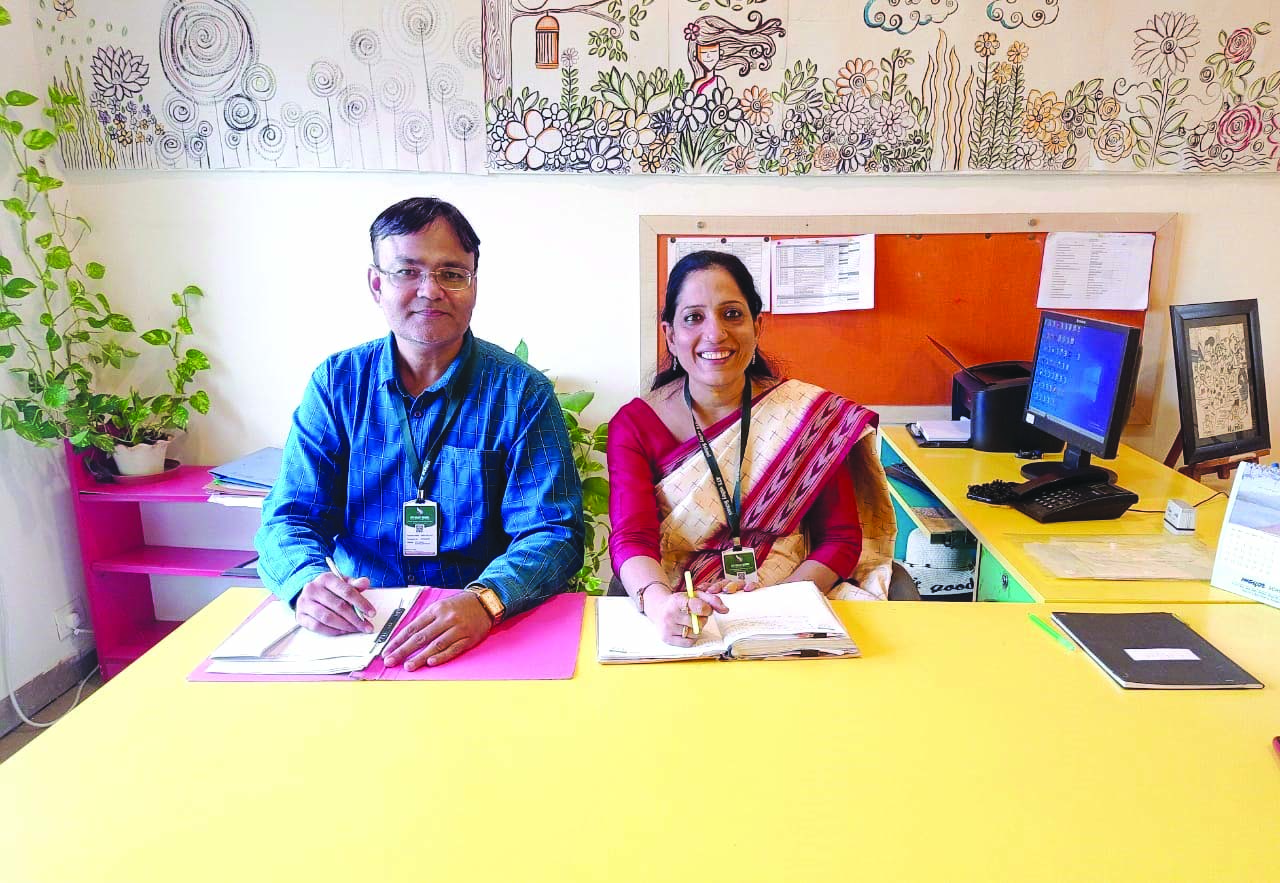 We are pleased to receive the prestigious EW Grand Jury award for design thinking which is a new con­cept in Indian K-12 education. Since inception, our focus has been on the holistic development of students and nurturing their critical thinking, problem-solving, and citizenship skills. For instance, our unique Building curiosity: X-why-Z programme', introduced from class I onwards, encourages children to ask questions, investi­gate, research and ideate solutions. Similarly our 'True North Programme' instils the values of honesty, respect, self-control, and gratitude in them. Moreover, we encour­age our teachers to deliver experiential pedagogies which promote children's higher order thinking skills
— Fa­ruk Malada (left) and Bhavna Banga, vice-principals, ATS Valley School, Derra Bassi, Punjab (559 students and 39 teachers)
Great Schools to Work With
Institutions offering democratic and enabling work envi­ronments and cultures and implementing excellent human resource development practices that support teachers and staff to give their best, improve productivity and deliver excellent outcomes.
As founding principal of the school, I am delighted that the EW Grand Jury of educationists has ranked us the country's best school to work in and with. This award is the outcome of the hard work put in to build an enabling work culture where teachers and staff are provided full support to continuously develop their skills, innovate, and collaborate to enrich students' learning experiences. The cornerstones of our work culture are in­tegrity, teamwork, accountability, shared common vision and focus on professional and personal growth. I thank our school management and chairperson Sujay Jairaj for according top priority to the well-being of teachers who are inspired to mentor and tutor children to realise their full potential.
— Merzeen Doctor (centre right), principal, Chatrabhuj Narsee School, Kandivali, Mumbai (1,865 students and 243 teachers)
Emerging High-potential Schools
Low-profile or newly-promoted schools that have demonstrated high potential to quickly adopt and integrate 21st-century education best practices.
We are thrilled with this honour. Promoted in 2017, NCE is a young and ambitious school fully com­mitted to incorporating contemporary best educa­tion practices. Our sister school NCE, CV Raman Nagar (estb.2006), is ranked among Bengaluru's Top 10 co-ed day schools in the latest EW India School Rankings 2022-23. Full credit should accrue to our governing board for their continu­ous encour­agement of teachers and students to continuously improve and excel. They have gifted NCE with a state-of-the-art campus, teacher-student ratio of 1:30, and child-centred pedagogies focused on all-round development of children. I believe we have made a good start and are eager to learn and develop NCE into a pro­gressive K-12 school providing high-quality holistic edu­cation
— Taranum Iqbal, principal, National Centre for Excellence, Jeevan Bhima Nagar, Bengaluru
STEAM Education Excellence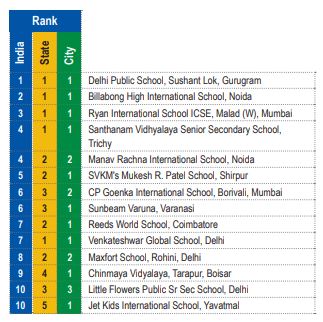 Schools delivering innovative science, technology, engineering, arts and mathematics (STEAM) education through experiential pedagogies.
We thank the EW Grand Jury of renowned educa­tionists for this award. Our teaching-learning mantra is 'Do it to learn it'. We have introduced STEAM and STEM education in pre-primary and primary classes by devising enjoyable hands-on activities. In middle and senior school, apart from practical learning in labs, all students are encouraged to participate in activities of dedicated science, maths and arts clubs. The school also hosts a Tinkering Club to develop creativity, innovation and problem-solving skills while artificial intelligence and computer coding are integrated as skill subjects into the curriculum. This award has inspired and motivated our teachers to raise the bar higher and continuously innovate to achieve excellence in STEAM education
— Surender P. Sachdeva, principal of the CBSE-affiliat­ed Delhi Public School, Sushant Lok, Gurugram.
Extraordinary Leadership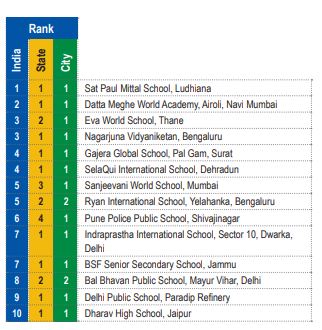 These awards acknowledge outstanding education leaders who have led institutional transformational changes and initiatives.
We are honoured that an EW Grand Jury of experts has ranked us #1 for extraordinary leadership. I credit this top ranking to our supportive board and organisational structure that empowers students and teachers to give their best. In SPMS, a ten-member core team comprising heads of departments, teachers and admin staff serve as the think tank of the school. We have also initiated several programmes to involve all stakeholders including parents, teachers and students in our school development and advancement planning
— Bhupinder Gogia, principal, Sat Paul Mittal School, Ludhiana (1,596 students and 104 teachers)
Campus Architecture & Design
Schools with attractive and conducive campuses which stimulate children to learn joyfully and give their best are awarded in this category.
We are humbled to receive this prestigious award. The design and landscape of our Gaudium School reflects our commitment to provide enabling, con­ducive and innovative learning spaces to our students to develop their multiple intelligences. The school's 27-acre eco-friendly campus is set within green landscaped lawns, tree-lined boulevards and water bodies. It provides state-of-the-art academic infrastructure including IT-enabled classrooms, well-equipped laboratories, a science park, fine arts studios and excellent facilities for 12 sports and games.
— Anjalika Sharma, principal, primary years, The Gaudium School, Hyderabad (2,600 students and 330 teachers)
Social Impact Award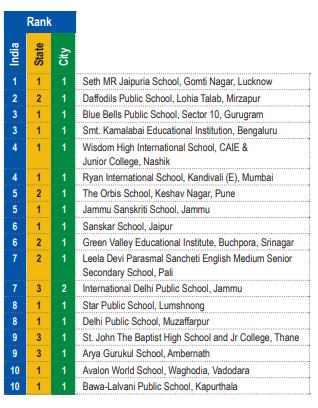 Schools are assessed for encouraging student-led com­munity service in school-sponsored regional and interna­tional community social impact projects.
The EW Grand Jury #1 rank for social impact is very satisfying. The mission of Seth MR Jaipu­ria School, Gomti Nagar is to nurture responsible and conscious citizens commit­ted to serving society. To this end, we encourage all students to actively partici­pate in community and so­cial service projects. For instance, all class V students are required to participate in the Responsible and Conscious Citizenship project, under which they identify a problem in their local community, ideate solutions and implement them. Our students also participate in a 'buddy exchange' programme with underprivileged children of the neigh­bouring Navsrijan School. Moreover our senior students actively participate in the programmes of the school's Social Awareness Club such as the river bank cleanli­ness campaign, donation drives, old age home visits, etc.
— Promini Chopra, principal, Seth MR Jaipuria School, Gomti Nagar, Lucknow, which has an enrol­ment of 4,278 students and 261 teachers.
SDGs Committed Schools
Primary-secondaries which have successfully integrated United Nation's Sustainable Development Goals (SDGs) into their curriculums to equip students with the knowl­edge, values, and skills necessary to shape a sustainable and prosperous world.
Our staff and students are elated with this award. In GIS, the United Nations SDGs are integrated into every lesson in all classrooms. Apart from being integrated into all subjects, SDGs are also an integral part of our Global Citizenship Education Curriculum. Under this programme, students are encouraged to identify and reflect on lo­cal problems, reimagine and ideate projects for designing a sustainable world. Our students have initiated local community projects to ease road traffic congestion, waste management, rain-water harvesting, soil conservation and spread literacy. For us at GEMS, holistic education is about developing respon­sible citizens committed to building a more sustainable world
— Amrita Vohra, director education — GEMS India & executive principal, GEMS International School, Gurugram (1,589 students and 123 teachers)
Library & Reading Culture
Schools which provide generous library facilities and actively promote reading culture.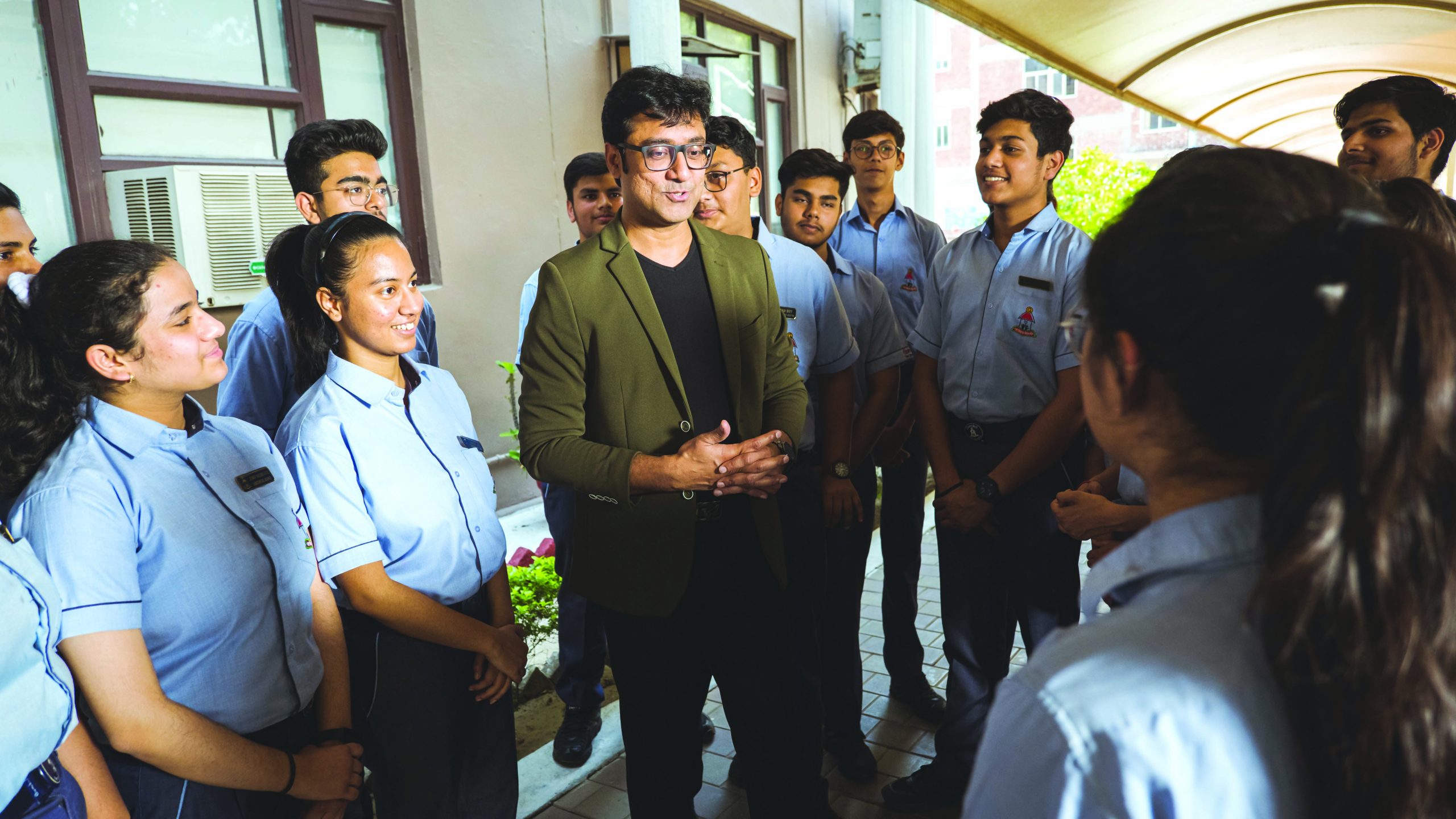 It is a matter of great pride to be ranked #1 on the parameter of library and reading culture as devel­oping a love for reading is one of the school's core objectives. We have introduced reading in pre-primary classes where youngest children are read storybooks aloud. This reading culture is sustained through primary, middle and senior school through several programmes such as the Reading Circle. Moreover, the school's library with 48,000 volumes and numerous quiet reading corners across the campus are dynamic learning spaces where children read, discuss and share knowledge. We have made every effort to make books easily accessible to students — in their classrooms, library and katha­shala (storytelling room). In The Gurukul, reading is not confined to the library; it is encouraged in all spaces"
— Sachin Vats, founder-director, Gurukul The School, Ghaziabad (2,500 students and 180 teachers)
Career Counseling Leaders
Progressive schools providing professional career coun­seling services to help students evaluate suitable univer­sity programmes based on their interests, aptitudes and intelligence.
We are delighted that the EW Grand Jury has recog­nised the enormous effort our school has invested in the past two years to provide pro­fessional career guidance and counseling services to our stu­dents to empower them to make informed higher education and career planning decisions. We have a highly-talented and professionally trained in-house career counseling team which supports students through several initiatives. For instance in May, they organised a Mega Physical Career Fair which attracted the participation of 40 universities including some from Canada, Australia, and the United States.
— Tarun Gupta, director-communications and career counselling, Gillco International School, Mohali, a CBSE- affiliated school with 950 students and 70 teachers on its musters.