Against the backdrop of none of India's 935 universities ranked among the Top 200 of the authoritative Times Higher Education World University Rankings, we present league tables ranking the country's best private and government universities separately – Dilip Thakore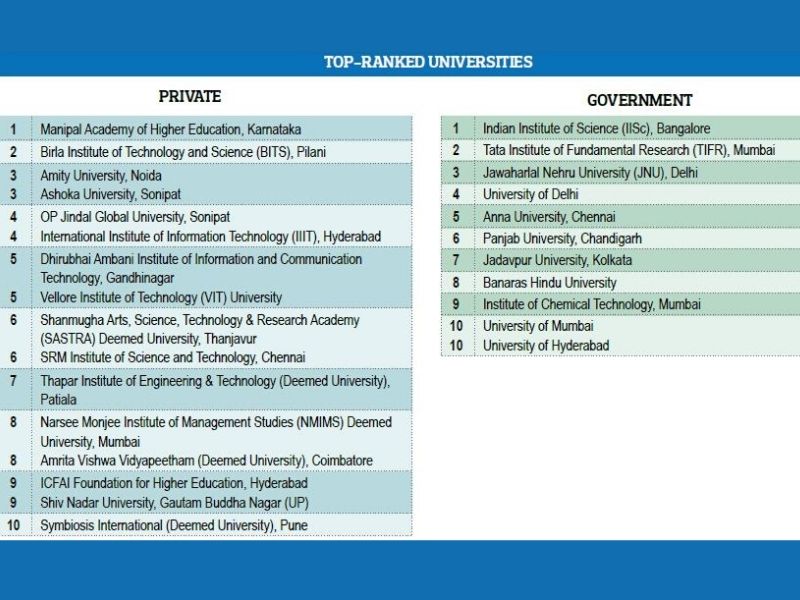 Notwithstanding incrementally futile protests and grumbling of left leaning academics busily engaged in dispensing obsolete pedagogies and fixed curriculums in India's ivory tower public universities, there is a discernible national mood swing in favour of privately provided higher education.
Seven decades after enactment of the University Grants Commission (UGC) Act, 1956, which invested wide Big
Brother powers of control and command over university education in the commission, it's becoming increasingly clear that huge bureaucracies of the UGC and Union human resource development (HRD) ministry which in turn have spawned an alphabet soup of higher education regulatory bodies — AICTE (All India Council for Technical Education), NAAC (National Assessment and Accreditation Council), NBA (National Board of Accreditation), MCI (Medical Council of India) — among others, have ruined rather than enabled, post-independence India's 50 Central and 409 state government universities. Instead of maturing into buzzing centres of higher learning, innovation and research, they have transformed into comfortable watering holes for well-connected kith and kin of the powerful 20 million-strong neta-babu brotherhood, which under the cover of egalitarian socialist rhetoric, has acquired an iron grip over all socio-economic activities, including higher education. Of contemporary India's 39,931 undergrad colleges, a mere 747 have been grudgingly conferred academic autonomy by UGC. And that too after the dawn of the new millennium. Meanwhile the syllabuses, curriculums and admission processes of the country's Central and state universities are prescribed by UGC and AICTE.
In the circumstances, it's unsurprising that there's no significant entry of Indian universities, some established
almost 200 years ago, in the global Top 200 World University Rankings (WUR) league tables of the authoritative
London-based rating agencies Quacquarelli Symonds (QS) and Times Higher Education. This year only three Indian universities — IIT-Bombay (#152), IIT-Delhi #182 and the Indian Institute of Science, Bangalore (IISc, estb.1909) at #184 — featured in the QS Top 200 (cf. China's seven).
In the latest THE WUR, the highest ranked Indian university is IISc and IIT-Ropar in the #301-350 band. Another half a dozen are ranked in lower bands. Although in 1949 when communist party rule began in China, India's universities were among the most well-reputed in Asia, in THE WUR 2020, the People's Republic has seven ranked in the Top 200.
This depressing deficit in the higher education system controlled and confined by the Central government and its entrenched handmaiden supervisory agencies has survived the reform recommendations of several high powered committees and commissions including the Yash Pal (1993), T.S.R. Subramanian (2016) and Kasturirangan (2019) committees — the recommendations of the latter are under prolonged consideration of the HRD ministry. Therefore the mushrooming of a host of privately promoted, academically and financially autonomous universities enabled by state government legislation (education is a concurrent subject under the Constitution) is heaven sent for India's aspirational middle class which reportedly spends $10 billion (Rs.75,831 crore) on very expensive US, British and Commonwealth education for its progeny.
After the historic initial liberalisation and deregulation of the Indian economy in 1991, the Karnataka based Manipal Academy of Higher Education (estb.1953) was awarded deemed university status in 1993 by UGC. Subsequently, several private universities including Amity (2005), Jindal Global (2009), Ahmedabad (2010), Ashoka (2014), Shiv Nadar (2011), BML Munjal (2014) and Bennett universities, among others, were launched. Although these new genre well-endowed private universities were established in north India, in 2019, Krea University, sited in Sri City (Andhra Pradesh), peninsular India's first new genre privately-promoted liberal arts and sciences varsity admitted its first batch of students.
The powerful Delhi-based establishment has not taken kindly to the entry of private universities into the higher education domain. For one, although the Birla Institute of Technology & Science (BITS)-Pilani was awarded autonomy way back in 1964 and the Manipal Academy of Higher Education in 1993, these de jure universities are pettily prohibited from describing themselves as such. They are obliged to define themselves in the clumsy phrase "deemed-to-beuniversity". MAHE which legitimately named itself Manipal University was directed to describe itself as a deemed-to-be-university in all advertising and official correspondence. In 2017 the management resolved to return to the title of MAHE.
Even though in its landmark verdict in T.M.A. Pai Foundation vs. Union of India (2002), reversing earlier judgements, the Supreme Court ruled that engaging in the vocation of education is the fundamental right of all citizens, hostility is widespread toward private initiatives in higher education — indeed all education — the natural outcome of gobbledygook Nehruvian economics which essentially over-subsidises higher education for the urban middle class at the expense of public, i.e, government schools which are in pathetic condition countrywide.
For instance, tuition and residence fees in the Central government-funded Jawaharlal Nehru University (JNU),
which has an annual budget of Rs.200 crore, average less than the Rs.300 per year and room charges are Rs.0.23 per night for 60 percent of its middle class students. When these next to nothing fees were proposed to be raised last year, the JNU Students Union and faculty led by the Delhi University Teachers Association (DUTA) were up
in arms, forcing a freeze. Their rationale: 40 percent of the student body is from bottom-of-pyramid households
and cannot afford any rise in tuition and accommodation fees. The option of restricting over-subsidisation to poor students and means testing the rest hasn't found any resonance within this reportedly island of higher education excellence.
In India's government colleges and universities students' fees contribute less than 5 percent to institutional budgets against the global norm of 20 percent. Universal — rather than targeted — over-subsidisation of university education doesn't seem to bother well-remunerated tenured academics of DUTA who tend to express great concern about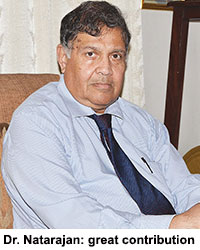 "commercialisation of education" and routinely trash private universities as elitist. They seem comprehensively unaware that most new genre private universities practise needs-blind admission policies and liberally offer means-tested scholarships to students.
"Promotion of private universities, especially philanthropic institutions, should be encouraged because it is impossible for government to meet the entire demand for higher education. In this connection it's important to bear in mind that 75 percent of engineering colleges in India are private and have made a great contribution to nation-building. Therefore, I am against official curbs imposed upon private liberal arts universities, although I am doubtful about the capability of the Indian economy to absorb a larger number of liberal arts graduates," comments Dr. R. Natarajan, former director of IIT-Madras and former chairman of AICTE.
The important contribution of private universities in the higher education space is also acknowledged by Dr. Krishnaswamy Kasturirangan, chairman of the eponymous nine-member high-powered committee which has drafted the comprehensive 477-page draft National Education Policy 2019, submitted to the Union HRD ministry a year ago, and now in the final stages of being translated into the official National Education Policy 2020.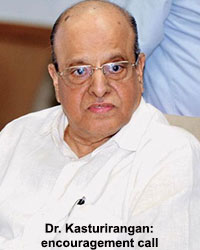 "It's very important that there is flexibility, choice, competition and alternative models of institutions providing higher learning and research. Diversity of institutional models, competition, funding flexibility and variety of choice will enrich the country's higher education system and better prepare our graduates for the complex and uncertain future they will have to face. Therefore private universities, especially philanthropic institutions of advanced learning, need to be given importance and encouragement," says Kasturirangan, the erudite former chairman (1994-2003) of the globally-respected Indian Space Research Organisation, ex chancellor of JNU, former director of the National Institute of Advanced Studies, Bangalore and currently chancellor of the Central University of Rajasthan and the private NIIT University.
Against this backdrop of a new, high-potential crop of private universities emerging as affordable alternatives to the estimated 110,000 school and college leavers who join the annual scramble to enroll in expensive universities abroad which costs the Indian economy an estimated $10 billion in foreign exchange every year, in the pages following we present league tables rating India's most well-reputed private universities, government universities and private B-schools on ten parameters of higher education excellence and their relative standing inter se.
The millions of secondary school leaving students who don't make the cut for admission into the few dozen top-ranked private autonomous, government autonomous and non-autonomous (ranked separately in our April
issue) colleges are advised to carefully peruse the national, state and parameters league tables set out in the pages following. Making the right choice could shape your destiny in the new VUCA (volatile, uncertain, complex and ambiguous) age that has dawned.