To compile EWISR 2021-22, 11,458 sample respondents — educationists, principals, teachers, SECA (socio-economic category A) parents and senior school students — in 28 cities countrywide were interviewed by 118 C fore field researchers over a period of four months (June-September). The annual EWISR is the world's largest schools ranking survey – Dilip Thakore & Summiya Yasmeen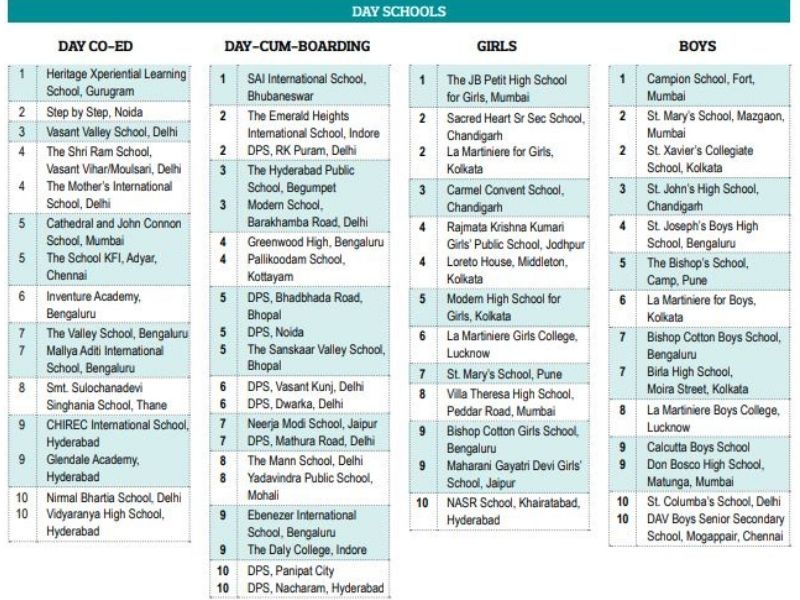 Somewhat tentatively launched in 2007, the annual EducationWorld India School Rankings (EWISR), which rates and ranks primary-secondary schools countrywide which at that time were mainly reputed for academic education, has evolved and matured into the world's largest schools rating and ranking initiative. We believed — and continue to believe — that education should be a holistic and enjoyable learning experience for children. Therefore every year, EWISR rates over 3,000 of India's best reputed primary-secondaries on 14 parameters of excellence including teacher welfare and development, teacher competence, infrastructure, co-curricular and sports education, parental involvement, academic reputation, curriculum and pedagogy, internationalism, among several other parameters.
For this annual exercise, over 11,000 sample respondents including eminent educators, principals, teachers, parents and senior school students are interviewed by field personnel of our valued partner, the Delhi-based Centre for Forecasting & Research Pvt. Ltd (C fore, estb.2000), a nationally reputed market research and opinion polls company. They are asked to rate schools in their zonal region under each parameter on a scale of 1-100 with the critical parameter of teacher competence accorded double weightage. The scores awarded to schools under each parameter by the sample respondents are totaled and schools are ranked inter se nationally, in the states and cities.
The objective of this annual exercise is to enable parents to choose the most convenient and aptitudinally suitable school for their children. To facilitate choice of this all-important institution, schools are ranked in 14 separate and distinct categories such as co-ed day, day-cum-boarding, all-boys and exclusively girls schools, legacy co-ed, boys and girls boarding schools and international schools. This is to avoid making apples and oranges type comparisons.
The annual EWISR has also proved very useful for institutional managements because it provides them with an independent, objective image of their public profile, enabling them to conduct SWOT (strengths, weaknesses, opportunities and threats) analyses and improve under parameters in which they receive low scores. Moreover, high-ranked schools attract the best teachers and brightest students.
Nevertheless, despite the annual EWISR having evolved into the world's largest primary-secondary schools ranking initiative which has beamed a bright searchlight on the vital necessity of delivering globally competitive education, influential academics tend to be skeptical, if not indifferent.
"The great infirmity of all education institution ranking surveys conducted by for-profit companies — including the London-based QS and Times Higher Education — is that they give huge weightage to public perception. They are not data and facts-based. For this reason, I believe that the NIRF (National Institutional Ranking Framework) of the Union education ministry and NITI Aayog which is entirely based on hard data submitted by ranked higher education institutions, is superior to the much[1]celebrated QS and THE rankings. Although the intent of the EWISR is noble inasmuch as it helps parents choose the most suitable schools for their children, its drawback is that it is heavily based on the perceptions of sample respondents who are unlikely to be sufficiently well-informed about schools other than their own," says Dr. R. Natarajan, former director of IIT-Madras and chairman of the All India Council for Technical Education (AICTE).
This assessment of the unprecedented EWISR initiative is not unusual within academia dominated by intellectuals for whom less-than-perfect solutions are worthless. Steeped in slow-moving government culture academics tend to be time and expenditure agnostic. The plain truth is that it is administratively impossible to collect and process data from India's 1.5 million schools, and to verify it. In the circumstances, the EWISR rankings methodology based on the perceptions of knowledgeable sample respondents — educationists, principals, teachers, fees-paying parents and well-networked senior students — is the most practical and efficient alternative.
Premchand Palety, an alum of the highly-ranked Punjab Engineering College and Fore School of Management, Delhi and promoter-director of C fore, offers a spirited defence of the annual EWISR survey. "Although EWISR is primarily a perceptions-based survey, we have been publishing hard data including class XII school-leaving average exam scores of schools willing to provide them. Moreover this year, the scores awarded under the crucial parameter of 'teacher competence' include teachers' scores in a special online test administered by Centre for Teacher Accreditation (CENTA), the well-known teacher development and certification company. However, less than 15 percent of the 3,000 schools included in EWISR 2021-22 wrote the CENTA test. In the prevailing circumstances, the EWISR survey methodology is the most feasible option. These annual surveys are pragmatic and their great merit is that we have ideated over a dozen benchmarks for holistic school education, and generated extensive nationwide awareness of the vital importance of well-rounded, balanced education," says Palety.
Palety's defence of the annual EW[1]ISR which during the past 14 years since it was instituted has aroused huge response from within the K-12 education stakeholders community — the consequential EWISR Awards function staged every year at the Leela, Gurugram, Delhi NCR attracts over 1,000 of the country's most reputed K-12 educators — is seconded by Rohit Mohindra, director of Mumbai-based Raj Mohindra Consultants, one of the country's most respected education consultancy firms.
"The annual EWISR surveys have conferred a huge public benefit by generating healthy competition between schools to strive for continuous improvement under 14 parameters of primary-secondary education excellence. Every school including the top ranked, has scope to improve under one parameter or another. Criticism of the perceptions-based methodology of EWISR is unwarranted. The facts and data-based methodology is impossible in a large universe of 1.5 million schools. The rankings methodologies utilised for evaluating a few thousand universities cannot be used to rate and rank schools operating in a much larger universe," says Mohindra, whose firm was instrumental in establishing India's first International Baccalaureate (Geneva)-affiliated school — the Mahindra United World College, Pune (estb.1999) — and whose client list includes several nationally top-ranked schools.
Against this backdrop, in the pages following we present comprehensive league tables rating and ranking an estimated 3,000 most respected day schools divided into co-ed day, day-cum-boarding, all boys and girls schools; government day and boarding schools, and special needs schools in 311 cities and towns across India.
To compile EWISR 2021-22, 11,458 sample respondents — educationists, principals, teachers, SECA (socio-economic category A) parents and senior school students — in 28 cities countrywide were interviewed by 118 C fore field researchers over a period of four months (June-September). For evaluating the Top 10 government schools, SEC B-D parents were also interviewed.
League tables of traditional/legacy boarding schools (co-ed, all boys, exclusively girls), new genre international schools (day, day-cum-boarding and wholly residential) and budget private schools will be published in our next (December 15) issue.
Moreover in the year of the Covid pandemic during which all schools countrywide were under government imposed lockdown for over 60 weeks, two new parameters — 'online education effectiveness' and 'mental and emotional well-being services' — have been added replacing 'internationalism' and 'sports education'. "In no country worldwide has such an extensive and comprehensive primary-secondary schools rankings survey been undertaken," says Premchand Palety, promoter-director of C fore who orchestrated EWISR 2021-22.
CENTA test
To add an element of objectivity to perceptual scores awarded by sample respondents under the double weightage parameter of teacher competence, all EWISR schools were invited to nominate six teachers to take an online 30 minutes (20 questions) English, maths and science test administered by the Centre for Teacher Accreditation (CENTA, estb.2014).
"Nominated teachers were tested on subject competence, a subset of our regular CENTA Teaching Quotient test. Teachers of schools that did well in this subset test demonstrated acceptable levels of subject confidence," says Ramya Venkataraman, a former McKinsey India consultant and promoter-CEO of CENTA, which currently works with 5 lakh teachers countrywide.
This being a new addition, only 15 percent of EWISR schools nominated teachers to take this test. School principals are advised to nominate teachers to take this CENTA test next year as it improves score awarded under the teacher competence parameter and enables institution managements to determine investment in professional development.