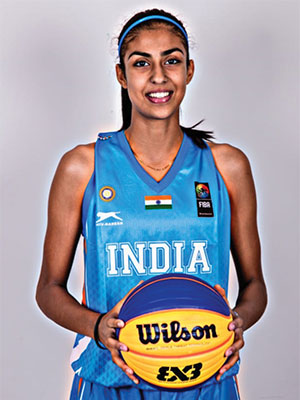 At 6 ft. 5 inches, Kapurthala (Punjab)-based Harsimran Kaur (16) towers over most of her peers, not only in terms of height but also in achievement. Last November, this lanky teen achieved the distinction of becoming the first Asian woman selected for training at the prestigious National Basketball Association Global Academy, Canberra (Australia), an affiliate of the US-based National Basketball Association, (NBA) and one of its seven global centres.
Among 42 athletes handpicked to attend the NBA Academies Women's Programme camp in Mumbai, Harsimran Kaur impressed the high-profile jury comprising Jeniffer Azzi (former Olympic gold medallist (1996)), Ebony Hoffman (former NBA player) and Blair Hardiek (coach of Washington DC based-American University's women team), with her stamina, excellent ball control and leadership skills to bag the most valuable player (MVP) award. Earlier, as a member of India's national team (seniors), in 2019, Harsimran Kaur represented India in the recent South Asian Games in Kathmandu (Nepal); the Under-18 FIBA 3×3 Asian Championships in Malaysia (2019) and the Basketball Without Borders Asia Tournament, Tokyo (2019).
Born into a sports-loving family — her father Sukhdev Singh is a former Indian Railways basketball player (1998-2013), and mother Sumanpreet Kaur, a former member of India's national women's volleyball team (1994-2001) — Harsimran Kaur, a class XI student of Kendriya Vidyalaya, Kapurthala, took time to choose her preferred sport. "By the time I turned 12, I started competing and winning inter and intra-school tournaments. This persuaded me that basketball rather than football and cricket which I also played, was my most preferred sport," says the spunky teenager whose daily regimen comprises six hours of rigorous training, except on days she is attending camps.
Moreover, taking nothing for granted, this promising Indian hoopster has struck a fine balance between academics and basketball. In the CBSE class X board exam in 2019 she averaged 85 percent despite back-to-back tournaments and a demanding training regimen. "Currently I am preparing for SAT scheduled in May 2020. I am hoping to get admission into one of the National Collegiate Athletic Association division I colleges in the US with a full scholarship. My ultimate dream is to play in the Women's NBA," said Harsimran Kaur.
Power to your elbow!
Dipta Joshi (Mumbai)
Also read: Rasheed Zargar & Raghav Khajuria