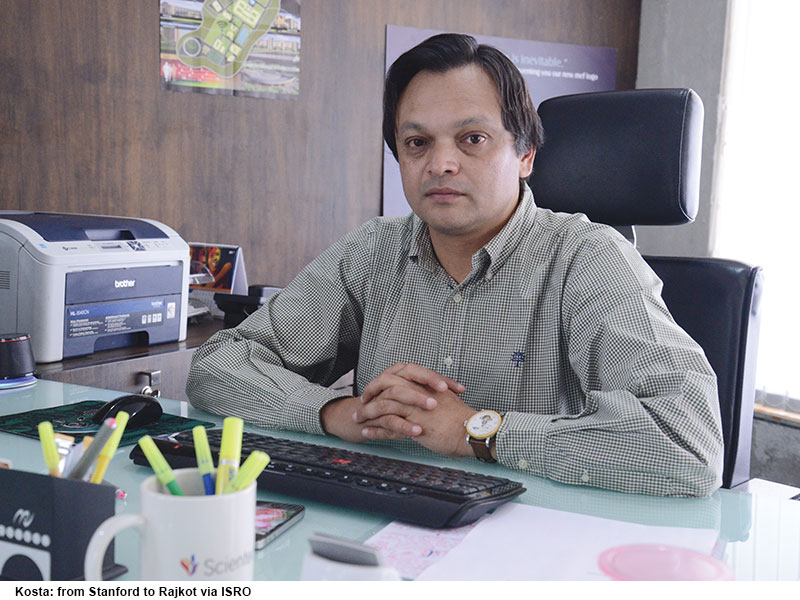 Eminent educationist and former ISRO scientist Dr. Yogeshwar Kosta is the Rajkot (Gujarat)-based vice chancellor of Marwadi University (MU, estb.2016). Sprawled across a 52-acre world-class campus, this greenfield soft-launched private university provides 22 undergrad, postgrad and doctoral study programmes in engineering, law, science, business management, computer applications, pharmacy and physiotherapy to 9,000 — including 900 international — students from 31 countries, mentored by 500 highly qualified faculty.
Newspeg. In mid-March soon after the Covid-19 outbreak forced closure of all education institutions countrywide, MU made a seamless transition to digital learning.
History. An engineering and project management alum of Delhi and the blue-chip Stanford (USA) universities who pressed on to earn a Ph D from Jabalpur University, Kosta began his career in 1992 with the Bangalore-based Indian Space Research Organisation (ISRO) and later served with Teledyne Wireless, California, USA. In 2003, he returned to India and signed up as a professor of engineering at the low-profile NRI funded Charotar University of Science and Technology (CHARUSAT), Changa village (Gujarat) of which he was appointed dean in 2007. During his seven-year tenure in CHARUSAT, Kosta addressed 250-plus career guidance seminars and delivered 75 STEM lectures.
However in 2011, at the insistence of close friends in Rajkot, Kosta accepted the position of director of the Marwadi Education Foundation registered in 2008 by Ketan Marwadi, chairman and CEO of the Rajkot based Marwadi Shares & Financing Ltd and Jitubhai Chandarana, chairman of Chandarana Intermediaries Brokers Pvt. Ltd to design technical curriculums, digital pedagogies, rural technologies, leadership programmes and a School of Thought (2014) among other programmes for the foundation.
In 2016 when Marwadi University was established by a special legislation of the Gujarat legislative assembly, Kosta was appointed vice chancellor of this state-of-the-art university with a built-up area of 1.6 million sq. ft. The following year, MU's technical campus became the first in Gujarat to be awarded NAAC's 'A' accreditation. Direct talk. "MU is a unique higher education institution because our 360 degree education prepares students for life, not just for workplaces. Our specially designed 3M teachinglearning structure to develop the mind for markets and mindfulness, empowers students to sharpen their cognitive capabilities, become jobready and learn to live mindful and joyous lives. We are a young private university and our initial focus is to create a conducive environment for hands-on experiential learning which will encourage our students to develop creativity and innovation capabilities," says Kosta, also author of over 150 research papers and books on engineering education, and recipient of several awards including the Bharat Gaurav, Jewel of India and Kohinoor of India.
Future plans. With this four-yearold university now fully on stream, the management has drawn up a three-year growth plan bearing in mind challenges of the digital 'new normal'. "We intend to invest Rs.30 crore over the next three years for developing IT infrastructure and for the construction of a modern floodlit sports stadium and cluster design hostels. Currently, we have 3,000 inresidence students and over the next three years, we intend to become a 5,000-strong wholly residential multi-disciplinary university which will transform the higher education landscape of Gujarat," says Kosta.
Wind beneath your wings!
Paromita Sengupta (Bangalore)