International schools which offer fully-wired campuses, expat headmasters and affiliation with reputed offshore examination boards, have quickly eclipsed the country's vintage secondaries as the first choice of new upwardly mobile upper middle elites
The dawn of the new millennium heralded an exciting era for Indian K-12 education. During the past two decades, a slew of new-genre international schools affiliated with offshore exam boards such as Cambridge Assessment International Education (CAIE), UK, International Baccalaureate (IB), Geneva, Edexcel (UK) and Advanced Placement (USA), have mushroomed countrywide with the economically empowered post-liberalisation middle class eager to endow high-quality, globally benchmarked schooling upon their children.
Launched with massive capital budgets ranging from Rs.30-100 crore, international schools which offer fully-wired campuses bristling with hi-tech equipment and teaching aids, expat headmasters and affiliation with highly reputed offshore examination boards, have quickly eclipsed the country's vintage secondaries as the first choice of the new upwardly mobile post-liberalisation elites.
Ab initio since 2007 when the annual EducationWorld India School Rankings survey was introduced, we ranked international schools in a separate and distinct category to enable parents to choose the best among these new genre schools. Subsequently in 2013 when the broad day, boarding and international schools categories were sub-divided into ten categories to eliminate apples-and-oranges type comparisons, international schools were sub-divided into day, day-cum-boarding and fully residential, sub-categories and ranked inter se.
In the international day schools category, the Dhirubhai Ambani International School (DAIS), Mumbai (estb.2003) has dominated right from the start. This year as well the 2,198 knowledgeable sample respondents comprising fees-paying parents, principals, teachers and senior students polled in western India have ranked DAIS India's #1 international day school with top scores under the parameters of academic reputation, faculty competence, leadership, sports education, individual attention to students, and special needs education across all categories of international schools (day, day-cum-board and residential).
"It is a matter of great pride that DAIS is ranked India's #1 international day school for the sixth year in a row. We are also truly honoured to be ranked #1 on so many vital parameters of K-12 education — academic reputation, faculty competence, leadership, sports and special needs education. At DAIS, all-round development of children is the essence of teaching and learning. Our students excel not only in academics — our IB Diploma results — this year are the best ever, with an average score of 40.1 points compared to the world average of 29.78 — but also in sports and co-curricular education. Moreover, our top score under the parameter of faculty competence is well deserved because our teachers are our greatest strength. They are constantly improving their skills and competence by participating in professional development workshops and exchange programmes," says Nita M. Ambani, founder-chairperson of DAIS and director of Reliance Industries Ltd — India's largest private —multi-business conglomerate (annual revenue: Rs.430,731 crore), who adds that plans have been drawn up for the expansion of DAIS by building a second campus which will be completed by 2021.
Even as there is no change at the very top of the international day schools 2018-19 league table dominated by Mumbai-based institutions, there is a re-arrangement of seating at the Top 5 table. Oberoi International School, Mumbai, ranked #2 and Ecole Mondiale World School, Mumbai, ranked #3 in 2018-19 have exchanged their 2017-18 ranks. CHIREC International, Hyderabad has inched up to #4 (5 in 2017) jointly with Riverside, Ahmedabad (3). Previously ranked #6, the Aditya Birla World Academy, Mumbai and Oakridge International, Gachibowli, Hyderabad are jointly ranked #5 this year. Podar International, Mumbai and Mercedes-Benz International, Pune, have also risen in the esteem of the informed public and are jointly ranked #6.
Eileen Niedermann, director of the Mercedes-Benz International School (MBIS), Pune is pleased that this full-fledged IB school promoted in 1997 by Mercedes-Benz India Pvt. Ltd, the India subsidiary of the German automobile giant, is steadily moving up the league table — from #8 in 2017-18 to #6 this year. "I believe our consistent Top 10 ranking is because of a growing awareness of our full commitment to the IB philosophy of broadbased education. In everything we do there is deep focus on developing our students into inquirers, thinkers, communicators and principled, open-minded risk-takers. In MBIS, we greatly value and encourage deep and honest reflection to learn and grow," says Niedermann, an alumna of San Francisco University, USA with international teaching experience in the US, Tanzania, Sri Lanka and Uzbekistan who was appointed director of MBIS in 2016.
Yet perhaps the greatest leap forward in the Top 10 league table of India's elite international day schools is of the previously unranked Jamnabai Narsee International School (JNIS), Mumbai voted #7 and K.C. High International, Chennai #8.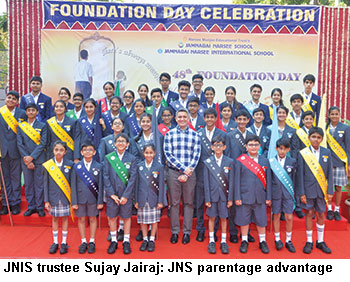 Promoted in 2015 by the Narsee Monjee Educational Trust (NMET), which has also promoted the CISCE-affiliated Jamnabai Narsee School (JNS, estb.1971) — ranked #3 in Maharashtra and Mumbai — JNIS is a full IB (primary, middle years and IB diploma) K-12 school which is also affiliated with CAIE (UK). "JNIS was promoted in 2015 in response to demand from the parents' community for international qualifications, and we are happy that our international school has maintained the high standards for which JNS is reputed across the country. Our experience in managing JNS for over half a century has helped us to quickly bring JNIS on stream and win the respect of your sample respondents," says Sujay Jairaj, trustee of NMET.
Likewise Michael Purcell, head of school at KC High, Chennai (estb.1999) is "honoured and grateful" with the Top 10 ranking awarded to the school in the EW India International Day Schools Rankings 2018-19. Promoted in 1999 as the Kids Central preschool by Valli Subbiah, an alumna of Tufts and Harvard universities and daughter of M.V. Subbiah, former chairman of the Chennai-based Murugappa Group, KC High is affiliated with the CAIE, UK and IB, Geneva examination boards.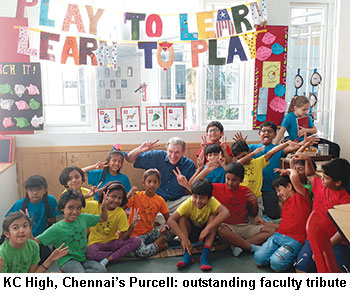 "The bedrock of KC High's success is our outstanding faculty which provides a safe, challenging, and joyful environment for all learners. Founded as an after-school activity centre and preschool which used research-based pedagogies to promote all-round education, as our learners grew older and we expanded into a K-10 school, we naturally chose Cambridge and IB affiliation. Our first batch of students wrote the IGCSE exam this year and have fared very well," says Purcell. An alumnus of University of Texas at Austin, Purcell served with Mahindra United World College, Pune and as founder-head of Edubridge International School, Mumbai before signing up with KC High as head of school in 2017.
The 2018-19 Top 10 table of international day schools is completed by the Utpal Shanghvi Global School, Mumbai, ranked #8 (12 in 2017), Pathways School, Noida, which has retained its #9 rank, Sadhbhavana World School, Kozhikode, at #10 (8) and JBCN International, Parel, Mumbai, which has leaped forward from #15 in 2017 to #10 this year.
Further down the 75-strong international day schools league table, several institutions have also improved their ranking this year. Among them: Fazlani L'Academie Globale, Mazgaon, Mumbai, at #11 (14), Calorx Olive International School, Ahmedabad #13 (15), Legacy School, Bangalore #14 (21), Trio World Academy, Bangalore #18 (24) and CP Goenka International, Juhu, Mumbai #21 (30).