Despite being relative late starters and obliged to compete on an unequal playing field, private B-schools have been able to carve out their spaces in the public imagination. C fore representatives interviewed 1,216 B-school faculty and industry representatives to rate and rank India's India's top 100 private B-Schools 2019-20 – Dilip Thakore
Over half a century ago the Indian Institute of Management-Calcutta (IIM-C) was established in 1961 by the government of India in collaboration with the Sloane School of Management of the Massachusetts Institute of Technology, Ford Foundation and government of West Bengal, and was soon followed by IIM-Ahmedabad (1961) and IIM-Bangalore (1973). Since then India's 2,842 private B-schools, which heavily outnumber the country's 20 IIMs and 168 other government business management institutes, have had their genius clouded by government B-schools, especially the top half dozen vintage IIMs.
This situation wouldn't surprise any serious student of post-independence India's socio-economic history. The government-sponsored IIMs were given huge 100 acre-plus tracts of land gratis and massive grants to set up shop. Moreover, the tuition fees of graduate students who topped CAT (Common Admission Test), the joint entrance exam of the IIMs, were heavily subsidised and until recently were less than 5 percent of the actual cost of education provision. Besides, these wholly residential government-sponsored B-schools attracted the best faculty from across the country and often from abroad.
On the other hand, privately promoted B-schools, which naturally mushroomed to provide business management education to the hundreds of thousands who weren't accepted by the IIMs, were reluctantly licensed and almost universally condemned (in the absence of subsidies from the public exchequer) for charging extortionate fees and indulging in — horror of horrors — "commercialisation of education".
To their great credit, despite being relative late starters and obliged to compete on an unequal playing field, several privately promoted B-schools have been able to carve out their spaces in the public imagination, and have established excellent reputation for providing high-quality business management education. Given the bafflingly modest annual students intake of the IIMs promoted with heavy investment from the public purse, the great majority of the 250,000-plus graduates who write CAT annually have no option but to settle for admission into indigenous private B-schools, given that the tuition fees demanded by business management schools abroad are invariably many multiples higher.
Commendably, India's 2,917 private institutes of management education have proved equal to the task of supplying well-trained and prepared managers for India Inc, particularly medium and small-scale companies which cannot afford the high starting salaries that IIM grads expect and get. Proof of the education provision capabilities of India's private B-schools is inherent in the fast growth and development of India's SMEs (small and medium enterprises) in the post-liberalisation era.
Against this backdrop and given the paucity of information about private B-schools in the media which, unmindful of the unequal playing field skewed in favour of the IIMs, sing their praises, five years ago, your editors resolved to beam a searchlight on the country's media-neglected private B-schools which are rendering — even though lefties and jholawalas hate to admit it — valuable service to India Inc and the national development effort.
Last year, on the reasoning that with the number of IIMs having multiplied to 20 by official diktat, the public would be interested in learning about the degree to which the brand value of the IIM tag would help the new IIMs, we — somewhat ill-advisedly — reinstated the IIMs in our league tables. Unsurprisingly the vintage IIMs dominated the EW B-schools rankings 2018-19 with the ABC (Ahmedabad, Bangalore and Calcutta) IIMs ranked the first three (in that order) and bagging five seats of the Top 10 table. However the IIM brand is less powerful than is popularly believed. Apart from IIMs in Lucknow, Indore and Kozhikode which are of over 20 years vintage, the highest ranked among the new IIMs in 2018-19 was IIM-Udaipur (estb. 2011), ranked #17.
This year government-promoted business management institutes have once again been excluded from the EW 2019-20 B-schools league tables. Moreover, the globally reputed privately-promoted Indian School of Business (ISB), Hyderabad — also excluded last year by C fore on the rationale that unlike most B-schools which offer two-year postgrad MBA programmes, it offers a 13-month study programme — has been re-inducted into the 2019-20 league tables. The rationale for inclusion is that in ISB's 13-month MBA study programme, students cover as much ground as students of B-schools offering the 24-month programme.
Dr. Rajendra Srivastava, dean of ISB, appreciates that this state-of-the-art B-school promoted in 2001 by some of the biggest hitters of India Inc, including the Ambani brothers, Rahul Bajaj, Adi Godrej and Rajat Gupta on a 260-acre state-of-the art campus, has not only been restored its rightful place in the EW India Private B-schools Top 100 league table, it's also ranked #1 in 2019-20.
"Naturally we are very pleased that we've been rated India's #1 private B-school by your 1,200 knowledgeable sample respondents comprising B-school faculty and industry representatives. The top rank awarded to ISB makes us more aware of our responsibility and commitment to the society we serve. I am especially pleased that your sample respondents have awarded ISB the highest scores under the parameters of faculty competence and research. This combination is our biggest differentiator and ensures that we are positioned among the best institutions of business management education worldwide," says Srivastava, an alum of IIT-Kanpur and the universities of Rhode Island and Pittsburgh who acquired valuable teaching and admin experience in McCombs Business School (Texas), the Goizueta Business School at Emory University and Singapore Management University before he was appointed dean of ISB in 2016.
On the other hand, Dr. Ranjan Banerjee, an alum of IIT-Bombay, IIM-Calcutta and University of Minnesota, and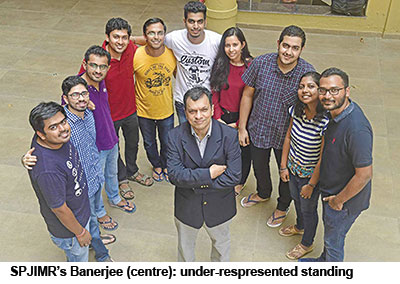 former senior manager at Asian Paints and Hindustan Unilever, and currently director of the S.P. Jain Institute of Management and Research, Mumbai (SPJIMR estb.1981), doesn't accord much weightage to the EW India private B-schools league tables. For one, he believes there's no rationale for ranking public and private B-schools separately because the country needs all types of B-schools "with flexibility, relevance, industry orientation, social consciousness and the ability to create useful knowledge, and this need can be fulfilled by good B-schools in either sector". "Global rankings like QS routinely rank SPJIMR among the Top 5 Indian B-schools with only the Top 3 IIMs — A, B and C — ranked above us. We are a continuously improving institution and we think this (EW) ranking is an under representation of our standing," says Banerjee adding that ISB is "consistently ranked among the very best institutes in terms of student placement".
Perhaps driven by considerations of Christian charity and magnanimity, Dr. Fr. Paul Fernandes, vice chancellor of the Xavier Institute of Management, Bhubaneswar (XIM-B, estb. 1987), which has made a great leap forward in the EW private B-schools rankings from #18 in 2018-19 to #8 this year, expresses satisfaction with this low-profile B-
school's upward trajectory. "In XIM-B, our focus is on creativity, innovation, and higher skills. Over the past 30 years, our faculty has built up a good track record of publishing research papers in top-tier journals. But we are determined to do better and are investing heavily in research programmes to improve our research output to take XIM-B to the next level. I am sure we will continue to improve our rankings in the future," says Fernandes, alum of XLRI Jamshedpur and vice chancellor of Xavier University and director of XIM-B, which has 785 graduate students and 45 faculty ("all with doctorate degrees") on its muster rolls.
At a period in the nation's history when rural distress is making daily headlines in the media, it is fitting that the country's only unapologetically agriculture and agri-industry B-school, the Institute of Rural Management, Anand (IRMA, estb. 1979) has risen high in the public esteem. Established by the legendary Dr. Verghese Kurien (1921-2012), the architect of the White Revolution of the 1980s which transformed India into the world's largest producer of milk and dairy products, IRMA which was unranked in 2016-17 and #21 last year, is ranked #8 jointly with XIM-B in 2019-20.
"We are honoured that IRMA — a fully self-financed and unique institution — has been promoted to the Top 10 table of India's Top 100 private B-schools. It is indicative of the growing confidence and trust that well-informed people have in this institute which trains graduates to become nation builders. This encourages all of us at the institute to work harder, and the faculty to put in long hours of teaching, research and consultancy in addition to conducting a
range of executive management development programmes. Everyone works together to respect and uphold the values the institute has nurtured over the past 40 years. This is reflected not only in respectable media rankings but also in our placements record which is phenomenal," says Prof. Hitesh Bhatt, an alumnus of IIT-Delhi and the blue-chip Georgia Tech University (USA) with work experience in Reliance Industries, Mafatlal Textiles and Sunflag Textiles, Tanzania who joined IRMA as a professor in 2010 and was promoted to the director's office in 2017.
Although corporate recruiters tend to dismiss it as a B-school for rural social activists, Bhatt unrolls a list of eminent IRMA alumni. Among them: R.S. Sodhi, who heads brand Amul; Sivakumar Surampudi, who invented the game-changer ITC e-choupal, the well-known online rural produce marketing system; Meenu Vadera of Sakha Cabs, and Bindu Ananth, Chair of the Dvara Trust. "Our globally famous alumni include Girish Menon, CEO of ActionAid UK; Biraj Patnaik of Amnesty International and Manju George at the World Economic Forum who are rewriting the world's development landscape. Moreover our alumni are also in leadership positions in the World Bank, Unicef, Yes Bank, Big Basket, Modern Foods and Emami Agrotech among other successful organisations," adds Bhatt.
With your editors having taken the decision to exclude the government-promoted IIMs from this year's B-schools league table and include ISB, there's been considerable rearrangement of seating at the 2019-20 Top 10 table. And with ISB claiming top spot, XLRI, Jamshedpur ranked #5 in 2018-19, is ranked India's second best private B-school this year.
Among the others which have risen high are IMT, Ghaziabad to #5 (#12 in 2018-19), Narsee Monjee Institute, Mumbai to #6 (8), T.A Pai Management Institute, Manipal (TAPMI) #7 (20), Symbiosis Institute, Pune, also #7 (15), International Management Institute, Delhi #9 (16), and ICFAI Business School, Hyderabad to #10 (25).
Moreover beyond the Top 10, several promising privately promoted B-schools are favourably impacting informed public opinion. Among them: BIMTECH, Noida ranked #12 (28), IFMR Chennai/Chittoor #13 (30), Fore School, Delhi #14 (32), Amity Business School, Noida #14 (31), Nirma Institute of Management, Ahmedabad #15 (34), IFIM, Bangalore #15 (43), FLAME Business School, Pune #16 (44), Goa Institute of Management #17 (35), Rajagiri Centre for Business Studies, Kochi #18 (39), Welingkar Institute, Mumbai #19 (39) and the Amrita School of Business, Coimbatore #20 (47).
It's also pertinent to bear in mind that although some private B-schools may be modestly ranked nationally, they are top-ranked and may be hugely popular in the 29 states and seven Union territories of the Indian Union of states. For instance, TAPMI and IFIM are the top two private B-schools in Karnataka (pop. 64 million), IRMA is #1 in Gujarat (62 million) and unfancied BIMTECH is the #1 private B-school in Uttar Pradesh (215 million).
Graduates and working professionals aspiring for high quality business management education are advised to study the state and parameter ranking tables in the pages following carefully before choosing a B-school. Ceteris paribus ('other things equal'), your editor would always opt for a top-ranked private B-school because despite the IIMs having belatedly been conferred substantial autonomy by the BJP/NDA government at the Centre, there's still too much disguised government interference within them, particularly in faculty appointments.
Business education is best learned in institutions untouched by the heavy hand of government bureaucracy. Also bear in mind that the best pedagogy is exploratory self-learning. That's my two bits of voluntary advice. Take it or leave it.
India's Top Private EMBA B-schools
In the new era of rapid technology obsolescence and change with middle management jobs disappearing, executive management study programmes are assuming increasing importance. Cfore representatives persuaded 1,216 B-school faculty and industry leaders to rate the country's most well-known private B-schools on 12 parameters of executive education excellence
Also read: EW India higher education rankings 2020-21: India's top 100 private b-schools