For upper class households that prefer their children to grow up at home and then move to residential colleges and universities, a new genre of international day schools, which offer academic education on a par with the very best boarding schools, has mushroomed in post-liberalisation India
Unlike haute bourgeoisie households in the UK and increasingly in the US that prefer to send their offspring to top-ranked boarding schools asap, upper class households in India prefer their children to grow up at home and then move to residential colleges and universities. To cater to this demand of the country's rapidly multiplying high net worth families, a new genre of international day schools that offer academic education on a par with the very best boarding schools, has mushroomed in post-liberalisation India.
In our crowded metros, state capitals and latterly tier III-IV cities, international day schools affiliated with globally reputed offshore exam boards such as International Baccalaureate (Geneva) and Cambridge International (UK), provide progeny of the upper middle and elite classes high-quality multidisciplinary K-12 education benchmarked with the latest innovations in the West, at relatively affordable prices compared to international day-cum-boarding and fully residential schools. This year, the EW International Day Schools Rankings 2020-21 league table rates and ranks 114 schools in 32 cities countrywide (cf. 89 schools, 25 cities in 2019-20).
Ab initio since 2013 when the umbrella category of international schools was sub-divided into day, day-cum-boarding and wholly residential schools to avoid apples and oranges type comparisons, the Dhirubhai Ambani International School, Mumbai (DAIS) has dominated this highly competitive sub-category. This year again for the eighth year in succession, the 11,368 sample respondents of EWISR 2020-21 comprising parents, principals, teachers and educationists have voted DAIS India's #1 international day school with top scores on eight of the 14 parameters of K-12 education excellence, including teacher competence, academic reputation, co-curricular and special needs education.
Founded in 2003 to commemorate the memory of legendary business leader Dhirubhai Ambani (1932-2002), founder-chairman of Reliance Industries Ltd, India's most valuable company by market capitalisation (Rs.16 lakh crore), the Cambridge and IB-affiliated DAIS, sited within Mumbai's ultra-modern Bandra-Kurla Complex business district, provides best global standard academic, sports, and co-curricular education to 1,093 students mentored by 154 teachers.
"We are thrilled that this year's sample respondents have again ranked DAIS India's #1 international school. The endorsement of our work by EducationWorld is very encouraging; it shows that DAIS is on the right path towards nurturing our children's all-round development. Our competent and committed teachers are the pillars on which the school has been developed over the past 18 years to excel academically as also in sports and co-curricular accomplishments at national and international levels, and by way of placements in the world's top universities. They have quickly and brilliantly adapted to the digital medium providing children engaging online classes during the past six months of the pandemic shut-down. Credit must also accrue to my daughter Isha Ambani Piramal, who has been leading the school's digital transformation initiatives during this unprecedentedly difficult time," says Nita Ambani, founder-chairperson of DAIS and the Reliance Foundation (estb.2010), the philanthropic initiative of Reliance Industries.
Nita Ambani is especially pleased with DAIS' top score under the parameter of special needs education. "From inception, we set up a student care services centre with a dedicated team of child-centred counsellors and special education needs teachers. It's most fulfilling to learn that DAIS is top-ranked on the parameter of special needs education," adds Ambani.
Even as DAIS has consolidated its position as the country's #1 international day school, there is a major rearrangement of seats in the Top 5 table. Aditya Birla World Academy, Mumbai has moved up to #2 (#3 in 2019-20) and Oberoi International School, Mumbai and Ecole Mondiale World School, Mumbai are jointly ranked #3. KC High, Chennai is promoted to #4 (5) followed by Pathways School, Gurugram jointly ranked #5 with Jamnabai Narsee International School, Mumbai. Notably, five Mumbai schools are ranked in the Top 5 in the international day schools 2020-21 league table.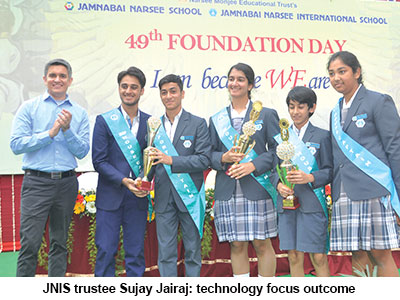 Sujay Jairaj, the highly-respected trustee of the Jamnabai Narsee International School, Mumbai (JNIS, estb.2015), is delighted with this five-year-old K-12 school's quick promotion to the Top 5 table. "We thank your sample respondents for acknowledging the good work being done by our teachers and students. From the start, we have focused on creating an enabling environment to develop our students to become lifelong learners ready to succeed in the fast-changing world. It is this love and awareness of technology that made our emergency transition to the digital learning mode seamless after closure of schools because of the Covid-19 pandemic. Not only academics but all intellectual, cultural and physical fitness education has moved online to ensure continuous holistic development of our students. Therefore, I am especially satisfied that JNIS is highly ranked on the new parameter of curriculum and pedagogy (digital readiness). It's also gratifying that we have been highly rated for academic reputation as our students have done very well in the Cambridge and IB board exams," says Jairaj.
Beyond the Top 5 table too, there's a churn. Ascend International School, Mumbai has inched up to #6 jointly with Mahindra International School, Pune while The Riverside School, Ahmedabad at #7 (4) has ceded rank to be jointly ranked with Oakridge International, Gachibowli, Hyderabad (8) and CHIREC International School, Hyderabad (6). Podar International School, Santacruz (W), Mumbai has retained its #8 ranking and is tied with Utpal Shanghvi Global School, Mumbai (8). Meanwhile, Legacy School, Bengaluru and JBCN International School, Parel, Mumbai are jointly ranked #9 (cf. #10 and #11 in 2019-20). The Top table is completed by Scottish High International School, Gurugram at #10 (13) and Bombay International School promoted to #10 (12).
Sudha Goyal, director-principal of the Cambridge International and IB-affiliated Scottish High International School, Gurugram (SHIS, estb.2005), is delighted that her school is ranked among the Top 10 international day schools countrywide and #2 in Haryana (pop. 25 million). "It's gratifying that the dedicated endeavours of our managing committee, teachers and support staff have been acknowledged by the informed public. I'm especially happy that SHIS is ranked highly for academic reputation. The prime objective of our founders was to establish a school that would emerge as a centre of K-12 education excellence. Our improved and contemporary pedagogies ensure our students excel academically. We are proud that our students were top-ranked in Delhi NCR in the IGCSE and IB exams," says Goyal, an alumna of Jadavpur and Pune universities with teaching and admin experience in several top-ranked schools (DPS, Jodhpur, Salwan Public School, Delhi and Army School, Meerut) who signed up with SHIS in 2007.
Further down the 114-strong 2020-21 league table of India's best international day schools, several institutions have improved their rankings this year. Among them: Mahatma Gandhi International School, Ahmedabad, ranked #12 (21), SVKM JV Parekh International School, Mumbai #14 (22), Lycee Francis De Pondichery #18 (52), and The Ardee School, Delhi #20 (39).
Especially noteworthy is that 22 previously unranked schools have debuted in this year's international day schools league table. This indicates that despite official discouragement, edupreneurs are responding to rising parental demand for international curriculums, pedagogies and practices, by promoting greenfield international schools.
It's also important to pay attention to the city ranking of day schools. They are arguably more important than state and national rankings for obvious reasons. For instance, Rockwoods International, Udaipur, ranked #31 nationally is the #1 international day school of Udaipur (pop.569,000); Billabong High International School, Kanpur Cantonment, ranked #35 all-India is #1 in Kanpur (pop.3 million) and Eastern Public School, Bhopal, ranked #38 nationally is #1 in Bhopal (pop.2 million).
Also read: India's most respected international day-cum-boarding schools