Shreyosi Chakraborty
The "learning loss" among children, that is making headlines everyday, resulting in a dip in their understanding capability, communication skills, critical and analytical thinking and also lower confidence levels to face problems can be combatted by preparing suitable multiple-choice questions (MCQs) that encompass the syllabus and does justice to their curriculum. "The choices in MCQs are quite close in comparison to each other and a thorough observation of the recurring trends of mistakes made in the MCQ answers will help teachers identify and isolate the "learning loss" in children and hence equip them to effectively bridge courses," says Madhavi Goswami, a senior teacher of Biology at Seth Anandaram Jaipuria School, Ghaziabad, Uttar Pradesh, who was recently awarded by the Central Board of Secondary Education (CBSE) for Excellence in Teaching & School Leadership 2020-21.
In a tete-a-tete with EducationWorld, Teacher Madhavi shares her views on how to ameliorate the students post the pandemic, the journey during the national lockdown, and other future plans.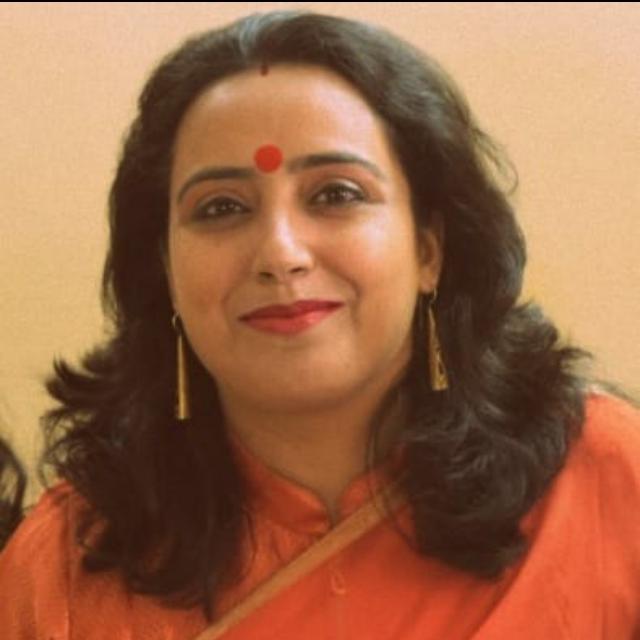 Q. Congratulations on being felicitated by the CBSE Board. As the students start returning to schools, what do you think would be the most challenging job as a teacher?
Thank You. Honestly speaking, as teachers we have been trained to face various challenging situations when it comes to handling students and their careers. One of the major post-pandemic problems which I fear would continue for a certain period of time is "learning loss". Students have lost their confidence levels, working memory, initiation and competitive mindedness to continue with the learning process. Furthermore, we have to diagnose the "learning loss" and design bridge courses and tests to understand where the exact loss is. And here I think, MCQs are one of the major solutions to that. MCQs give us the opportunity to understand how wrong children can think (to what extent). This would give us an idea about their thoughts and understanding regarding a certain lesson. The choices in MCQs are drafted in such a way that they are almost similar with minor or subtle differences. We frame the choices tactfully so that it triggers the wrong answer in a child if he/she is confused about it.
For bridge courses, we are presently focussing on byte-size learning modules where breaking up the chapter in smaller bytes, or podcasting will help students retain whatever they have studied. They can learn anywhere and on any device. Audios and videos diversify our teaching and hence learning can be more fun.
Moreover, children have been studying from their comfortable spaces for more than a year now and discipline and regiments have gone for a toss. The more flexibility one gets, they tend to lose the working mentality and the memory goes down. At schools, students face peer pressure and hence can perform better.
Q. What according to you does the students of this generation lack?
Fortunately enough, we grew up during a time when technology did not drive us completely. Children now are glued to technology. As long as technology is in control of us, the situation is favourable for the society. I feel children are missing "experiential learning" and an active engagement with the environment along with free-thinking.
Our days were different. We were raised up in an open environment where our minds could wander and dwell on the cosmos. It raised questions unanimously and found its own answers. But the present setting itself does not allow them to question something out of their syllabus for wholesome learning. Hence, they fail to pick up lessons from the environment and their biodiversity.
Q. How did you begin your teaching journey?
While "biodiversity" is a bookish term and today's students learn them in their science books, I grew up amidst it. I grew up in a setting surrounded by nature and its greenery. Education never meant schools, institutions and lesson plans to me as I learned things at home. That very setting developed a passion for education and I thought of continuing in the field where I can grow and learn everyday.
Q. How did you manage to cope up with online learning during the pandemic and lockdown?
I thank my institution for going that extra mile during trying times. Seth Anandaram Jaipuria School has its own teacher-training academy. By the time, the pandemic had struck, while others had started understanding the basics of online learning, we were halfway through drafting developmental plans and aggressively learning digital technologies. While we were practicing blended learning and refining technologies, others were searching for base technology to continue education.
Q. What has been the most frustrating moment for you as a teacher?
I would not say frustrating, but challenging. There are tough times. And I think, there are challenges in every big step you take in any profession. Sometimes, parents and their disagreements can be viewed as challenges. These then need to be reevaluated and redesigned.
Q. Given a chance, what change would you want to bring to the curriculum?
The present curriculum has some overlaps and repetitions. While crafting a vision for any institution, teachers should be well-trained, parents should be in sync, and students should be aligned. Also, there should be methods to address the "learning loss" at every level.
Q. Post schools' re-opening, how do you think children have changed?
I feel, children have become more humane. Whatever they used to take for granted, now they value.
Q. If you could briefly tell us, how has Seth Anandaram Jaipuria School helped the society during the pandemic?
We have undertaken a few CSR projects, where mega book-donation drive was conducted. We collected books from our students and others and provided them to those who could not afford to continue their studies from the marginalised society. Our students were also engaged in a 'buddy teaching programme' where they taught various students. This ensured two things-one is catering social responsibility and other is revising their own lessons in the form of teaching.
Also Read: Pediatric Health Care: A Minute to midnight
National
,
News