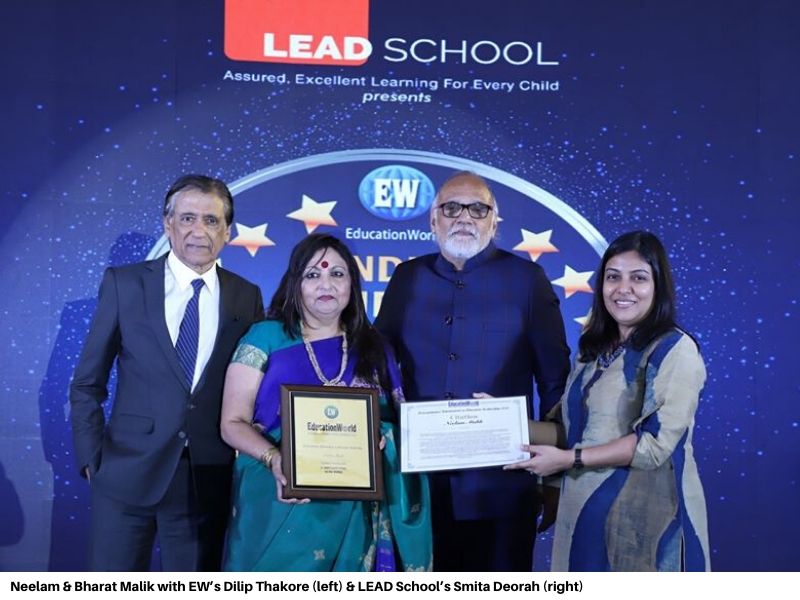 Neelam Malik is the founder-chairperson of St. Mary's High School, Kalyan, Mumbai (estb.1989), routinely ranked among the Top 3 Budget Private Schools (BPS) of India in the annual EducationWorld India School Rankings. Moreover, in the inaugural EW India Budget Private School Rankings 2020, St. Mary's is ranked #3 in India and #1 in Maharashtra, India's most industrialised state.
In 2006, Neelam also co-promoted the K-12 CBSE (Delhi)-affiliated Arya Gurukul School, Kalyan and Ambernath and six preschools under the name and style of Little Aryans. Currently, these affordable BPS have a total 4,893 children and 230 teachers on their muster rolls.
An English postgraduate and education graduate of Mumbai University, Neelam began her professional career as a teacher in the St. John Baptist High School, Thane in 1987 after she wed with educationist Bharat Malik. Moved by the plight of children of socially underprivileged households in their neighbourhood, in 1989 the duo pooled their savings and promoted St. Mary's, Kalyan to offer English-medium primary education to them at affordable price. That year the school admitted its first batch of 215 class I-V children mentored by seven teachers, including the promoters.
"Right from the start our intention was to establish affordable K-12 schools for low-income, but aspirational families anxious to provide their children English medium education which is the passport to business and professional success. Therefore to this day our tuition fees in St. Mary's, Kalyan range between Rs.19,860-20,820 per year. Even in our two CBSE-affiliated Arya Gurukul Schools, tuition fees range between Rs.50,000-55,000 per year. Access to quality English-medium education should be available to all, and I believe it is our duty as educators to provide it to people at all price points," says Neelam Malik.
For her sustained commitment to provision of high quality affordably priced English-medium education to children of low-income households in Mumbai, the Editors and Board of Directors of EducationWorld are proud to present Neelam Malik the EW Extraordinary Education Leadership Award 2020.