The number of young people turning vegan worldwide is on the rise. A 2016 survey found that the number of vegans in Britain has grown by 360 percent over the past decade. For reasons ranging from aversion to animal cruelty, environment preservation to health benefits, an increasing number of people are going the vegan way, abjuring all animal products such as meat, fish, eggs, dairy and honey. Simultaneously, to cater to this new tribe of vegans, there's been an explosion in the availability of plant-based foods including vegan meat substitutes. Here are three recipes which offer vegans the taste and texture of meat without the emotional baggage. – Parvathy Menon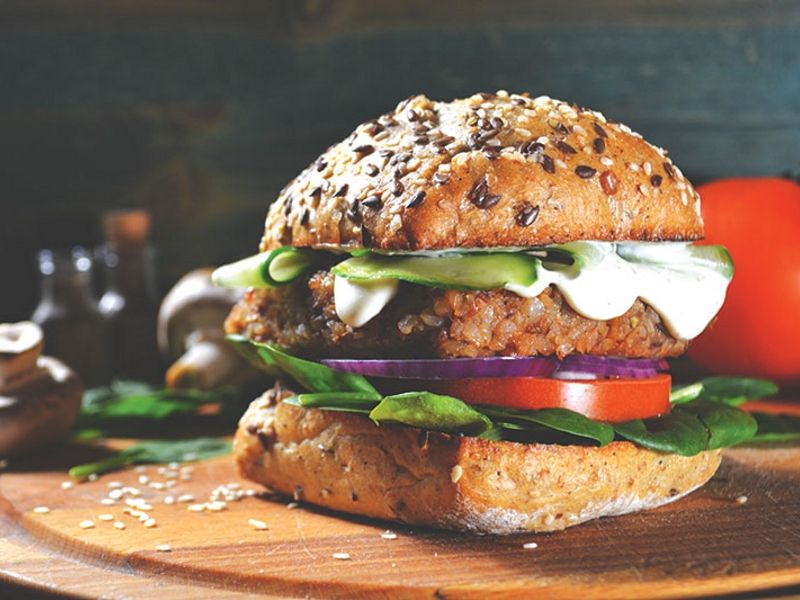 Veggie grilled burger
Ingredients
 1 cup cooked brown rice
 1 cup walnuts (or bread crumbs)
 1/2 tbsp oil (plus more for cooking)
 1/2 finely diced white onion
 1 tbsp chilli powder
 1 tbsp cumin powder
 1/2 tsp sea salt and black pepper each (plus more for coating burgers)
 1 tbsp coconut or brown sugar
 1 1/2 cups cooked black beans or rajma (well-rinsed, drained and patted dry)
 1/3 cup bread crumbs
 3-4 tbsp vegan BBQ sauce
Preparation guide
 Heat a pan over medium heat, add raw walnuts and toast for 5-7 minutes, stirring frequently, until fragrant and golden brown. Set aside to cool.
 In the meantime, heat a skillet over medium heat, add oil and onion. Season with salt and pepper and sauté for 3-4 minutes or until onion is soft and translucent.
 Blend roasted and cooled walnuts in a blender or food processor with chilli powder, cumin, salt, pepper and coconut or brown sugar until powdery. Set aside.
 In a large mixing bowl, add drained, dried black beans or rajma and mash well with a fork, leaving only a few whole beans.
 Next, add cooked rice, spice-walnut mixture, sautéed onion, bread crumbs, BBQ sauce, and mix thoroughly with a wooden spoon for 1-2 minutes, or until a moldable dough forms. If too wet, add more bread crumbs.
 Divide into 5-7 patties depending on the size you want. Cook on grilling pan for 3-4 minutes or until brown on the underside, and flip gently. Cook for 3-4 minutes on the other side.