"Our goal is to nurture confident, compassionate and competent global citizens and critical thinkers endowed with the life skills to make a difference to society."- Dr. N.K. Dutta, Founder-principal, Miles Bronson Residential School, Guwahati.
Sited on a 26-acre verdant campus near the Guwahati International Airport, the Miles Bronson Residential School (MBRS) was promoted in 1987 as Assam's first fully residential co-educational school. Named after American missionary Dr. Miles Bronson who came to Assam in 1837 and published Asomiya Abhihan (1867), the first English-Assamese dictionary, the K-12 MBRS is ranked #2 in Assam and #7 countrywide among co-ed boarding schools in the latest EW India School Rankings 2018-19.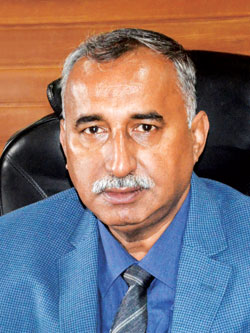 The promoter-principal of the CBSE-affiliated Miles Bronson Residential School, Guwahati is Dr. Nripen Dutta, an alumnus of Delhi and Guwahati universities, who while preparing to qualify as an IAS officer realised his true calling was to provide academically neglected students of North-east India access to high-quality primary-secondary education in a fully residential campus. Under his visionary leadership, MBRS has steadily developed into a contemporary 21st century school offering its 545 students including 245 girls a rigorous academic programme, contemporary IT-enabled pedagogies, en-suite residential accommodation, excellent sports and co-curricular education facilities. MBRS is the first boarding school in eastern India to be awarded the platinum rating certificate of the Indian Green Building Council.
To implement the holistic education provision mission of the school, the Miles Bronson Residential School management has invested generously in developing a self-contained campus which hosts 44 classrooms, a library housing 18,000 volumes, four science and three computer labs, digital library with 24 workstations, skills development centre, a robotic lab, STEAM centre and three aesthetically-designed girls and two boys' hostels offering en suite accommodation supplemented with study facilities and dining rooms
MBRS is accredited with several national and international organisations such as IPSC (indian Public Schools' Conference), Round Square, Duke of Edinburgh;s IAYP (International Award for Young People), JRC (Junior Red Cross), British Council's ISA (International School Award) AFS (American Field Service) and BSA (Boarding School Association, UK). Professional development of its 84 highly experienced teachers is MBRS' top priority with teachers undergoing continuous in-service training.
Focus on continuous professional development and holistic education has paid rich dividends with students recording excellent results in school-leaving exams. Of the 91 students who wrote the 2019 CBSE (class XII) exam 95 percent of them scored 90 percent-plus with the topper Yoyi Veyie averaging 97 percent.
Unsurprisingly Miles Bronson Residential School, Guwahati alumni are routinely admitted into top-ranked foreign (London and Nottingham, UK) and Indian universities (Delhi, Mumbai and Pune).

Further information visit www.mbrsguwahati.edu.in