NUI enjoys an excellent national reputation for teaching and research. It was conferred the Sunday Times University of the Year Award for the third time in 2018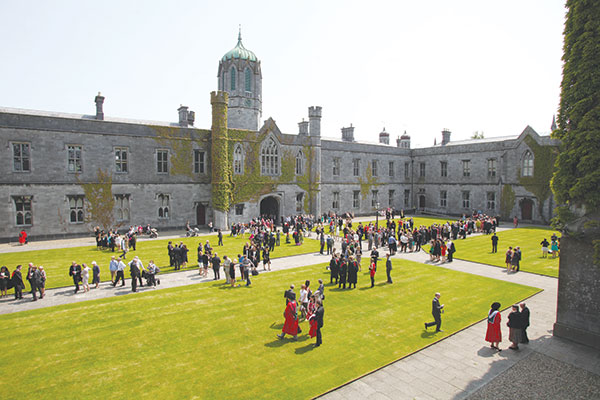 Founded in 1845 as one of three queen's Colleges established in Belfast, Cork and Galway, the National University of Ireland (NUI), Galway, enjoys an excellent national and international reputation for teaching and research. It was conferred University of the Year award of the highly reputed Sunday Times University Guide for the third time in 2018 (previously in 2002 and 2009). In the latest QS World University Rankings 2018, NUI is ranked #243 worldwide, and its faculties of nursing, English language and literature, medicine, geography and earth and marine sciences are ranked among the world's Top 100-200. It's also ranked Ireland's top university for graduate employability with 96 percent of students employed or in further studies within six months of graduation.
Since it admitted its first batch of 68 students 173 years ago in three faculties — arts, medicine and law — NUI has come a long way. Currently, its five colleges offer undergrad and postgraduate programmes in over 60 academic disciplines to 18,000 including 3,000 students from 115 countries mentored by 2,500 faculty. In recent years, the university has developed internationally renowned centres of excellence in several study disciplines including Irish studies, child and family research, film and digital media, human rights, biomedical engineering, semantic web technology, environmental and marine sciences. Among the unique study programmes it offers include a B.Sc in podiatry (study of professional care and treatment of foot disorders) and BE/ME in sports and exercise engineering. Moreover the university has signed foreign collaboration agreements with 120 top-ranked universities worldwide, including IIT-Kanpur, IIT-Delhi and IISc, Bangalore in India. Famous NUI alumni include Enda Kenny, former prime minister of Ireland; Emily Anderson, well-known linguist; physicist Alexander Anderson; and Hollywood actor Martin Sheen.
Galway. Sited on the west coast of Ireland, Galway is a college town with students comprising 20 percent of the city's 80,000 population. Acknowledged as the country's cultural capital, this harbour city hosts several internationally renowned music and cultural festivals including Cork World Book, Kilkenny Arts, Jameson Dublin International Film, Galway International Arts and the Lismore Immrama Festival of Travel Writing. Moreover, Galway is a global hub of the medical technology industry with eight of the world's Top 10 med-tech companies based here.
Galway is two hours by road from Dublin airport. It has a temperate climate with temperatures lowest in January (5°C) and highest in July (15°C).
Campus facilities. Sited on the banks of the river Corrib, the university's 260-acre campus houses over 90 buildings featuring state-of-the-art classrooms, seminar halls, laboratories, residential and sports facilities. The campus landmark is the Quadrangle building, constructed in 1849 with local limestone in the Tudor Gothic architectural style, and modelled on Christ Church College, Oxford. Other historical buildings include the James Mitchell Museum (1952) housing fossils and minerals and an iconic Arts/Science Concourse designed by celebrated architect Scott Tallon Walker in the 1970s. The James Hardiman Library houses over 430,000 printed and 400,000 e-books, and over 25,000 electronic journals.
Since 2000, NUI has been undergoing a €400-million (Rs.3,380 crore) campus development and expansion programme. Several new academic facilities have been added including the Cairnes Building, Áras Moyola and the award-winning Engineering Building, all located in the north campus. Other additions include a €30-million Biomedical Science Building, which hosts 300 scientists and researchers working in areas such as regenerative medicine, stem cell research, cancer biology, and biomaterials; a €34-million human biology building; and the O'Donoghue Centre for drama, theatre and performing arts.
Sports infrastructure is extensive and includes a six-lane, 25 m swimming pool; basketball arena and sports hall; 100 units cardiovascular gym; fully equipped elite weight training gym; eight-lane synthetic international standard track; 3 km of flat water for rowing and kayaking; and international standard sand-based artificial surface for field hockey. In addition, the university's 82 student societies host cultural and social events through the year.
Admission. The minimum eligibility criterion for admission into undergraduate programmes is successful completion of class XII with a minimum average of 65-75 percent. Applicants must also submit proof of proficiency in English language (minimum scores of 6.5 in IELTS, 88 in TOEFL and 61 in Pearson PTE acceptable). The completed application form together with original or certified copies of secondary school transcripts, two letters of recommendation, and an 800-word personal statement, should be mailed to Undergraduate Admissions, International Affairs Office, National University of Ireland, Galway, 7 Distillery Road, Galway, Ireland. Applications for entry into term beginning September can be submitted from November 1 of the previous year till end June.
Postgraduate applicants should submit applications online via the Postgraduate Applications Centre (PAC) on www.pac.ie/nuigalway which opens on November 1 for study programmes commencing in September next year.
For further information, contact National University of Ireland, Galway, 7 Distillery Road, Galway, Ireland, H91 TK33; Ph: +353 91 524411; email: [email protected]; website: http://www.nuigalway.ie
Accommodation. Student housing options include university student residences, hostels, private rented and self-catering accommodation. Two on-campus students' halls of residence provide single/double bedrooms, with private bathrooms and kitchen facilities. Seven student residences sited a 15-20 minute walk from the main campus provide self-catering housing. Moreover, the university's accommodation office helps students find private rented houses/apartments.
Degree programmes. NUI offers several undergraduate, postgraduate and research programmes through its five colleges and 16 schools.
SCHOLASTIC OPTIONS AT NUI, Galway
National University of Ireland, Galway, offers a wide range of undergraduate, postgrad and research programmes. They include:
The College of Arts, Social Sciences, and Celtic Studies. Psychology, drama, theatre and performance studies, children's studies, global languages, early childhood studies and practice, humanities and social science
Centre for Adult Learning and Professional Development. Courses in gemmology, earth and ocean sciences, medical device science, environment sustainability, performance sports coaching, teacher education, early childhood studies and practices, health promotion and information
College of Business, Public Policy and Law. J.E. Cairnes School of Business & Economics, Shannon College of Hotel Management, School of Law
College of Engineering and Informatics. Biomedical, mechanical, civil, electronic and computer, electrical and electronic, computer science and information technology, energy systems engineering
College of Medicine, Nursing and Health Sciences. Health sciences (occupational therapy, speech and language therapy, etc), nursing and midwifery, and medicine
College of Science. Schools of chemistry; mathematics, statistics and applied mathematics; natural sciences and physics
Tuition fee (per year): €12,750-23,750
Cost of living (per month): €1,200 NB: €=Rs.85