Founded in 1965 by eminent educationist Savitaben Amin, Navrachana Education Society (NES) is a registered charitable trust that has distinguished itself through a five-decade legacy of making high quality education accessible to Vadodara's burgeoning middle class. – Bandana Brahmin.
With five primary-secondaries affiliated with national and international school-leaving examination boards, an innovative sports programme, a school for underprivileged children, skilling initiative for girls and women and a premier multidisciplinary university under its banner, NES presently has an enrollment of over 10,000 students and a staff strength of over 500. It also provides financial assistance to 10 anganwadis in Vadodara.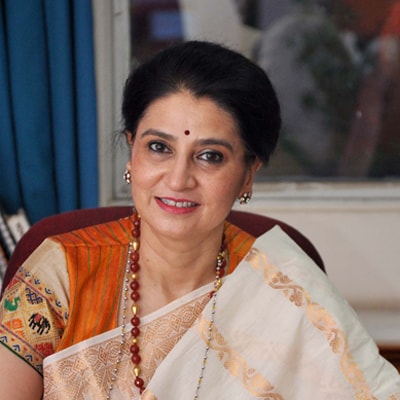 "NES institutions are committed to enabling, empowering and guiding each student through effective mentoring, while challenging the creative domains of the mind. Our curricula blends academic rigour and behavioral discipline, inculcation of humane values and social skills to ensure that their true potential is manifested smoothly into reality," says Tejal Amin, chairperson of the 53-year old Navrachana Education Society, who has been the driving force behind its growth and expansion.
A 1991 alumnus of The Maharaja Sayajirao University, Vadodara, Gujarat, Tejal Amin has been closely associated with Vadodara's industry and educational ecosystem over the last three and a half decades. With her deep appreciation of the city's socio-cultural milieu, she is actively involved in managing several contemporary challenges confronting it. Apart from providing strategic oversight to NES' constituent institutions, she is also founder-director & chairperson, organising committee of the Vadodara Marathon, a non-profit organisation which conducts the popular annual marathon and other civic awareness programmes in the city. She also served as a government nominated member of the senate and syndicate of Maharaja Sayajirao University of Baroda. She is a recipient of the Glory of Gujarat Award 2016 of the Indian Council of Social Welfare, Gujarat.
NES' flagship Navrachana School, Sama, Vadodara (estb. 1967) has metamorphosed into one of the premier schools of Gujarat routinely ranked #1 co-ed day school in Vadodara and in the top 3 in Gujarat in the annual EducationWorld India School Rankings. The CBSE affiliated K-12 institution offers a student-centred curriculum that integrates 21st century skills and regularly drives international projects and outbound trips to foster the spirit of global citizenship. The school presently has an enrollment of over 2800 students and staff strength of more than 150. It has been awarded the Computer Literacy Excellence Award for Schools (2004) and the International School Award from the British Council.
"Navrachana School is committed to fostering the spirit of excellence in our students without them losing sight of their responsibility towards the society they live in. Thus, a Navrachana student is an environmentally aware and socially responsible member of the society. As a school leader, my effort is to create an environment in the school where fear has no place and one which is nourishing for all – teachers and students alike. I strive to empower my team so that each member contributes constructively towards creating an environment that is competitive yet collaborative, ambition driven yet compassionate," says Suprabha Menon, principal, Navrachana School, Sama, Vadodara who has been in the teaching profession for the past four decades.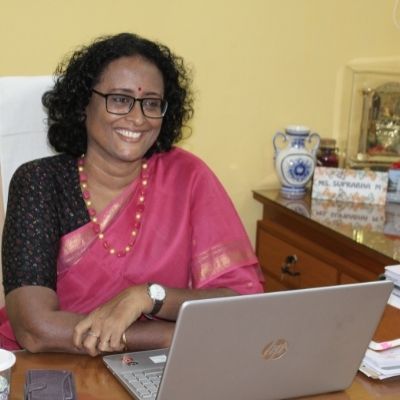 NES institutions
K-12
Navrachana Higher Secondary School, Sama
Navrachana International School, Vadodara (IB)
Navrachana International School, Vadodara (CBSE)
Navrachana Vidyani Vidyalaya, Vadodara
Navprerna, Vadodara
Eklavya Model Residential School, Vejalpur
Higher education
Navrachana University, Vadodara
Skill development
Nav-Kaushalya – Skill Development for Girls
Navrachana Sports Academy
Student-centred pedagogies to develop future-ready global citizens
NES' student-centred and progressive educational ethos enable its students to develop into future-ready global citizens.
Committed to holistic student development, NES institutions have introduced several innovative pedagogies that integrate Design Thinking, Competency Based Pedagogy, Constructivist Approach to Learning, and Project Based Learning. Student exchange programmes, outbound trips, TED Ed Clubs, Model United Nations (MUN) conferences, etc. are integral components of learning at NES schools. The annual concerts are magnum opus events where everything is sourced in-house, right from scripting, direction, music composition, choreography, set-design to props and costumes. The school newsletter, yearbooks, and coffee-mornings enable seamless home-school communication at Navrachana International School, Vadodara. While Navrachana School Sama lays emphasis on creativity, innovation and building competencies, Vidyani Vidyalaya practices 'F to F' i.e. 'Feedback to Feed-forward' for professional development of teachers which is accomplished through webinars, workshops etc., and teacher performance is assessed through various programmes and regular feedback.
Seamless transition to online learning
When the Covid-19 pandemic prompted national mass closure of educational institutions, NES institutions swiftly introduced focused training for students and teachers to equip them with online teaching-learning skills and tools. Before the new academic session started, all teaching-learning processes were moved online to ensure uninterrupted for students. Students and parents were provided round-the-clock support and laptops and peripheral devices were provided to all the teachers to enable them to conduct online classes from home.
NES schools skillfully leveraged technology to host national and international virtual webinars for students, teachers and parents, as well as for interviews and orientations. A well-structured timetable ensured an engaging online learning experience that included science experiments, interactive PPTs, engaging videos, digital platforms such as kahoot.com, quizzezz.com, among others. Microsoft Forms, Wakelet Walls, and Padlet were used for student assessments. The comprehensive online curriculum also included physical education, fine arts, dance and music sessions.
Well timed breaks between online lectures, breakout rooms for students to connect informally, online class socials, celebrating festivals, health and wellness sessions, and implementation of healthy practices such as meditation and yoga ensured a stress-free and holistic online learning experience. Moreover, the school counselors were accessible round the clock to provide emotional and psychological support to the students.
"Education has become much more dynamic than before as curricula, teaching methodologies, education policies and aspirations of parents and students are evolving at an unprecedented pace. At Navrachana Education Society, our constant endeavor is to stay ahead of these changes so that our students get best-in-class education and are several steps ahead of their peers, " says Tejal Amin.
Lending a helping hand during the pandemic
Keeping with its humanitarian ethos, NES has been at the forefront of community outreach initiatives designed to mitigate the catastrophic impact of the Covid-19 pandemic on those worst impacted by the pandemic. During the testing times, Eklavya Model Residential School, Vejalpur (EMRSV), a school for tribal children, ensured provision of uninterrupted online learning to its students. EMRSV was the first school in the region to introduce online classes.
Likewise, Navrachana International School, Vadodara distributed food grains to its house-keeping staff and their families. The school also collaborated with Robinhood, a voluntary organisation, to distribute food to those living in the city streets and donated books and stationery through the TecSO Global Foundation. It also launched initiatives such as 'The Project Uprise' to fund 250 families worst affected by the pandemic, the Grocery-Kit Drive and Impact Guru to cater to underprivileged families and the elderly.
The school's alumni joined hands to distribute hand sanitizers to the cleaning staff of Vadodara Municipal Corporation as a goodwill gesture. They also made face shields at home and donated to hospitals in South Carolina, United States, distributed food grains and packed meals to the needy families. The school's parent community collaborated to provide food and essential items to needy families.
Awards and accolades
Navrachana School, Sama was presented with the Samagra Shiksha – Empowering India Award 2020 (year) for contributing to inclusive education organised by NABET- National Accreditation Board for Education and Training.
Navrachana School, Sama received the Inspiring Climate School Award 2019 by Green Mentors for promoting sustainability and climate action.
Navrachana School, Sama was nominated among the top 250 Climate Action Excellence Schools worldwide by Cartoon Network and TAG in 2021.
Students of all Navrahana Institutions have been readily welcome into highly reputed universities in India and abroad.
NEEV – The Prep School received the British Council International School Award 2015-2018.
Also read: Navarachana School, Sama: Frontrunner in holistic 21st century schooling in Vadodara
Campus
,
News