Netflix has been in India for quite a while now and some of its shows have already gained immense popularity amongst the Indian audiences. Netflix India originals like the 'Sacred Games' have proved that there is immense scope for digital content even in India where usually 'saas bahu' sagas take the lead in television channels. With the steadily growing number of digital citizens, we can definitely expect more Netflix India originals. So let's take a look at some of the Netflix series that have been an instant among the Indian audience.
Sacred Games
One of the best original web series of India on Netflix that became an instant hit among Indians is the 'Sacred Games'. Based on Vikram Chandra's 2006 novel and directed by Vikramaditya Motwane and Anurag Kashyap, Sacred Games was released globally on the streaming platform on July 6, 2018. The novel was actually adapted by Varun Grover who was recently named in the #MeToo campaign. Backed by an impressive star cast that includes Bollywood's actors Saif Ali Khan, Nawazuddin Siddiqui and Radhika Apte, the story revolves around a cop Sartaj Singh who receives an anonymous message about Ganesh Gaitonde, a criminal and follows on it. For all those who love action and thrillers, this series is a dream come true.
The Crown
A historical drama, The Crown is written by Peter Morgan and is a great watch for the way in which the story unfolds. It is a biographical story that mainly revolves around the political rivalries/hiccups of Queen Elizabeth II's reign. Infact the show gained much acclaim as it focuses on the queen's journey from her birth until the romance. The very first scene of the series in which Lord Mountbatten talks about giving up on India strikes a chord with the Indian audience. The series ran two seasons in 2016, and 2017, while the third is most likely to be released in 2019. The first two seasons stars Claire Foy as the queen alongside Matt Smith as Prince Philip, and Vanessa Kirby as Princess Margaret. For all those who love to binge on history and biographies, there cannot be a better story to relish on.
Stranger Things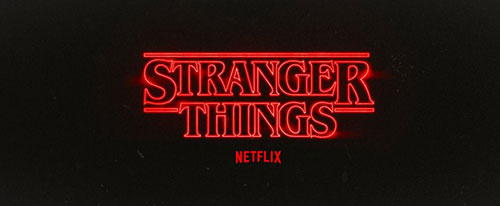 A science fiction-horror web television series written and directed by the Duffer Brothers has kept many glued to their seats. The show which was an absolute hit from the start is quite spooky. The story revolves around the disappearance of a young boy amidst most supernatural circumstances. The series was aired in two seasons in 2016 and 2017, while the third is expected to release in mid-2019. Starring Winona Ryder, David Harbour, Finn Wolfhard, and Millie Bobby Brown, Stranger Things is for all who love spooky stuff.
Narcos
One of the best Netflix series, Narcos is a crime drama created and produced by Chris Brancato, Carlo Bernard, and Doug Miro. The story revolves around drug kingpin Pablo Escobar, who became a billionaire through the production and distribution of cocaine. The series also focuses on the protagonist's interactions with drug lords and various other entities. The series featured three seasons in 2015, 2016 and 2017. Starring Wagner Moura, Boyd Holbrook and Pedro Pascal, this crime drama is worth a watch.
Fuller House
A sitcom created by Jeff Franklin, Fuller House is a sequel to the 1987–1995 all-time favourite television series — Full House which is popular till date. The Fuller House series is set in the same house as its prequel in San Francisco, and now the story revolves around the widowed D.J. Tanner-Fuller who is a veterinarian and mother of three young boys. A similar plot is repeated as that of the 'Full House' where after the unexpected death of DJs' husband Tommy, D.J. accepts the help of her sister Stephanie and best friend Kimmy, to raise her three sons. The series featured in three seasons in 2016 and 2017. Starring Candace Cameron Bure, Jodie Sweetin and Andrea Barber, the series is a fresh breather for all those who loved 'Full House' and missed it over the years.
13 Reasons why
Based on the 2007 novel Thirteen Reasons Why by Jay Asher, the series, created by Brian Yorkey, deals with sensitive issues like suicide, rape, sodomy, bullying etc. in high school. Starring Dylan Minnette and Katherine Langford, the story revolves around a seventeen-year-old high school student, Hannah Baker, who has killed herself and a series of interwoven character stories. For all those who are curious about sensitive issues, this series is a must watch.
Also read: Coronavirus lockdown: The best biographies to watch on Netflix and Amazon Prime