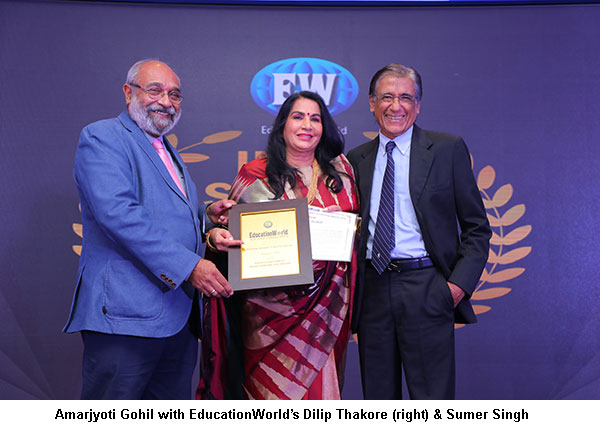 Born in Burma (now Myanmar) where she received her K-12 education at the Cusek School, Yangon (formerly Rangoon), Amarjyoti Gohil (nee Khullar) moved en famille to the UK in 1970. Continuing her education in the UK, she was admitted into the University of Liverpool which awarded her a postgraduate degree in psychology in 1974.
However, prior to her admission into Liverpool University, in 1965 she visited India and her ancestral town of Bhavnagar (Gujarat) with her father Girdharilal Khullar, a businessman. The experience of witnessing many children her own age out of school prompted her to promise her father who passed away in 1969, that she would return to Bhavnagar and provide high quality education to them.
After graduating from Liverpool University, Ms. Gohil began her professional career working with the Bedfordshire Police and later served as a children's psychologist and career counsellor with several government schools in the UK. "However throughout my 11-year career as a professional psychologist, I never forgot the promise I had made to my father to return to India and Bhavnagar in particular, to provide globally benchmarked English-medium K-12 education to the under-served children of our ancestral town," recalls Ms. Gohil.
Accordingly, in 1991 she returned to India and in the very next year promoted the class I-XII co-ed Silver Bells School affiliated with the Gujarat state board. Evidently, her experience of primary-secondary schools in the UK stood her in good stead because within a decade the demand for admissions into Silver Bells far exceeded available capacity. Therefore in 2001, Ms. Gohil promoted her second school in Bhavnagar — the co-ed, K-12 Amarjyoti Saraswati International School (ASIS) affiliated with the Delhi-based CISCE. And with history repeating itself, in 2007 she promoted the class I-XII Silver Bells Public School, affiliated with CBSE. Unsurprisingly, ASIS is ranked among Gujarat's Top 10 (#6) co-ed day schools and #1 in Bhavnagar (pop.700,000) and Silver Bells Public #2 in the city. Currently, the three schools have an aggregate enrolment of 3,100 students mentored by 150 teachers on their muster rolls.
For changing the K-12 education topography of the arid Saurashtra region and Bhavnagar in particular, Ms. Gohil has received numerous awards. Among them: the Bharat Gaurav Award 2009 of the Integrated Council for Socio-Economic Progress, Delhi; Shiksha Ratan Puraskar Award of the India International Friendship Society, London (2009); International Gold Star Award of the Global Friendship & Economic Development Society, Thailand.
In acknowledgement of the valuable contribution Amarjyoti Gohil has made to Indian education by fulfilling a childhood promise to upgrade the quality of education in the educationally under-served Saurashtra region of Gujarat and Bhavnagar in particular, the Board of Directors and Editors of EducationWorld are proud to present Amarjyoti Gohil the EW Outstanding Achievement in Education Leadership Award 2018 and induct her into the EW Hall of Fame of Indian Education.