The persistent failure of police personnel countrywide to rise to bad occasions and discharge their duties with minimal competence has raised disturbing questions about police recruitment, education and training. Numerous police reform commissions and committee reports are gathering dust in government offices
– Dilip Bobb is a former executive editor of India Today, Delhi
The predominant image of 21st century India's 2.8-million police force is not of a citizen-friendly keeper of public peace and order. The stereotypical image depicted in the media is of khaki-clad constables raining lathi blows on malnutritioned, and even elderly citizens.
In recent months, this image has been reinforced after the tragic events in Hathras (Uttar Pradesh), over the brutal gang rape of a Dalit girl last September and clumsy cover-up attempts by the police, including senior officers. Before that, the Delhi Police was heavily criticised for its inept handling of the February 2020 riots in the capital's north-east district. The police's pathetic inability to restore peace in the riot-affected areas was excoriated by numerous public intellectuals and retired police officers. The 17,000-page charge-sheet, yet to be filed but leaked to the media, has one constable as a witness against seven accused. The report makes the impossible claim that the constable was able to identify the seven accused at different locations — all on the same day.
These are only two recent examples of glaring ineptitude and lapses in police functioning. Since independence, the rock-bottom policing and investigative skills of the men in khaki have shown up in every major communal riot — Delhi (1984), Gujarat (2002) — and more recently in the Aarushi Talwar murder case in Delhi in 2008, and the tragic Sushant Singh Rajput suicide in Mumbai last year.
The persistent failure of police personnel countrywide to rise to bad occasions and discharge their duties with minimal competence has raised disturbing questions about police recruitment, education and training. "Many of the principles and practices employed in our police academies are reminiscent of the traditional model of police training which was largely drill-based. Police personnel of all ranks need to be engaged in a continual re-examination of their roles. This cannot be achieved unless police leadership incorporates the latest concepts and practices in subjects as varied as criminology, sociology, cyber security, terrorism, criminal justice jurisprudence and organisational behaviour," wrote Vinay Kaura, assistant professor at the Centre for Peace and Conflict Studies at the Sardar Patel University of Police, Security and Criminal Justice, Jodhpur (Rajasthan) in an essay in November 2018.
Earlier, the Padmanabhaiah Committee on Police Reform (2000) and Second Administrative Reforms Commission (2016) castigated entry-level qualifications and training of constables as grossly inadequate. They recommended raising the qualification for entry into the civil police to higher secondary upwards graduates. They also recommended that constables and police personnel of all ranks should receive intensive soft skills training (communication, counseling and leadership) since they are required to interact with the public on a daily basis.
Significantly, one of the principal recommendations of the Padmanabhaiah Committee was to replace the Police Act, 1861 with new legislation. But this recommendation is pending implementation which means post-independence India's police personnel are governed by rules and regulations prescribed by the British 160 years ago. However, it should be borne in mind that under Article 246 of the Constitution, maintenance of law and order, i.e, police administration, is a state subject with state governments required to frame the rules and regulations that govern the police within their jurisdictions.
The upshot is that minimal education qualifications — minimum height, weight and eyesight — are required of constables inducted into the police in all states. Even for the officer's cadre of the Indian Police Service (IPS), no grounding in criminology, criminal justice or police administration is necessary. To qualify as a class-I IPS officer, college graduates need to pass the civil services exam conducted by the Union Public Service Commission. Eligibility to write this exam is a three-year bachelor's degree in any stream. Subsequently, the objective (multiple choice questions) preliminary exam consists of one subject taken at the graduate level and general studies. Those who qualify are eligible to write the subjective mains exam based on questions related to Indian geography, history, politics, environment and social sciences and opt to join the IPS.
Another option to become a police officer in India is to pass the state-level police service exam (SPS) conducted by the State Public Service Commission (SPSC) or the Staff Service Commission (SSC) for induction into the state police force. Subsequently after recruitment, training primarily rests with state governments (barring Delhi). In the states, the police force is usually headed by an IPS officer trained at the Lal Bahadur Shastri National Academy for Administration, Mussoorie and the Sardar Vallabhbhai Patel National Police Academy, Hyderabad. Lower-level officials and constables are trained in state police academies.
The country's two police universities apart, the Union home ministry has recently approved the establishment of a National Police University. However, at the lower level, which constitutes the majority of the police force in every state, most recruits are uneducated, poorly trained in modern police processes and protocols, and their excessive use of third degree and violence while interrogating suspects dates back to the colonial era.
"Some states in India provide a semblance of modern training but the overall picture remains sad and gloomy, and the legacy colonial package is still being used and applied. There is more emphasis on outdoor training and drills which have very little practical relevance for a policeman in his future expected delivery," comments former police officer Rajbir Deswal, in an interview to Education Today (Delhi) recently. A former joint director in the Haryana Police Academy and Additional Director-General of Police, Human Rights and Litigation, Deswal is now a practising advocate in the Punjab & Haryana High Court, Chandigarh.
Curiously, for recruitment at the lower levels of the force in the states — almost 86 percent of the state police comprises the constabulary — only physical fitness of candidates is tested. Typically, constables are promoted only once during their service which could last up to 19 years, and they normatively retire as head constables. With law and order being a state subject under the Constitution, apart from the IPS cadre, other police personnel — constables, sub-inspectors and deputy superintendents of police (DSP) — are directly recruited by state governments. Officially, constables are required to have cleared Plus Two (higher secondary) exams but the main consideration is physical fitness with chest size, height and stamina.
"I joined as a constable in 2012, and while there are written exams, the local MLA in Haryana, where I come from, got me in without my exam result being considered. Most of us are from rural areas and if you have some political connection, getting into the police force is not a problem," says constable Ram Singh of the Delhi Police. According to him, after induction, his training lasted nine months and comprised a physical fitness regimen and weapons training.
On the other hand, an IPS officer is trained for two years, with inspector-level officers given a year's training and quality varying from state to state. Yet the plain truth is that apart from the approximately 8,500 IPS officers recruited annually, all other police personnel are provided mere basic training for challenges in the field. Human rights issues aren't an essential part of their training.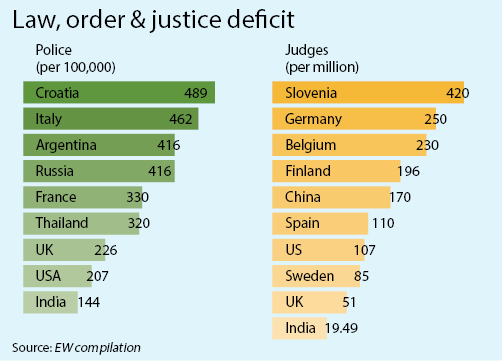 Deswal, who has attended training programmes in police academies in the UK, believes the role of the Bureau of Police Research & Development under the Union home ministry should be given greater importance. "The bureau is doing good work in improving the training and education of the police but regular staff at police training institutions are less motivated. Officers have no growth prospects and they end up teaching the same lessons and skills," he says.
According to K.V. Ravindranath Tagore, IPS, Director-General (Retd.) of Police, Karnataka, the most urgent reform required in the police countrywide is to mandate periodic in-service training and exams for officers and men/women. "Given the ratio, it's imperative that officers and men are given periodic in-service training with special emphasis on upgrading their digital education and forensic skills. Currently, there is excessive focus on physical fitness training and due to lack of cyber and forensics training, there is routine use of third degree to extract confessions. This has given India's overworked police personnel a bad reputation which they don't deserve," says Tagore, a science, law and philosophy postgrad of Mysore University who began his career as a college lecturer, signed up with the Karnataka Police in 1974, and served for 35 years.
Undoubtedly the root cause of inadequate training of the country's estimated 2.8 million police personnel is the meagre provision made in the budgets of the Central and state governments for maintenance of law and order and justice delivery. For instance, the Union Budget 2020-21 provides Rs.95,396 crore — a mere 2.5 percent of total expenditure — for the pay and maintenance of the Central police (including Delhi and CRPF), and state governments rarely provide a higher proportion. The result is that contemporary India is a hugely under-policed country with 144 policemen per 100,000 population against the minimum 222 per 100,000 recommended by the United Nations (Russia 416, USA 207, France 330). Moreover, 30 percent of police officers posts are currently lying vacant.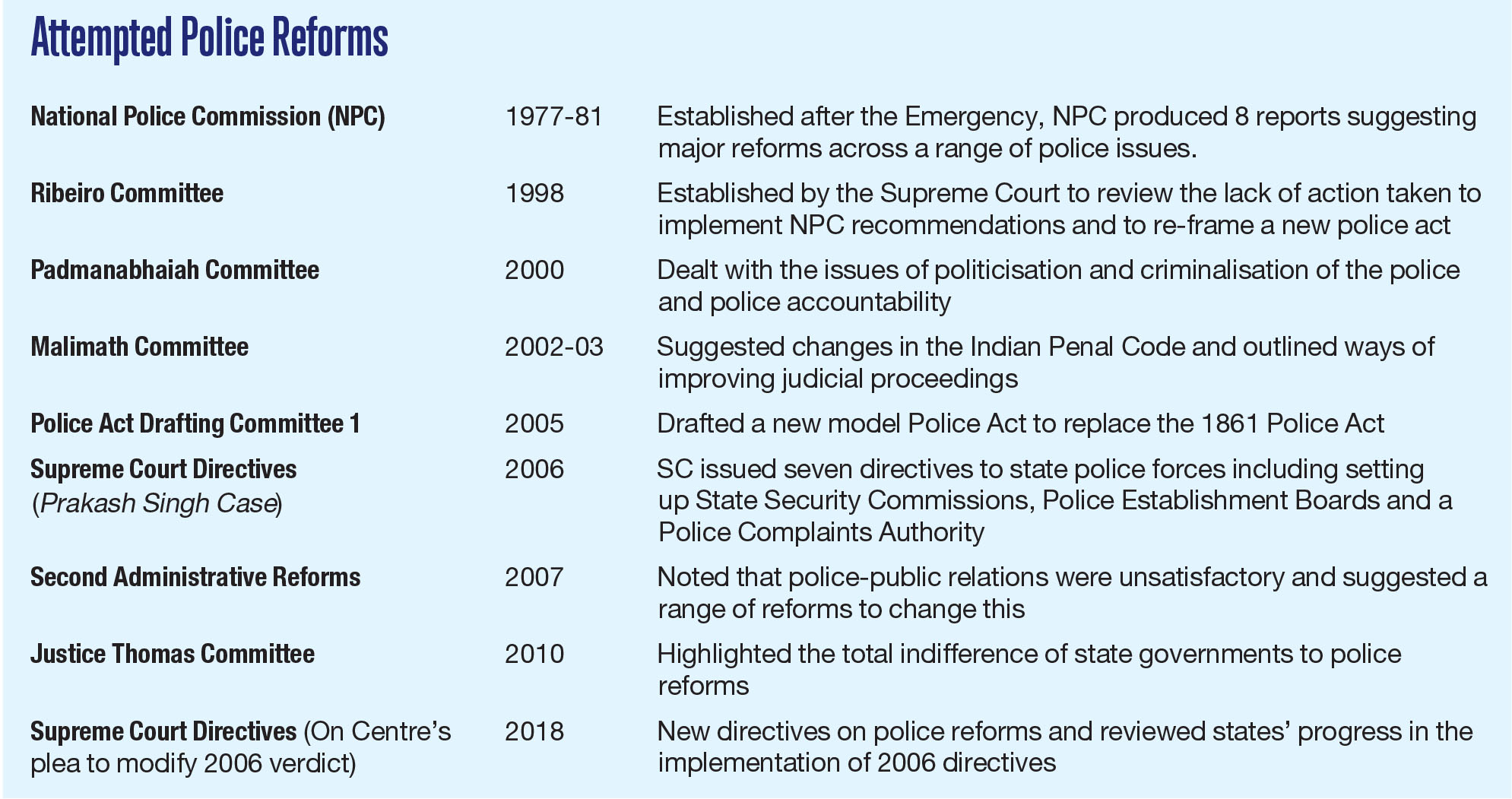 Consequently in most states, police personnel work for 10-16 hours, 24X7, a gruelling schedule which exacts a heavy toll on the health — mental and physical — of officers and men. Therefore, even if in-service education and training is provided, they have precious little time for improving skills or broad-basing their education and training.
The low priority given to the education, training and technology utilisation skills of the country's 2.8 million police personnel is highlighted in the Status of Policing in India Report 2019, a detailed study conducted by the well-known Delhi-based NGO, Common Cause and the Centre for the Study of Developing Societies.
According to the study, 70 police stations in 20 states do not have wireless facilities and 214 police stations are without a telephone and 40 percent of India's 16,098 police stations cannot access forensic technology. "Institutional neglect of two key responsibilities — of improving work conditions and orienting the police to a more sophisticated, democratic and humane work ethic — emerges as the most striking finding of the study," write the authors of the report.
Despite numerous committees and reports recommending drastic reforms in police training and recruitment (see box), the fact that they are all gathering dust is clear proof that the colonial culture is still alive and well in police stations across the country.