In the ninth EducationWorld India Preschool Rankings 2019-20, 19 sufficiently reputed proprietary and 11 franchised preschools in Pune are rated and ranked by 551 parents of preschool children and 61 ECCE teachers and principals. Here are Pune's best preschools 2019-20
Maharashtra's second most industrialised city after Mumbai, Pune (pop. 3.1 million) — seat of the once mighty Maratha empire — is the academic and cultural centre of India's most industrialised state (pop. 115 million) which produces 17 percent of the country's annual industrial output. It also hosts several top-ranked higher education institutions including Symbiosis International University, College of Engineering, Pune, Armed Forces Medical College, National Defence Academy, Khadakvasla and the Film and Television Institute of India among other higher ed institutions of eminence which annually attract an estimated 22,000 foreign students from 85 countries.
Over the past decade, Pune has also emerged as a preferred destination of IT (information technology), biotech companies and start-ups pitching tent in India, making it a promising destination for job seekers. The city's growing population of business, engineering and biotech professionals has spurred demand for preschools and early childhood care and education (ECCE) centres which have mushroomed in the city and its sprawling suburbs.
In the ninth EducationWorld India Preschool Rankings 2019-20, 19 sufficiently reputed proprietary and 11 franchised preschools in Pune — of which seven are debutants — are rated and ranked by 551 parents with at least one child in preschool, and 61 ECCE teachers and principals.
PROPRIETARY/OWNED
The second preschool promoted by the Bangalore-based Indus Trust (which has also promoted the top-ranked Indus International schools in Bangalore, Pune and Hyderabad), Indus Early Learning Centre, Bhosale Nagar (IELC-BN, estb.2014) has emerged as the natural successor of IELC, Koregaon Park (IELC-K, estb.2014), ranked Pune's #1 proprietary preschool for the past three years which downed shutters in April (2019). Obviously, there is insufficient demand for two high-end (annual tuition fee: Rs.1.8-2.7 lakh) Indus preschools in this essentially middle income city.
Be that as it may, Indus trustees who have presumably invested IELC-K's human and other resources into IELC-BN haven't lost sleep over the shut-down of their pioneer preschool in Pune because the leadership mantle had devolved on IELC-BN, ranked #4 in 2017-18 and #3 in 2018-19. With top scores under five of EW's ten parameters of ECCE excellence including teacher competence, teacher welfare and development, innovative teaching and leadership, IELC-BN has bested Primrose Nursery, Koregaon Park ranked above it in 2018-19.
"We are delighted to have successfully stepped into the rather large shoes of IELC-K. I am thankful to the Indus Trust management for the extra support it has given us this year. This has enabled us to step up our professional development programmes and improve our infrastructure including safety and hygiene," acknowledges Viveka Mistry, an English literature graduate of Delhi University with a diploma in Montessori training from the UK, 16 years of teaching experience in international schools (Hong Kong, India and Indonesia) and centre head of IELC-BN since 2015. Currently, this superbly equipped and furbished preschool hosts 102 children nurtured by 16 teachers.
With IELC-K having downed shutters, there's been a major rearrangement of seating at the Top 10 table of Pune's most admired proprietary preschools. While Primrose Nursery, Koregaon Park has retained its #2 ranking of the past two years, this year's sample respondents have awarded huge promotions to Vivero International Preschool, Aundh ranked #3 (7 in 2018-19), Atelier International, Hadapsar #4 (11), Sunderji Nursery School #5 (12) and Jumpstart Preschool, Karve Road #5 (8).
Further down the Top 10 table, Lexicon Kids, Viman Nagar at #7 (9), Podar Jumbo Kids, Wadgaon Sheri #8 (10) and Jumpstart Preschool, Aundh #9 (13) have also been awarded higher ranking. Masarrat Tavawallah, founder-director of the Pune-based Sunderji's Global Academia Group of institutions of which Sunderji Nursery School, Off Shankar Sheth Road (SNS, estb.1996) is a constituent, is very happy about this 23-year-old pre-primary's promotion to the high end of the Top 10 table. "It's a top of the world feeling to be ranked among Pune's Top 5 pre-primaries and I thank EducationWorld and your respondents for acknowledging the efforts of the entire SNS team towards enabling our youngest children to learn and play in a safe and nurturing environment. However, I believe we should have been awarded a higher score under the parameter of special needs facilities.
Evidently your sample respondents are unaware that in SNS, we specially welcome special needs children who are integrated into inclusive classrooms by our expert special educators. Special needs children need to be inducted into education at youngest age and accorded specialised ECCE to boost their confidence and morale. We intend to expand our network to take this message to the national level during the next five years," says Tavawallah, a psychology and child development alumna of Mumbai University.
In the EW Pune proprietary preschools 2019-20 league table, there has been considerable churn also because five new pre-primaries have debuted this year. Among them are The Shiishyaa School, Wakad at #10, MIT VGS, Loni #11, Angels Paradise Academy, Amanora, Hadapsar #12, Educon Kids, Baner Road #13 and Edu Lo Sung My Play School #14.
FRANCHISED
This year's 612 Pune-based sample respondents for the EW Pune preschools ranking survey have voted EuroKids, Ashok Nagar (EK-AN, estb.2008) the city's #1 preschool among the 11 sufficiently reputed pre-primaries included in the franchised preschools 2019-20 league table. Six EuroKids franchised pre-primaries dominate this year's league table.
EK-AN, ranked #5 in 2018-19, is followed by Little Millennium, Viman Nagar and EuroKids, Kalyani Nagar which have retained their 2018-19 rankings of #2 and #3 while Sesame Street Preschool, Wakad at #4 (7) is promoted to top table with EuroKids, Aundh #5 (6) completing the Top 5.
"Thank you for sharing this great news that Pune's parents and teachers have promoted EK-AN from #5 last year to top spot in 2019-20. I'm especially thrilled that the sample respondents have awarded us top score on the parameters of teacher welfare and development, safety and hygiene and infrastructure as we have made large investments in teacher training and infrastructure improvement," says Geeta Bharadwaj, a former banker (ICICI and Axis) who switched tracks and promoted EK-AN as a licenced preschool of the transnational EuroKids International 11 years ago.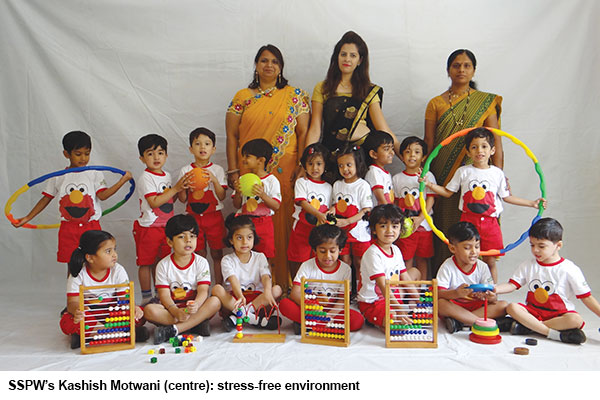 Likewise, Kashish Motwani, a law graduate of Pune University and centre head of Sesame Street Preschool, Wakad (SSPW, estb.2015), is pleased with the "huge promotion into Top 5" awarded by this year's sample respondents to SSPW. "I believe there's growing awareness in Pune that our committed teachers are inventively implementing the holistic curriculum we receive from our franchisors. This has earned us good opinions. Moreover, our campus is sited in a calm and quiet green suburb where our children learn joyfully in a stress-free environment," says Motwani. Currently, the preschool hosts 150 children and 12 teachers on its musters.
A feature of the EW Pune preschool rankings 2019-20 is the demotion of last year's #1 ranked Podar Jumbo Kids, Baner Road to #6. Ditto PJK Plus, Hinjewadi to #8 (4 in 2018-19) even as the previously unranked PJK, Hadapsar has been inducted into the Top 10.
Also read: Mumbai's best preschools 2019-20