EW Exclusive:
According the 'COVID-19: Second wind for higher education in India' report compiled by Prof Padmanabha Ramanujam, Chief Knowledge Officer (CKO), QS I GAUGE Indian College & University Rating, Bangalore, the number of Indian students opting to pursue their higher studies abroad would significantly drop, at least for the forthcoming academic year, in the wake of the COVID-19 pandemic which has created various hurdles especially concerning student mobility. In turn, this would open doors for the Indian higher education institutions to absorb the high quality students in large quantities who would otherwise have preferred to study overseas. However, this can only materialise if the Indian institutions can sufficiently impart quality education to these prospective students.
Here are some excerpts from the report…
As of 2018, the number of Indian students who pursue higher education abroad totals more than seven hundred thousand. Incidentally, a vast majority of these students choose to study in the countries which today are most affected by the corona outbreak including the US.
Actual numbers
According to a Report by the Ministry of External Affairs, Government of India, the list of estimated Indian students pursuing studies in foreign Institutions, based on inputs received from Indian Missions/Posts abroad as on 18 July 2018 suggest that a total of 752,725 students study abroad. Amongst these, the countries which attracted most number of Indian students are: United States of America (211,703), Canada (124,000), United Kingdom for 2016 -17 (16,550), United Arab Emirates (50,000), Bahrain (27,200), China (18,171) and Australia (87,115).
"Indians make up for 18 per cent of all international students in the US. This marks the sixth consecutive year that the total number of Indians pursuing higher education in the US has grown."

– Charisse Phillips, Minister Counselor for Counsular Affairs, US Embassy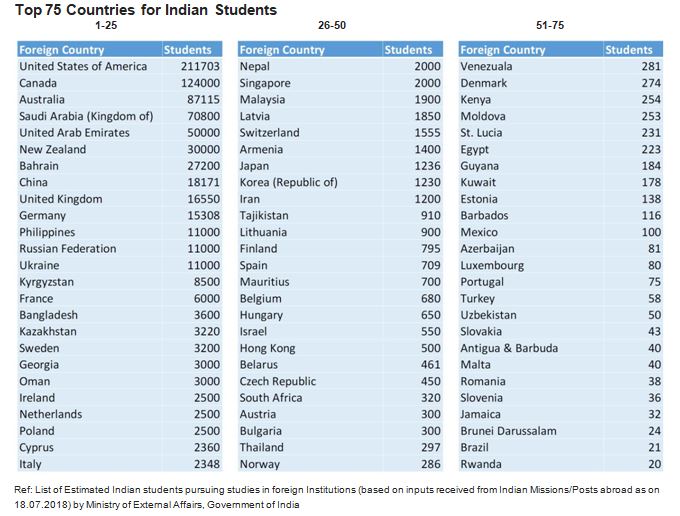 Various immigrant and non-immigrant visa appointments have been cancelled in India. It would not be surprising to see an increasing number of visa appointment cancellations and embassy closures globally with the steep rise in the novel coronavirus spread globally.
Therefore, the worries of the students not only include interruptions in studies but also dire inconveniences due to travel restrictions and not being able to return back to the US due to the travel bans. Risk of corona infections during the travel is another important factor. All of these contribute to a hugely restricted student mobility.
Admission tests deferred
Admission tests are another area where students are going to face troubles. More than 15 countries have cancelled the administration of the SAT exam scheduled for March 14 due to the coronavirus fears, according to the College Board. Mainland China, for example, has cancelled entry exams like the SAT and GRE and English proficiency tests like the TOEFL and IELTS, which are generally required for international students to study at U.S. universities.
"There will be a deterrent effect, especially on international students. The choice of destination for study abroad is influenced by perceptions about personal safety. The virus, and the response to it, is a reminder that health services and hygiene standards are not what some students are familiar with"

– Alan Ruby, Senior fellow, Alliance for Higher Education and Democracy, University of Pennsylvania
Admission tests deferred – what next?
Students' admissions are getting deferred from summer to fall. The University of Delaware, which began with its spring session in the second week of February this year after a winter session, reported that it has 226 students who were not able to return to campus for the spring semester. It is therefore not surprising that according to a February 2020 study conducted by the Beijing Overseas Study Service Association (BOSSA), approximately 36% of students are changing their plans to study abroad because of the COVID-19 outbreak.
Impact assessed
In the existing difficulties the prospective countries where students look out for admissions are already closing their gates in the form of travel restrictions combined with the risk of contracting the virus means that the student mobility is suffering terribly as it is. When conditions for India get worse in the coming months as inevitable, Indians would naturally face resistance from foreign nations in the form of travel bans and quarantines. All this again points out to the fact of weakened student mobility.
QS global survey
A QS-survey conducted on 26 February, 5 March and 12 March to see how the coronavirus spread has impacted on the decisions of international students reveals that as time progressed and the pandemic worsened, a trend of deterrence amongst students was seen with respect to considering studying abroad. Specifically, on 26 February, only 27% of respondents stated that the coronavirus had impacted their plans to study abroad. Whereas on 5 March, 29% said their plans had been impacted and as of 12 March, 35% of respondents said their study plans had changed. Of these 35% of respondents, the majority intend to defer their entry until next year (54%), some no longer want to study overseas (14%), and some had decided to study in a different country (13%). This is in stark contrast to the previous analysis on 26 February where of the 27% of respondents who stated that their study plans had been impacted, 35% intended to defer, 38% wanted to study in a different country, and only 9% said they no longer wanted to study overseas. Thus, this data shows a chilling effect on the mobility of international students going out of India as the pandemic expands.
Recommended: Over 850 million students worldwide out of school due to coronavirus: UNESCO
International