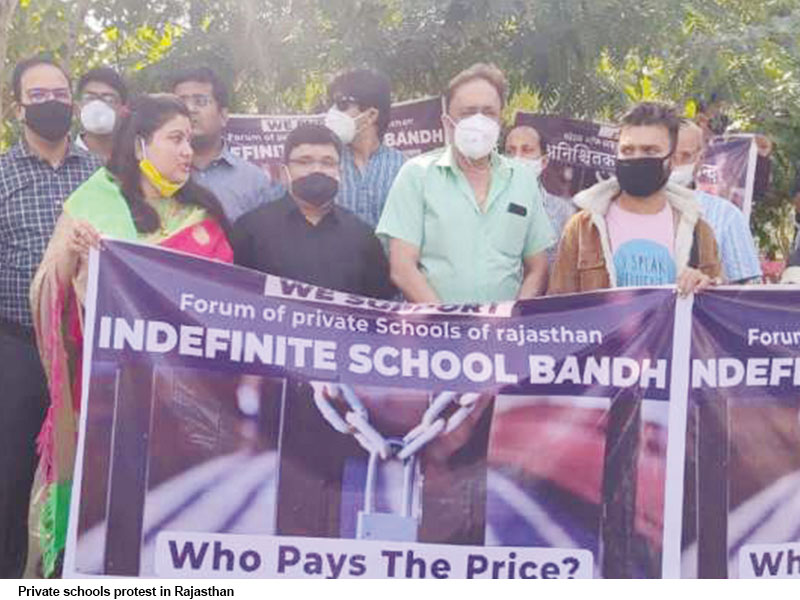 Over 48,000 private schools of Rajasthan (pop.78 million) with an aggregate enrolment of 5 million children, which were conducting online classes for their students since April after the Central government ordered a shutdown of all schools and education institutions countrywide, have suspended all teaching-learning operations with effect from November 5. This unprecedented protest has been prompted by an October 30 directive issued by the Rajasthan Education Board (REB) directing private schools to restrict tuition fees collection to senior school (class IX-XII) students. Moreover, the latter need to pay only 70 percent of their annual tuition fees.
The rationale behind this order is that since the Delhi-based Central Board of Secondary Education (CBSE) has reduced the syllabus of its affiliated schools by 30 percent because of time lost since mid-March, CBSE schools in the state should reduce their fees commensurately. Similarly since the Rajasthan State Education Board has reduced its syllabus by 40 percent, the annual tuition fees of senior students of its 37,000 affiliated schools should also be slashed by 40 percent.
Claiming that their teacher and staff salaries and overhead expenses are constant, private schools in the state — except top-ranked boarding schools and government-aided private institutions — grouped under the banner of Private Schools Forum of Rajasthan (PSFR), have rejected this directive outright and suspended all teaching-learning activity with effect from November 5. However in a face-saving response and to buy time, the Congress government of the state promptly declared Diwali holidays from November 7-17.
Managements of private schools are particularly outraged by the REB fees reduction formula because PSFR and all its member schools had readily accepted the suggestion of a single judge bench of the Rajasthan high court, that in light of parents having suffered loss of income and employment because of the Covid-induced lockdown of business, industry and economy for over six months, private schools should collect only 70 percent of the contracted annual fees of all students from pre-primary to class XII during the lockdown period. Moreover, the court reserved its ruling on the remaining 30 percent of fees payable for a later date.
However, the state government appealed this judgment and a two judge division bench court stayed the verdict of the single judge. Furthermore, at the suggestion of the state government, the court passed an interim order restricting PSFR member schools to collecting 70 percent tuition fees from class IX-XII students, exempting parents of pre-primary-class VIII children from paying fees, even if their children are availing online education, until further orders of the court.
"Most of our member schools are paying monthly interest on land, construction and transport vehicle loans and/or rent for leased buildings. Moreover, all of them have invested heavily in digital equipment and Internet connectivity to provide online learning to their students. Against this, the state government's directive is totally unmindful of the well-being of private schools which have an enrolment of 5 million children and are providing employment to 1.1 million teachers. The state government's indifference to the plight of private schools — especially budget private schools — has imposed unprecedented financial stress on private school promoters and management. Already 14 school owners in Rajasthan have committed suicide and thousands of teachers have been laid off. It is this unprecedented situation that has prompted our member schools to suspend all online and offline classes," says Mridul Sisodia, a spokesperson of PSFR.
With children in Rajasthan's government schools deprived of all education because of under-provision of Internet connectivity and digital devices, now even private school children are likely to lose the minimal learning they have been getting online, unless the fees deadlock is promptly resolved.
Vasudha Neelmani (Udaipur)
Also read: Maharashtra: School fees agitation
Education News