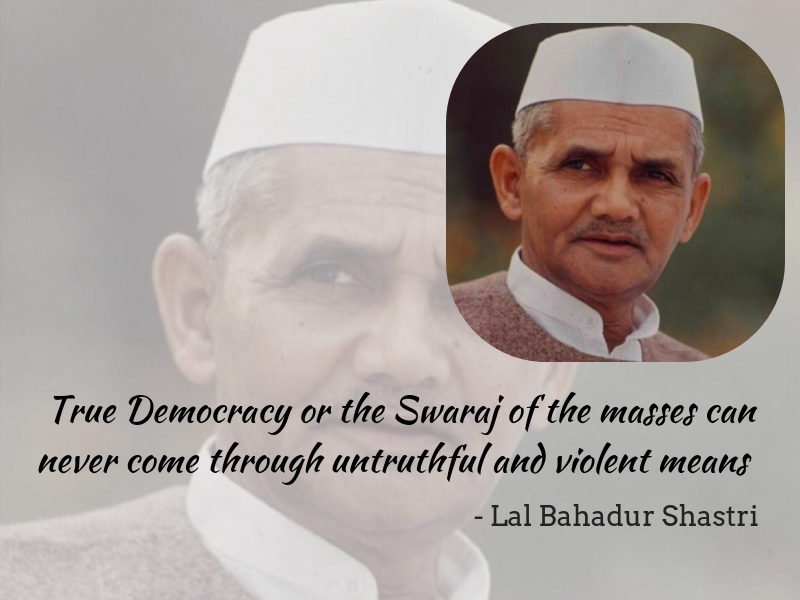 Today, the nation marks the 53rd death anniversary of India's second prime minister Lal Bahadur Shastri. On January 11, 1966 Shastri succumbed to a massive cardiac arrest in Tashkent just a day after the Indo-Pakistan War of 1965 formally ended with the signing of the Tashkent Agreement.
A thoughtful leader and visionary, Shastri heralded great reformation in the country through several path breaking initiatives.
On this occasion, we bring to you a few lesser known facts about this strong leader of the masses.
1. Lal Bahadur Shastri was born to Ramdulari Devi and Sharada Prasad Shrivastava, in Mughalsarai, in Uttar Pradesh. Shastri shares his birthday (October 2) with Mahatma Gandhi.
2. During his school days, Shastri would swim across the Ganges twice a day with books tied on top of his head because he could not afford the boat fare.
3. Deeply inspired and influenced by Mahatma Gandhi and Jawaharlal Nehru, Shastri joined the Indian independence movement in 1920.
4. In 1921, during the non-cooperation movement, Shastri was arrested for opposing the prohibitory orders. Since he was a minor, the authorities released him.
5. On May 16, 1928, Shastri married Lalita Devi hailing from Mirzapur. He refused to accept dowry since since he was against the custom. However, on repeated requests, Shastri agreed to accept only five yards of khadi cloth and a spinning wheel as dowry. The couple had four sons and two daughters from the wedlock.
6. Shastri participated in the Salt Satyagraha in 1930 and led a door-to-door campaign, urging people not to pay land revenue and taxes to the British.
7. After independence, Shastri was appointed as the minister of police in Uttar Pradesh. His significant recommendation included the directions for using "water-jets" instead of lathis to disperse mobs.
8. In 1961, he became the minister for home and formed the committee on "prevention of corruption" headed by of K. Santhanam. He was also the first leader to make a provision for women conductors and drivers in public transport.
9. After Jawaharlal Nehru's demise on May 27, 1964 Shastri assumed office as the prime minister.
10. As the PM, he began the White and the Green Revolutions in the country which transformed India from a food deficit to a food surplus country.
11. Shastri was posthumously awarded the Bharat Ratna in 1966 for his contributions to the country.
12. The slogan 'Jai Jawan Jai Kisan' meaning 'Hail the soldier, Hail the farmer' coined by him is very much remembered to this day.
13. Shastri earned the nickname of "The Man of Peace" for he was always preferred the path of peace instead of aggression.
Also read: Remembering Netaji Subhash Chandra Bose