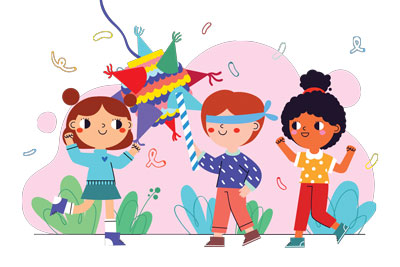 The Pinata Party
"Mind your own business," Ravi snapped. Vivek had offered to help Ravi fix his cycle chain, and was shocked at his rudeness.
"I don't understand him," Vivek told Sunil and Partho, joining them on the playground. "He's the only one at our cricket camp who is so unfriendly."
"Oof. I've had enough of him too. He doesn't respond to anything I say," added Partho.
As the days passed, they continued to be puzzled by Ravi's behaviour. They tried talking to him, ignoring him and even teasing him, but without getting any response.
Meanwhile they planned a Pinata Party. The highlight of the party was a pinata contest. Partho's grandfather had promised a box of special motichur laddoos from his store to each person in the winning team.
"Let's invite Ravi," Sunil suggested, as they made plans for refreshments.
The others turned to him in surprise. "He doesn't even talk to us. How do you expect him to join our party?" asked Vivek.
"We should invite him anyway," Sunil insisted. So the others finally agreed.
The party turned out to be a great success. After the initial games and snacks came the much-awaited piñata competition. They formed two teams which were required to form pyramid-ladders. Sunil's team had a big problem to get the last boy on top. The boys who tried to climb to the top couldn't make it.
Suddenly, Ravi, who had been sitting in a corner, offered to climb. He clambered up and broke the pinata. Confetti streamed on the team as they cheered their win!
Ravi blushed as everyone congratulated him, and seemed to enjoy the attention he was getting for the first time during the week-long camp.
"My sister was killed in a road accident last month," he confided to Partho later. "And it hurt when people asked me to play. I didn't want to talk about it. That's why I avoided everyone. But now I know that was a foolish way to deal with the tragedy," he said.
Sunil smiled and munched a laddoo. He was glad they had invited Ravi. The activity would help him heal.
Teacher's Corner
Some ideas for teacher-student bonding.
 You could arrange a Fun Party where teachers and students get together for games and enjoyment.
 Plan some special activities like magic tricks or quick crafts which your students would enjoy.
 Teachers and students can get to know each other better as they gear up for the next academic year.
Other short stories:
Short Story – The Kitchen King