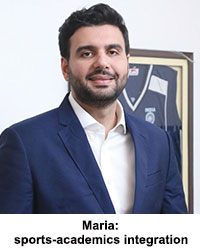 Former India basketball star Kunal Maria is founder and CEO of the Corvuss American Academy (Corvuss, estb.2018), a trail-blazing, sports-focused co-ed residential school for children in the 11-17 years age group sited in Karjat, a two-hour drive from Mumbai. It s set to provide highly professional training in seven sports — basketball, cricket, football, squash, swimming, tennis and track and field games. To this end, the academy has signed collaboration agreements with seven elite sports partners including the Las Vegas-based IMPACT Basketball and UK-based Manchester City Football School, affiliated with the Manchester City premier league football team.
Newspeg. In September, Corvuss will welcome its first cohort of 150 students on the academy's 44-acre thoroughly modern campus. Academically, Corvuss offers the US core middle school curriculum (classes VI-VIII) followed by four years of the American high school curriculum culminating in the high school diploma. Corvuss is accredited by the US-based AdvancedEd and National College Athletic Association (NCAA) which lists 1,098 top-ranked American colleges as members. Corvuss' US high school diploma has also been approved by the Delhi-based Association of Indian Universities.
History. A graduate of Government Law College, Mumbai, Maria represented Maharashtra and India in numerous national and international basketball tournaments. In 2014 he was awarded a postgrad degree in sports, media and entertainment law by Georgetown University, USA followed by a second Masters in sports business by New York University. Subsequently, he worked with a New York-based law firm where he represented star athletes.
Direct talk. Shuttling between the US and India, Kunal Maria set his sights on establishing a primary-secondary institution modelled on American schools which have successfully integrated sports and academics. "Most children in India are obliged to choose between academic and sports education after class VIII. This is why despite its large 1.3 billion population, India has a small pool of globally competitive sportspersons. Corvuss is founded on the belief that academic and sports excellence is not mutually exclusive. While Corvuss is sports focused, good academic scores
are important to pursue a college education. In high school — classes IX-XII — we offer the AP (Advanced placement) programme of the College Board and prepare students for the Scholastic Assessment Test (SAT) and/or American College Testing (ACT). Simultaneously, our curriculum ensures that all children play several sports in their primary years and specialise in one after class VIII. Once they choose their most preferred sport, they are rigorously trained to achieve global standards," says Maria who has funded this unique sports-centred school
through subscriptions from likeminded family members, friends and private investors.
Dipta Joshi (Mumbai)