EducationWorld's series titled Students' Corner, which puts special emphasis on children, features Gorakshnath Patil and Dhara Patel, the Head Boy and the Head Girl respectively from the CBSE affiliated co-ed day-cum-boarding SVKM's Mukesh R Patel School, Shirpur to understand how they are carrying out their studies and council responsibilities simultaneously, their take on social media, NEP 2020, interests and so on.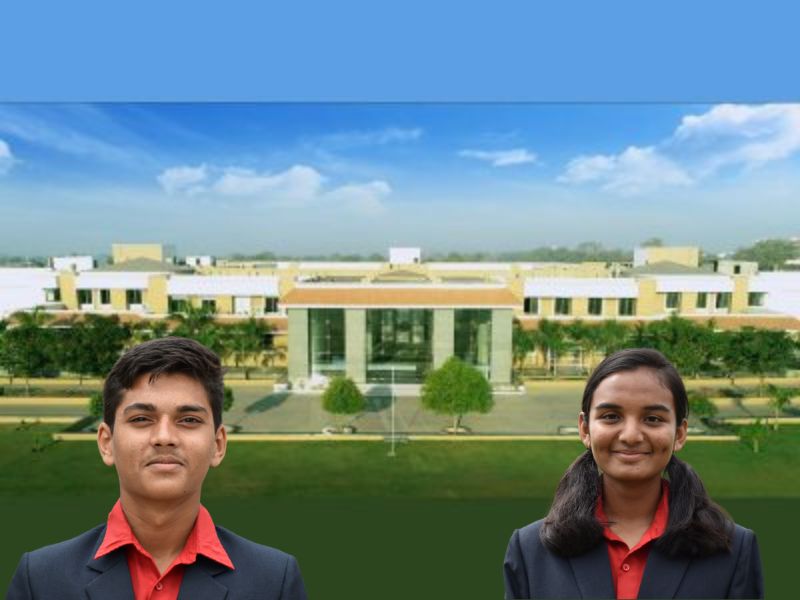 Dhara Patel, the Head Girl of SVKM's Mukesh R Patel School is an ardent football player who later wants to take up the sport professionally. A studious and hardworking girl, Dhara takes interest in dance as well. Any task bestowed on Dhara will rise above the expectation and also before the stipulated time.
A hardworking, diligent and sportive person, Gorakshnath Patil, the Head Boy, balances his academics and sports activities, along with the responsibility of the students' council of SVKM's Mukesh R Patel School. Patil wants to become a doctor and he has a keen interest in sports activities too. He feels that as a leader of the school, one has to be very conscious of their behaviour as they are watched and imitated by many.
The Students council representative is a coveted position. How do you carry out your responsibilities and studies together?
Dhara: Yes, it is hectic. The fact that I am the elected representative, increases my sense of responsibility which becomes the driving factor in carrying out all the tasks bestowed on me.
Gorakshnath: I always wanted to be a leader and being the Head Boy of the school is the stepping stone. I want to learn to work under pressure and this experience will prepare me for the challenges further in life.
Mention the challenges that come alongside this post.
Dhara: Being a residential school student, I have a long schedule as compared to day schools. Compromising on my sports time is the challenge I face, as I have to represent my school at various sports events also.
Gorakshnath: One of the biggest challenges I face regularly is time management. Every activity has a stipulated time and it is difficult to find extra time for any added activity.
Working as the Head Boy/Head Girl has its own pros and cons. Friends have their umpteen demands on you. How do you maintain the same? How do you deal with your friends?
Dhara: Being the Head Girl, I am expected to excel every time which is practically not possible. Although I take criticism in a positive way, I know there is a long way to go.
Gorakshnath: Students will expect from me when I lead them. I do get upset when I don't rise to their expectations but the motivation from teachers and well-wishers nullifies the criticism. There is always a next time to prove myself.
How long do you spend on social media? If yes, how does it help you in life or how does it distract you in life? (Whichever is applicable for you)
Dhara: Being a residential student, I don't get a chance to be on social media except during vacations. Currently, it has zero effect on my development or distraction.
Gorakshnath: Since this is a residential school, we do not get access to Google unless we have to prepare a project or speech. Therefore, at present the influence is minimum.
Have you understood the National Education Policy 2020's takeaways?
Dhara: The NEP 2020 will make the students competent for the 21st century and it supports activity-based learning.
Gorakshnath: NEP 2020 is vast but one thing what I understood is that the cognitive skills it demands to be developed will create innovators. When artificial intelligence will take over the mankind in near future, vocational skills will be sought after for which NEP would be very useful.
Do you think this post of the Head Boy/Head Girl helps you develop your soft skills and makes you industry-ready? Or is this very much related to school activities only, and the industry is way different? Your views.
Dhara: I have realised the importance of communication and conviction in convincing students to get a task done. Also, my soft skills are copied by young students because of which I am conscious always. These developments will remain throughout my life irrespective of demography or geography.
Gorakshnath: Previously, I never paid attention to polishing my soft skills as I thought talent speaks. But I have understood that one has to be good in everything if one wants to be absorbed by the mass. Soft skills plays a pivotal role in reaching out to masses and these experiences stay on forever.
Also Read: Students' Corner: Kriti Garg, SAI International School