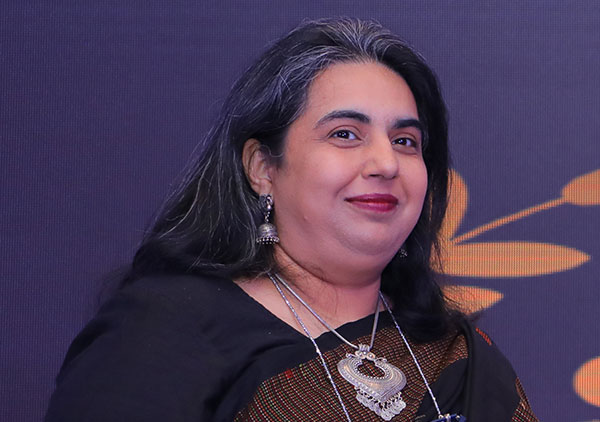 As part of our Women's Day special Super Women Series, today we have Meeta Sengupta – a well acclaimed educationist and founder, Centre for Education Strategy – speaking to our correspondent Odeal D'Souza about her life, education and the challenges she faced as a woman. Having worked at the cusp of policy and practice across the education and skills spectrum, Ms Sengupta's education philosophy lies in designing the education processes to realise the potential of every student. She also specialises in designing interventions that improve the quality and process of education. Meeta Sengupta is a Fellow of the Salzburg Global Seminar and a Fellow of the Royal Society of Arts (FRSA), London.
What inspired you to become the person you are today?
I was very fortunate, and privileged enough to have grown up amidst intellectuals who built institutions and led knowledge. I had access to great libraries, listened to intelligent conversations and debates of individuals who were not afraid of being wrong. Indeed, they worked harder to strengthen their own work each time they were proved fallible. They were my inspiration, including my parents, who were both great thinkers and academics. All of them were able to do great work that positively impacted an entire generation via their writing and teaching. The power of education was demonstrated with excellent role models. Each of them inspired me to become the person I am today.
What are the challenges you faced as a woman as you navigated your career path and also life as a whole?
Despite being a woman, the challenges I faced were not atypical. Family pressures were never laid on me, and the credit goes to education and my progressive family. This also made it worse – because the freedom and right to choose was entirely mine, and I did not have the luxury of blaming the society for the consequences of any decision I took. Every decision has its own consequences be it going to work too soon after child-birth that comes with guilt, or going back too late that comes with a more sluggish career graph. A woman has to be brave enough to take her own decisions and to face the consequences – and so since I had to be brave anyway, I decided to be as brave as possible and charted my own path.
With the realisation that a corporate career is not designed for a woman, I eventually decided to pursue a career designed for women. I decided to teach four hours a day, and write another four hours, when my baby was asleep. I kept my professional life on my heels and managed to spend time with my baby – laughing, playing, and picnicking.
However, balancing personal and professional lives called for great time management. Doing the laundry at 3 am, and being up with the milk bottle at 5 am – but these challenges only mean we need to be better organised, and that we learn to delegate according to our circumstances. The real challenges are the same for all of us – managing our time, organising our resources, raising the game, doing better every day – and forgiving ourselves and our mistakes. Hopefully, with a lot of love and laughter, we can get there.
Any women specific issues in education that you would like to highlight?
Women have always been trained differently from the early years of education. Though certain stereotypes and mental conditioning is changing in many places, it is tough to fight them; however we need to step up with our own interests and ideas. Even today, several textbooks carry pictures of men in powerful professions while serving professions are left only for women. This mental conditioning exhibited today in books is just like it was in the olden days before the invention of electricity, modern medical facilities and technology where men dominated some professions and women were restricted to back up duties that were largely unpaid. Due to this gender bias in textbooks, it becomes extremely difficult for the young girls to carve new paths and this in turn is causing a great damage to the future of women's real education and careers. Specifically, I would like to see all textbooks cleansed of gender bias, and all educators should undergo inclusion and gender sensitivity training that will help empower all students irrespective of gender and help them work together as equal professionals with equal pay.
What is your message for women on International Women's Day?
Celebrate your power; your power is your ability to do good both for yourself, and others. Use this power with wisdom – find joy in the work you do, make room for yourself and your sisters on the ladder of growth, and, celebrate your success so loud that you become a role model for the next generation. Women are privileged today; we have been educated, but also trained in life skills that enable stronger work relationships. Let us use our privilege to include men in the journey of building stronger communities of care, to include men in the journey of inclusion towards equal pay, equal safety and equal opportunity for all. Women's Day is a day to mark our progress, and also to mark the journey ahead towards authentic womanhood by embracing wisdom and power.
Also read: Women's Day Special: Interview with edupreneur Fatima Agarkar