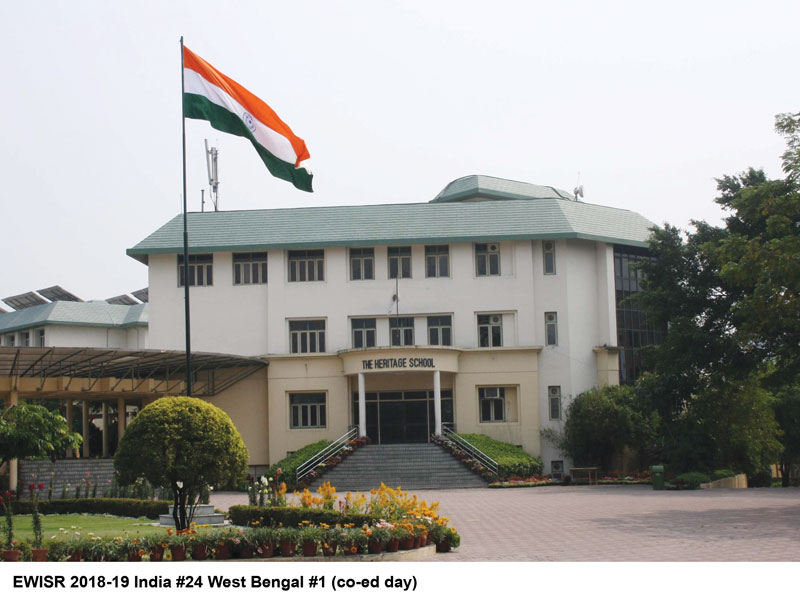 "Our objective is to provide students a child-centred, inclusive and broad-based learning environment focused on developing 21st century skills and nurturing confident, competent and responsible global citizens." – Seema Sapru, Principal, The Heritage School Kolkata
Sited in the fast-expanding suburb of East Kolkata is the 19-acre green campus of The Heritage School (THS, estb. 2001), promoted by the KalyanBharti Trust, endowed by a consortium of eminent industrialists with the mission to recreate and revive India's ancient Gurukul traditions. Affiliated with the Delhi-based Council for the Indian School Certificate Examinations (CISCE), this co-ed day school also offers the globally recognised IB (Geneva) and Cambridge International (UK) curriculums. Over the past two decades, THS has established a national reputation for providing globally benchmarked K-12 education rooted in Indian culture and values to its 3,203 students instructed by 271 teachers. Ranked West Bengal's #1 co-ed day school for six consecutive years (2013-18) in the EducationWorld India School Rankings, THS is also ranked among the country's Top 5 co-ed day schools under the parameter of leadership/management quality in 2018-19.
THS' aesthetically landscaped campus hosts world-class infrastructure to enable provision of holistic learning experiences. Academic facilities include 126 Smart classrooms, 13 well- equipped science, math and language labs, a life-skills lab, six wi-fi enabled computer labs fitted with 400 computer terminals, five well-catalogued libraries featuring 50,000 titles and 100 journal subscriptions. In 2011, THS was invited by the International Society for Technology in Education, Philadelphia(USA) to present its digital teaching-learning experience.
The school's contemporary academic infrastructure is complemented by equally impressive sports and co-curricular education facilities including two swimming pools, two tennis courts, football ground, rifle shooting/archery range, roller skating rink, and water polo, four dance and six music rooms, pottery and creative art studio. Twenty hours of mandatory community service per child per year is integrated into the curriculum.The school also offers its students psychological, behavioural and career counseling support. Driven by its motto "be your own light", THS follows an inclusive learner-centric curriculum. In 2019, of the 193 students who wrote the class X (ICSE) board exam, 120 obtained 90 percent-plus while 114 of the 246 students who wrote the class XII (ISC) exam obtained 90 percent-plus.
THS school-leavers have been welcomed into top-ranked higher education institutions in India and abroad including the University of California, University of Oxford, University of Cambridge, Stanford University, Berkeley, Purdue and New York universities, and Davidson College (USA); Nottingham University, London School of Economics (UK); Alberta, Calgary and Western Ontario universities (Canada); University of Melbourne, Deakin University (Australia); Loyola College, Christ University, Manipal Academy of Higher Education (India), IIT, IIM, SRCC, St. Stephens College-Delhi among others.
Prominent alumni include IPS officer Supriya Das; Siddhant Agarwal, vice president of Bengal Iron Corporation; Harshit Gohil, co-founder and managing director of Gohil Ayurved, among others.

Further information: www.theheritageschool.org