Shreyosi Chakraborty
West Bengal State Chhatra Parishad, a student organisation and another teacher's organisation on Friday protested against the president of West Bengal Council of Higher Secondary Education (WBCHSE) Mahua Das in front of her office. A scuffle broke out between the police and some protesters outside the WBCHSE office.
Das, while announcing the results of the West Bengal Class XII board examination on Thursday, had mentioned the religion of the topper instead of her name. "The highest marks obtained this year is 499. A Muslim girl secured the marks. She is a Muslim lady from Murshidabad," said Das on Thursday.
Rumana Sultana, a student from Murshidabad Kandi's Raja Manindra Chandra Girls High School, has secured 499 m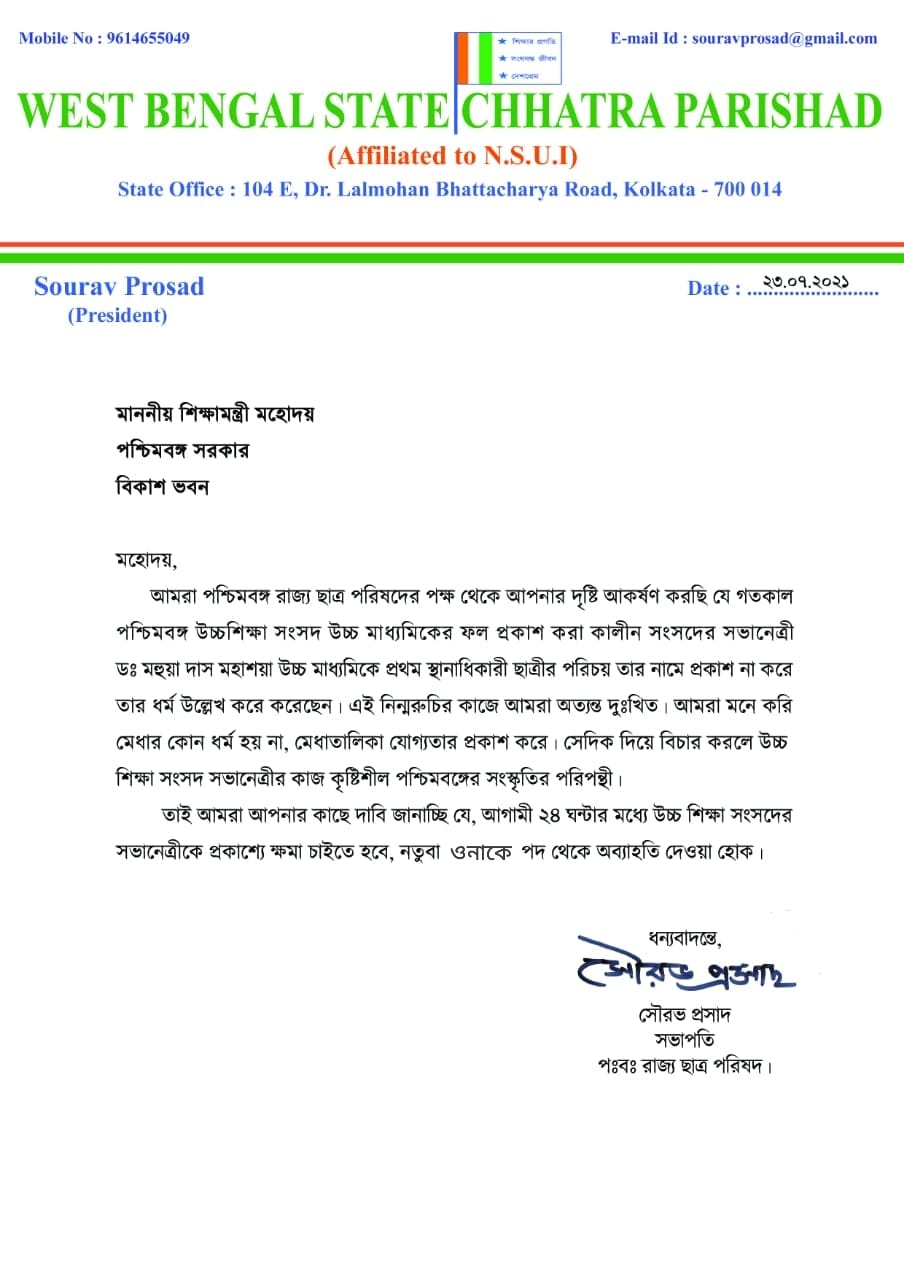 arks out of 500 in the WBCHSE Higher Secondary exams. She is reportedly the first girl from a minority section, in recent times to top the exam.
A senior council official, however, said that Das just wanted to stress the fact that a girl from a minority section has "fought social and economic hurdles" to become the topper. The WBCHSE president, without mentioning her name, had said on Thursday a Muslim girl from Murshidabad district scored 499 out of 500 and emerged as the lone topper in the Class 12 results.
West Bengal State Chhatra Parishad has demanded that Das be either removed from her post or she should apologise. The student's body has sent out an official letter to the Education Ministry.
Meanwhile, Bengal Imams Association has said: "It is very shameful and unfortunate. We condemn this. Instead of naming the student, she chose to highlight her religion." The association has urged chief minister Mamata Banerjee to remove Das.
West Bengal BJP has raised the question that if someone has topped the exam, her ability should be emphasized, and not her religion.
A political tussle has further escalated over this sensitive issue as leaders from the opposition Bharatiya Janata party (BJP) have been accusing the state government of its appeasement policies against this particular community.
Also Read:
Bengal: Class 12 board result declared, 97. 69 % pass
News
,
States