Defined as a genre of sports which test the mental strength and mettle of participants, mind sports are becoming popular in upwardly mobile households where parents are becoming aware of the dangers of their children becoming addicted to digital screens and devices – K P Malini, Mini P. & Cynthia John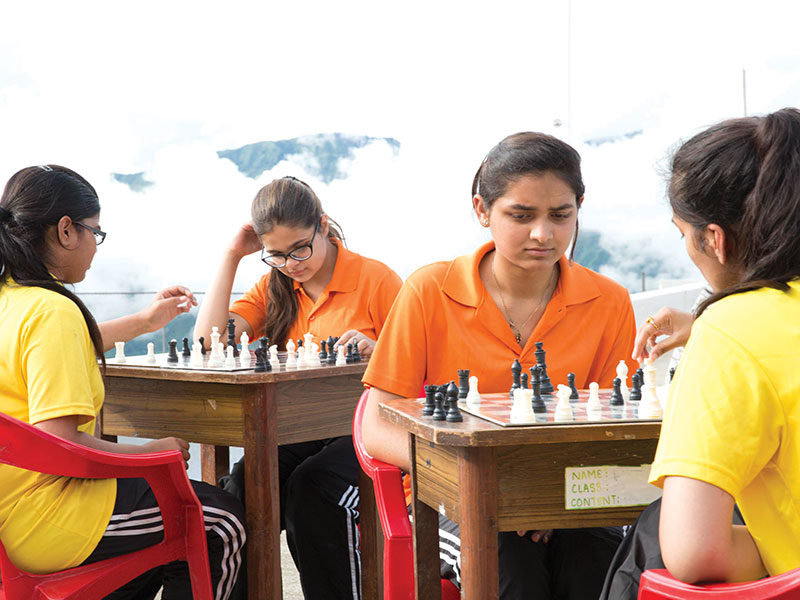 Mind sports is the new mantra of SEC (socio-economic category) 'A' parents across the country. Defined as a genre of sports which test the mental strength and mettle of participants, mind sports are becoming popular in upwardly mobile households where parents are awakening to the dangers of their children becoming addicted to digital screens and devices. Consequently, educators and even sports commentators are encouraging children to participate in mind sports for play, pleasure and competition. Recently, renowned cricket commentator Harsha Bhogle tweeted: "I know you love cricket. But do you play scrabble? If you do, there's an exciting scrabble festival in Goa this October. And you can be part of it: http://wespacgoa.com."
Mind sports encompass intellectual games such as scrabble, chess, bridge, sudoko, backgammon, among others which require players to exhibit mental agility and capabilities. Once played for pleasure, mind sports are now increasingly being played competitively at the international, national, state and local levels enabling children and adults, disinterested in conventional competitive physical sports, to win laurels and encomiums. For instance, the Lausanne, Switzerland-based International Mind Sports Association (IMSA) organises its quadrennial multi-sport World Mind Sports Games (WMSG). Last held in 2012, WMSG attracted the participation of 2,763 players from 143 countries around the world. The promoters of WMSG hope it will be a "stepping stone towards introducing a third type of olympics after the Summer and the Winter Olympics."
"Mind sports are becoming popular with parents and educators worldwide because they engage and interest children and simultaneously improve their cognitive capabilities. Many children who are not keen on competitive physical sports are becoming addicted to gaming on mobile phones and digital devices. Mind sports such as scrabble provide children a great opportunity to play for enjoyment, excel competitively, develop their vocabulary, memory and concentration. Moreover, mind sports are a great option for children with physical and learning disabilities," says Radhika Mahalinkaiah, member of the Bangalore Scrabble Club (estb.1998).
Several authoritative research studies have proved well beyond reasonable doubt that engagement with mind sports improves the cognitive, physical and psychological health of children. The benefits of playing mind sports are numerous. Among them:
Depression and stress alleviation. When children engage the mind productively, they experience a sense of satisfaction and achievement. A good game releases endorphins that fight depression and stress.
Boosts self-confidence. Children with low self-esteem who don't shine in academics or games and field sports have the opportunity to play and win mind games.
Improves cognitive capabilities. Children discover and develop analytical, problem-solving and critical thinking skills.
Boosts physical well-being. Mind sports also require stamina and energy. Practice and play builds stamina and induces sentiments of accomplishment, relaxation and sound sleep.
Develops competitive mindset. Mind sports are competitive and they push children constantly to improve their game. Mental development has beneficial fallouts in academics and professional careers.
Transcends physical limitations. Mind sports don't require muscles and brawn. Physically weaker and challenged children have equal opportunity to play and win.
Brain stimulation. The rote-centric Indian education system fails to fully stimulate children's cognitive capabilities. Mind games stimulate the right and left brain.
In this cover feature ParentsWorld beams the spotlight on three mind sports — scrabble, chess and bridge — which are becoming increasingly popular in contemporary India.
Scrabble
The World English Language Scrabble Players Association Championships 2019 is all set to begin in Goa starting October 15. The tournament organisers expect 350 players from around the world to vie for the top prizes, with India represented by a team of seven players. With around 3,000 new words incorporated into the scrabble dictionary this year, competition for top honours is expected to be intense.
Scrabble is an English language word building game in which two or four players score points by placing small squares (tiles), each with a single alphabet and numerical value onto a game board which is divided into a 15×15 grid of squares. Starting with each player choosing seven tiles and one of them placing a tile on the centre square of the board, competitors build words and write down their scores on score sheets after completing a word. Apart from the obvious benefit of helping children improve their vocabulary, scrabble develops the English language learning of competitors.
Recently, researchers at the University of Calgary, Canada, tested dozens of competitive scrabble players to analyse how quickly they formed words. The results showed that scrabble players can formulate words 20 percent faster, leading the researchers to conclude that it's possible to develop visual word recognition capability in adulthood, even if alphabets are forgotten.
"Scrabble is not just a words formulation game; it's highly analytical and mathematical. It enhances the vocabulary of children and develops their analytical, time management and social skills as well. In scrabble tournaments, everyone has to play a minimum of eight games — 16 games over two days, 24 over three days and 32 over four days. Children not only learn to adapt to this rigorous schedule, but also to interact with players of all age groups. I believe scrabble should be integrated into all school curriculums," says Radhika Mahalinkaiah, a member of the Bangalore Scrabble Club who has played this mind game competitively for the past 20 years.
Aditya Iyengar, a second-year engineering student of IIT-Bombay and ranked among the Top 10 players at the World Youth Scrabble Championship 2016, says this mind sport enabled him to develop quick thinking and reasoning skills. "When in school I participated in a scrabble workshop at a bookstore, and got hooked on this mind game. I have been playing scrabble competitively since 2013 and it has improved my numerical, linguistic and analytical skills," says Iyengar who adds that a number of state level tournaments are held around the year by the Scrabble Association of India while Collins Dictionary conducts inter-school tournaments.
Chess
This ancient two-player strategy mind game played on a checkered board with 64 squares arranged in an 8×8 grid originated in India in the 7th century as chaturanga. Each player begins with 16 pieces: a king, queen, two rooks, two knights, two bishops, and eight pawns with the queen being the most powerful, and pawn the least. The players' objective is to checkmate the opponent's king by placing it in an inescapable position. To this end, each player's pieces are used to attack and capture the opponent's. During a game, play typically involves exchanging pieces for the opponent's similar pieces, and finding and engineering opportunities to trade advantageously to get into a better position. In addition to checkmate, a player wins the game if the opponent resigns, or (in a timed game) runs out of time. Chess games can also end in a draw.
Played by millions worldwide and made popular in India in the modern times by Vishwanathan Anand, former world champion, chess helps children develop analytical thinking and problem-solving skills. "Playing chess from early age dramatically improves children's intelligence, creativity, response speed, numerical and non-verbal reasoning skills and memory. All schools should encourage chess play. It pushes children to think analytically and out of the box," says Ebenezer Joseph, the Chennai-based principal investigator at the Cognitive Science Research Initiative of the Department of Science and Technology, government of India.
In 2018, Joseph led a study team which surveyed school children who played chess regularly and peers who participated in other extra-curricular activities. The study published in the Advances in Social Sciences Research Journal, UK (2018), found that the chess playing children had superior verbal intelligence and reasoning skills as well as better academic outcomes.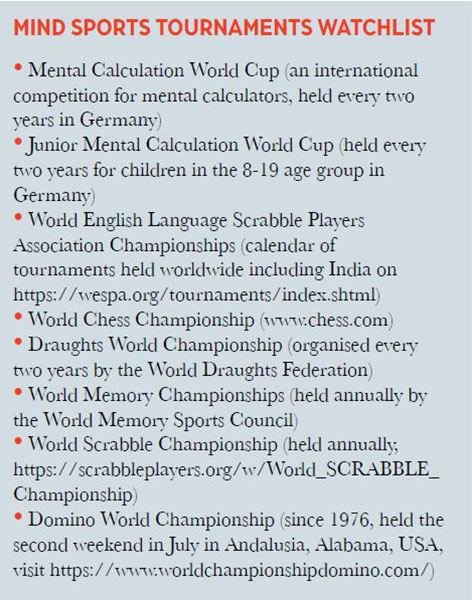 "My study makes a strong case for introducing chess in schools. However I believe that for chess to become popularly accepted, it should become an Olympic sport. Today with digital boards, the game can be played across different media," says Joseph, India's first Indian FIDE Trainer & Candidate Master of the World Chess Federation, who has trained hundreds of students at his Emmanuel Chess Centre, Chennai.
Bridge
This ancient game of playing cards is often dismissed as a pastime of ladies of leisure and retirees. However it's a complex mind sport which requires quick strategic thinking and intense concentration. The game made its official debut at the Asian Games in 2018 and the World Bridge Federation is now recognised by the International Olympic Committee. Kiran Nadar, trustee of Shiv Nadar Foundation and chairperson of Kiran Nadar Museum of Art, Delhi, won gold at the fifth Commonwealth Nations Bridge Championship 2018.
The essential features of bridge are that four persons play in teams of two, against each other. A standard 52-card deck of playing cards is dealt out one at a time,clockwise around the table, so that each player holds 13 cards. The object of this popular game is to win 'tricks', each trick consisting of one card played by each player. Another feature of this popular mind game is that one unit may be designated the trump suit (i.e, any card in that suit may take any card of the other suits), but the methods of designating the trump suit (or of determining that a deal will be played without trumps) differ as per the game — auction or contract bridge. Yes, for the uninitiated, it is a complex mind sport.
Here are three reasons why parents should encourage children to play bridge which needs only a 52-card deck of playing cards to get started.
It exercises both sides of the brain. Bridge is one of the few games that stimulates both the left and right brains. It improves players' communication, logic, math, memory, and visualisation skills.
Improves physical health. A study conducted in the year 2000 by a University of California-Berkeley researcher has shown that playing bridge boosts the immune system. By stimulating the brain cortex, bridge-playing activity produces a larger number of white blood cells that fight disease. Other studies have found that people who play bridge regularly are 2.5 times less likely to develop Alzheimer's.
Improves academic performance. US-based researcher Dr. Christopher Shaw recently conducted a study in which he compared the standardised test scores of class V students who played bridge with students who didn't. Shaw found that students who played bridge recorded significant increase in their test scores compared with their bridge agnostic classmates. Shaw says that learning to play bridge has a dramatic effect on the test scores because "bridge is a game that develops inferential reasoning skills, which are very difficult to teach primary students. These skills are used in all five subject areas (reading, language, math, science, social studies) in middle school."
Scrabble – New words
In 2019, 2,862 new words were added to the existing 276,000 in the Collins Scrabble Dictionary. Among them:
Sharenting. The habitual use of social media by parents to share news, images, etc of their children
Brexit. Withdrawal of the United Kingdom from the European Union
Antivaxxer. A person against vaccination
Hygge. The practice of creating cosy and congenial environments that promote emotional well-being
Cisgender. Of or relating to a person whose gender identity corresponds to their gender at birth
Transphobia. Intense hatred or fear of transgender or transsexual people
Genderqueer. A person who does not respect traditional gender differences but identifies with both, neither, or a mixture of female and male genders
Mansplaining. When a male condescendingly lectures a woman on a subject about which he knows very little, under the mistaken assumption that she knows even less
Manspreading. The habit of male passengers on public transport to sit with their legs wide apart, denying space to passengers beside them
Shebagging. The practice of female passengers on public transport placing a bag on the seat beside her, denying it to others
Bae. Your bae is someone you are romantically involved with or in love with
Fleek. Stylish; elegant
Subtweet. A message on the Twitter app, usually negative in content, about but not explicitly naming another user
Source: Collins Official Scrabble Words Dictionary