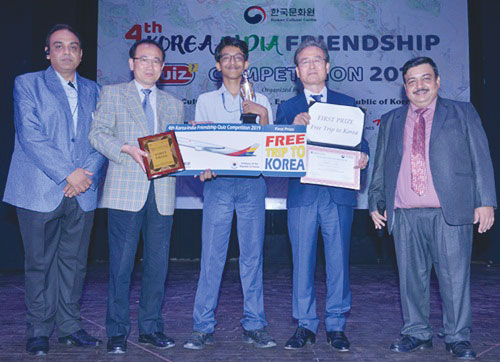 Akshat Singh (14), a class X student of Birla Vidya Niketan, Delhi, was recently crowned champion of the Korea-India Friendship Quiz Competition 2019 staged in the national capital on April 24. This early teen outsmarted quizzers from Apeejay School, Amity International School and Delhi Public School among other prominent schools in the National Capital Region (NCR) to be adjudged champion.
Following three rigorous elimination rounds that began in February, Akshat and three other quiz whizzes bested 23,000 students from 60 schools across Delhi in the fourth edition of this annual quiz competition. The prize: an all-expenses paid six-day visit to Seoul, capital of South Korea aka Republic of Korea (RoK).
Started in 2016 by the Korean Cultural Center, India — a non-profit institution aligned with the RoK government to promote Korean culture and student exchanges — the annual quiz is open to class VI-XII students in Delhi NCR. The competition's objective is to develop awareness among Indian youth about South Korea's culture, politics, history, economy, geography, tourism and heritage and improve RoK's bilateral relationship with India.
Akshat Singh is thrilled with the outcome of his first competitive quiz. "I am very fond of travelling, and eager to explore foreign shores. Therefore, the winner's prize of a tour of RoK, interacting with its people and sampling Korean cuisine prompted me to deeply research this highly developed nation. For the first round (school-level), we were given a six-page booklet and for the second and third external rounds, a 286-page book. For a month and a half, I spent two hours a day reading the material which captivated my interest. I am grateful to my social science teachers who mentored me. The true challenge however, lies in time management," he says.
Akshat Singh is presently focused on his class X CBSE board exams slated for February next year. "My goal now is to study the geography, culture and economies of our neighbouring Asian countries for enhancing regional trade and to learn from their impressive economic development models. I hope to make this my career path," says this precocious teen who seems to have found his purpose.
Way to go, Bro!
Paromita Sengupta (Bangalore)
Also read: Young Achiever: Nikita Sahu